Hi awesome readers! I hope you are having a wonderful day, this week we took a little trip to Idaho for our Road Trip USA studies!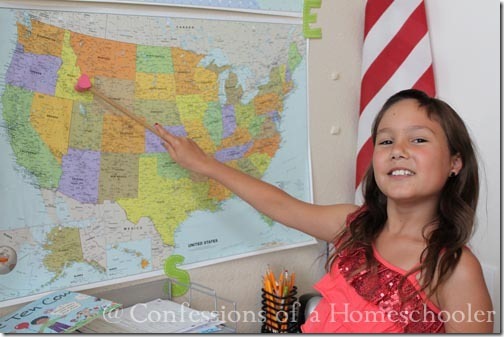 Idaho was named the 43rd state on July 3, 1890. It was named "The Gem State" because of its abundance of natural resources and scenic areas in the state. Hell's Canyon, which was carved by the Snake River, is the deepest gorge in America. This canyon is about 10 miles wide and 7,993 feet deep.
Here are some of the things we learned about this week:
Located Idaho on our wall map
Read our National Geographic Atlas and located Boise, ID using the map coordinates.
Worked on our 50 States and Capitals song
Learned about the state and it's flag
State Bird: Mountain Bluebird
State Fish: Cutthroat Trout
State Flower: Syringa
State Landmarks: Hell's Canyon, Minnetonka Cave.
Famous People: Sacagawea & The Lewis & Clark Expedition.
Food: In 2002 state legislature declared the potato to be Idaho's state vegetable. The potato grows well there due to Idaho's rich volcanic soil, water, clean air and climate.
Here is my white board for the week, we use this to review all of the state facts and symbols each day.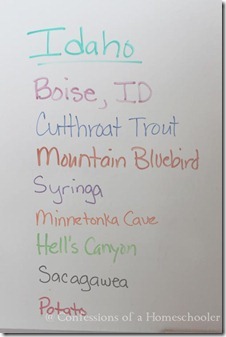 We read through the National Geographic Atlas and located Boise, ID using the map coordinates.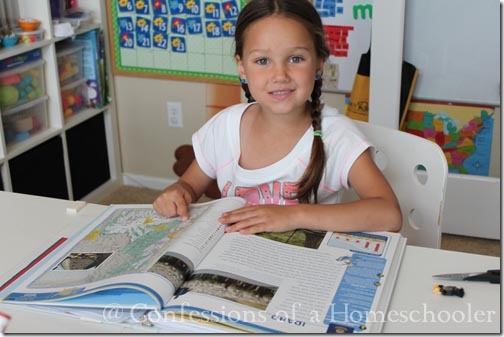 We read through all of the fun facts on Idaho from our Which Way USA Highlights Subscription. If you can, this is a really fun United States subscription. The magazines have fun games, and the fold out you see below has pictures with lots of fun facts along with a full sized map of the state on the other side.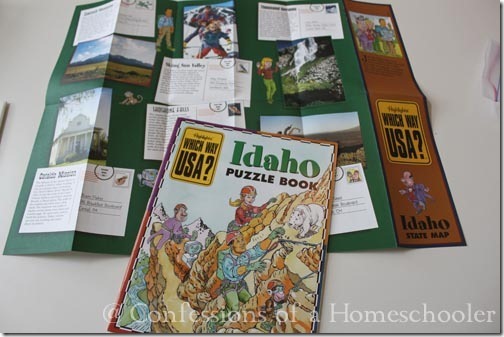 After learning about the animals symbols for Idaho, we classified and added the animals to our USA animal wall!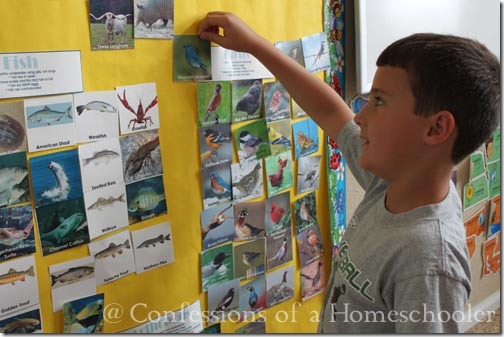 Turbo added Idaho to our United States Bulletin. After that we reviewed all of the states we've learned so far on our travels.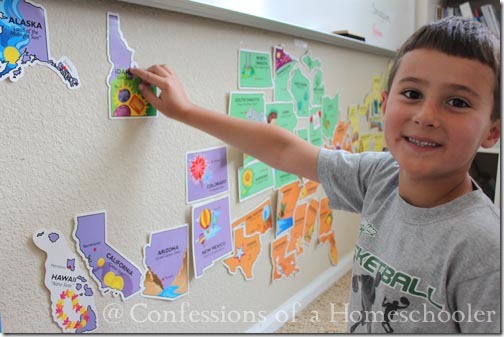 Minnetonka Cave is a beautiful 9-room cave of stalactites, stalagmites and banded travertine, located in Caribou-Targhee National Forest in Bear Lake County, Idaho. The largest stalagmites in the cave are over 10 feet high with a diameter of approximately 4 feet. There are 400 steps down into the cave and it stays about 40 degrees all year round.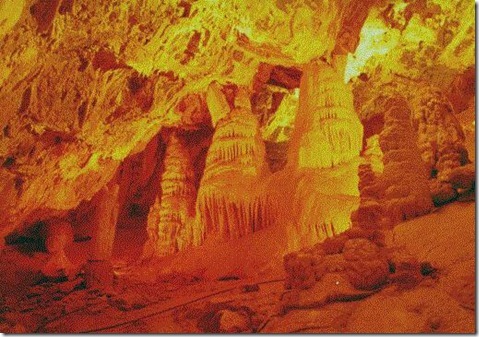 They all completed their state worksheets as we read through all of the Idaho state facts in our curriculum: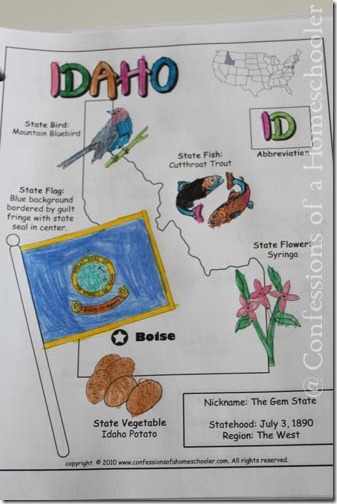 Then the Teeny Tot had the honor of adding the state to our wall map. I've had lots of questions on this, and the directions are in the curriculum, but we purchased two of these Trend USA Wall Maps and then simply cut one up into states, then used small velcro dots to attach them as we travel through our state study.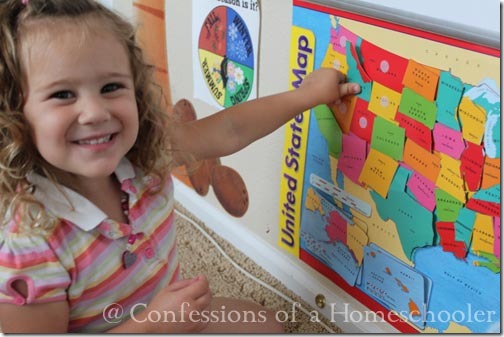 Hell's Canyon is the deepest gorge in America, and is located along the border of eastern Oregon and Western Idaho. The canyon was carved by the waters of Snake River which flows more than 1 mile below the canyon's west rim. In 1806 three members of the Lewis and Clark Expedition entered the Hells Canyon region. In 1860 gold was discovered in the river bars near Hells Canyon National Recreation Area however gold mining was not profitable in the area.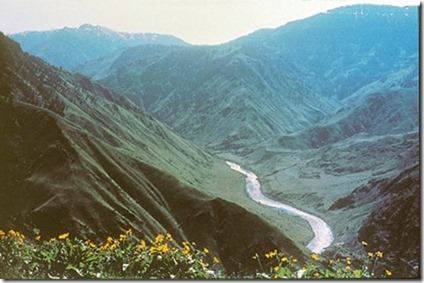 Sacagawea was born in 1788 near present day Salmon, Idaho. She was a Lemhi Shoshone woman who accompanied the Lewis and Clark Expedition acting as an interpreter and guide. In 2000, the US. Mint issued the Sacagawea dollar coin in her honor, depicting Sacagawea and her son.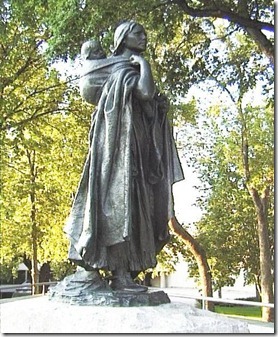 We made designed a postcard from Idaho , and wrote a fictitious letter to a friend. Here is Strawberry Shortcake's Idaho postcard design, I guess if she moves to Idaho she'll for sure bring all of her animals, and get a horse and some sheep.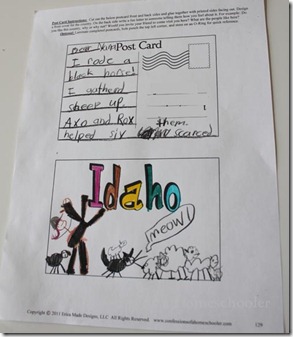 We are still working on the history portion of the curriculum by reading through "If You Traveled West in a Covered Wagon" by Ellen Levine.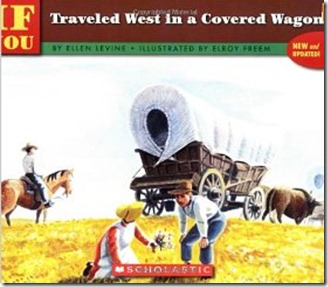 Strawberry Shortcake added all of the states we've done so far to our Melissa & Doug Wooden USA puzzle.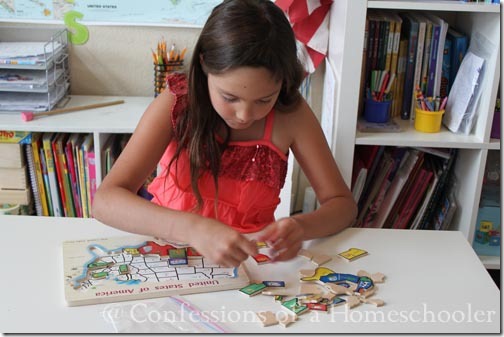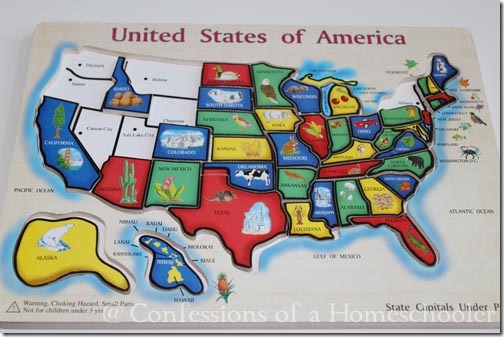 Finally we concluded our week by adding the Idaho state flag to our Travel Log.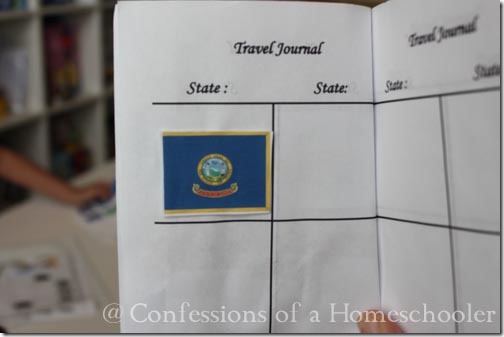 And that wraps up our Idaho study! If you'd like to come along with us on our Road Trip USA journey, click the image below to learn more!