Hi everyone! Welcome to day 3 of my Summer Boredom busters series!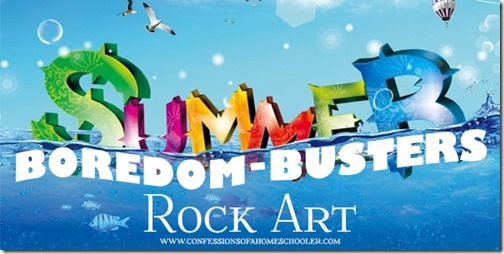 I don't know about you, but my kids love to collect rocks.
Then bring them inside.
Name them.
Wash them.
And leave them on my table in a nice pile.
So I decided to take advantage of that desire to hoard rocks and have them gather any stray rocks found in the grass that my husband just loves to run over with the mower. I figure we're killing two birds with one stone so to speak.
Not that we kill birds.
We love birds.
We even made a bird feeder.
But that's later this week.
Today we're making use of all those pesky rocks in our yards!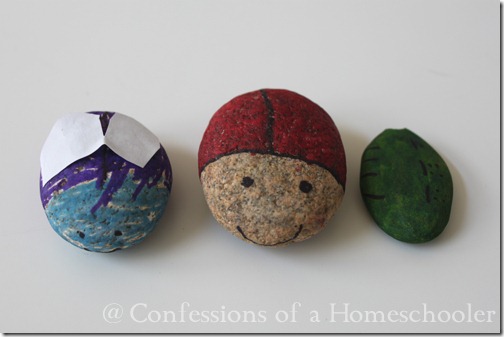 This is probably one of the most "FREE" summer projects you'll run across. As long as you have some type of markers or paints, you're all set!
Supplies:
Rocks from outside, smooth oval rocks are best
Colorful Sharpie markers or tempera paint and brushes.
Paper towel, or table covering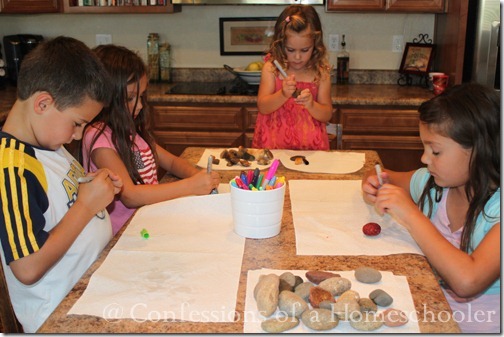 Directions:
Send kids outside to pick up rocks. If you have stray rocks in your grass have them grab those first, your hubby will thank you later!
Bring rocks inside and wash them in warm water and dry.
Cover work area with a couple pieces of paper towel, or disposable table covering
Let kids paint rocks according to their own imagination! Some ideas would be to create rock people, bugs, faces, race cars, etc!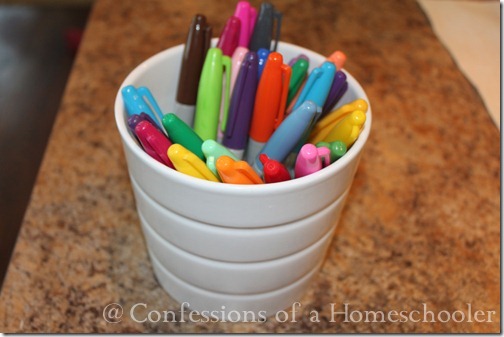 Here are some of our finished rock art pieces.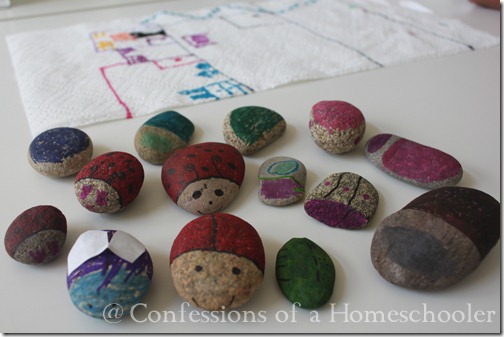 Strawberry Shortcake had the most fun with this one, she even made a little paper house for all of her rocks.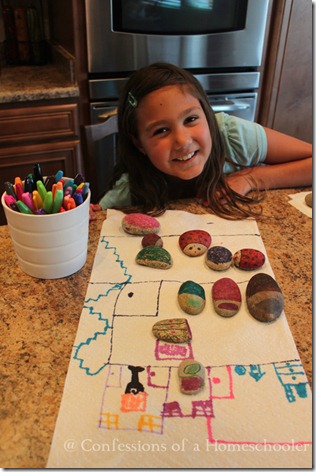 So go forth my friends, and gather rocks.
Hope you enjoy your rock collection!
This post is part of my Summer Boredom Buster Series, click below to see more ideas!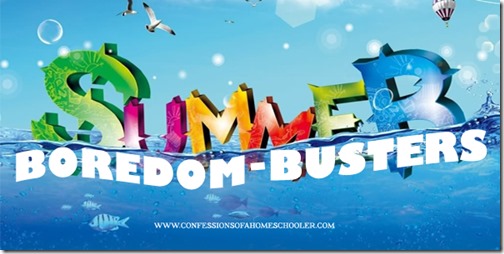 This post is part of a 5 day long hopscotch, visit iHomeschool Network to see what our other bloggers are doing!