Hi everyone! I thought with the new year here a new menu plan was in order! Since I've tapped out my own recipe ideas, I was really excited when the folks over at  E-Meals asked if I wanted to check out their menus! I have to say they have some great options over there and I wanted to share them with you today!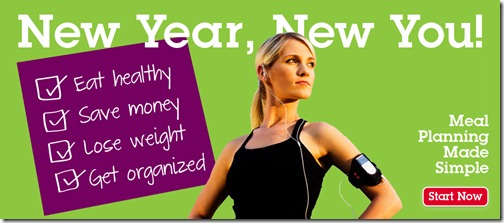 What is E-Meals?
E-Meals is an online menu planning website that offers weekly menu plans for busy moms and wives! They have over 20 menu plans for families ranging from 2-6 people and in addition to their traditional menus they offer low carb, low fat, and vegetarian options as well!
One of the coolest things I think is that you can pick your grocery store! They plan their menus so that you get the best deals for your store! Each weekly menu also comes with a grocery shopping list, which many of you have asked me for!
And there are a bunch of new meal plans for 2013 to choose from!
Classic Meals
Clean Eating
Simple Gourmet
Paleo
Low Carb
Low Fat
Portion Control
Natural & Organic
Gluten Free
Vegetarian
So how does it work?
It's so easy, you just choose which plan you want, print your list, head to the store, then come home to cook your meal! With E-Mealz it's all planned out for you, and specific to your choice of stores as well!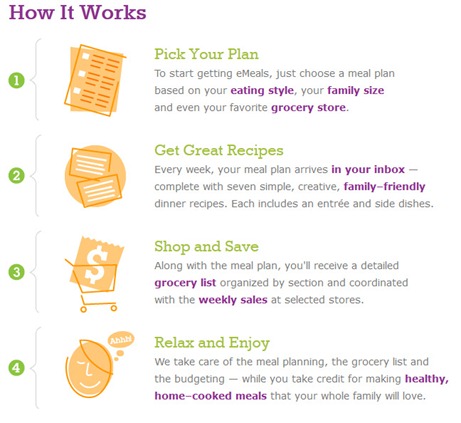 What's the cost? E-Meals offers three subscription options:
3 months for $21
6 months for $35.00
1 year for $58.00
One thing I like about the subscription is that if you pick a plan then decide you want to switch, E-Meals allows you to change your plan one time every subscription term! They also offer different recipes each week so no getting bored!
What did we think?
I was quite impressed with the meal variety that we tried. My kids didn't love everything we made, but there were quite a few that they did like. I did skip a few meals they listed since I knew they wouldn't eat them anyway, but it was really easy to do that and still have a full menu plan with the other recipes. And I think my family was happy to have some variations to our usual meals too!
My favorite thing is the grocery list. I picked my local store which made it really easy to shop each week. The recipes are also really easy to make. The meal, ingredients and instructions all fit on a one page printout which made it easy to reference during the week.
They also include individual prices for all the items on their list including which ones are on sale and in store specials! They also have a total cost for the week's dinners (excluding tax) so you can help budget! How cool is that!
Want  more info? Visit E-Meals at any of the links below!
Ready to win a free subscription to emeals?
The nice people at emeals has offered a free 3 month subscription to one of my readers! YAY!