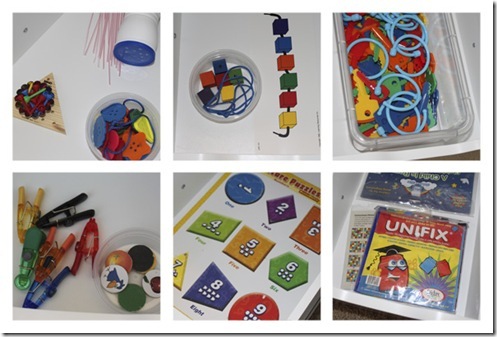 That's right, the Teeny Tot has her own workboxes and she's all about having fun new activities in them each day. I know I've mentioned this before, but for us, involving our Teeny Tot in our school makes her feel important and also gives her some "special" activities just for her.
What's in the Box for the Teeny Tot this week?
Today I gave her our Peg Number Boards from Lakeshore Learning. They are foam boards with numbers in them and then the same amount of holes on each card for counting. The Teeny Tot chose to stack them by color, which was a great activity for her age level. I had her tell me which color she was doing next, and sometimes I suggested she do a color as well.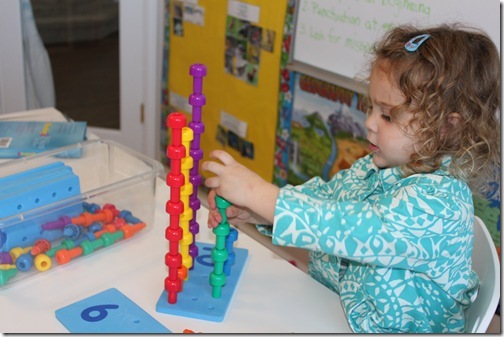 It's funny how the same game changed up a little can seem new. This is another one of our Solid Wood Teaser games. I think there are about 7 different shaped games in there. Of course they all have actual rules, but the Teeny Tot uses them to put the tees in. When she was done she asked for some pom-poms to add to the tops.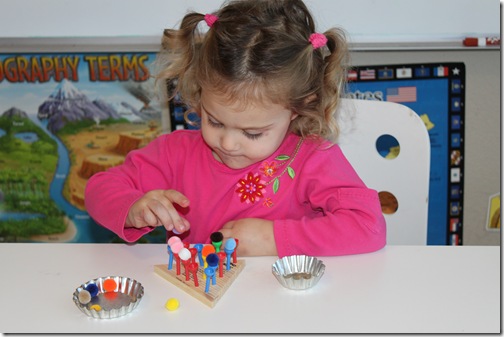 I love these Counting Keys by Lakeshore Learning. They're so fun, I mean what kid doesn't love keys? And these are keys with a purpose! Below I asked her to sort them by color, but you can also use them to do patterns, and the keys are different shapes as well, so you can sort by shape too.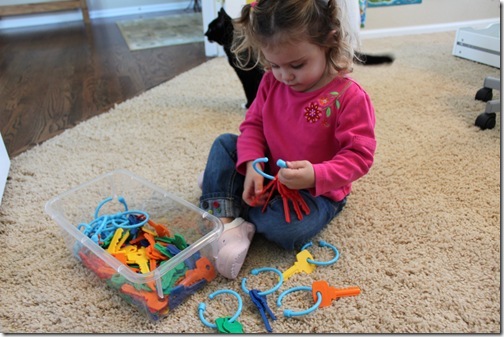 I am trying to give her cutting practice so she gets used to holding her scissors properly. This was just a little Scissors Skills sheet from a book I'd found awhile back.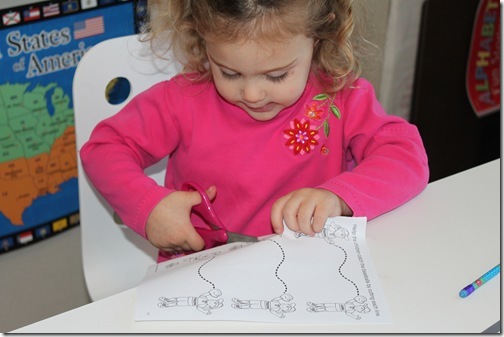 She's not always excited about the Pattern Blocks and activity cards but she actually finished this one. It took a little coaxing from me though.  Maybe it's because she knew what was in the next drawer…
I'm not sure what it is about these Large Bag Clips and color disks, but she LOVES doing this game! Basically she just matches the bag clip to the corresponding colored wooden disk. She sits and says what color she's doing next…"How 'bout purple next"…when she's done she says "see! I did it!". Oh that kid cracks me up.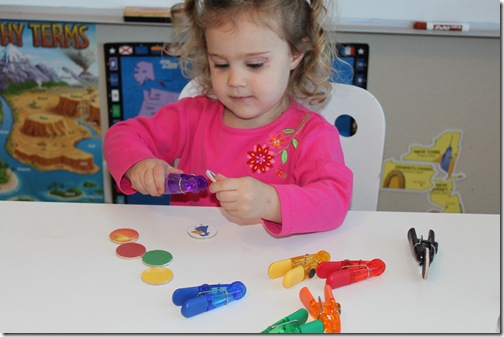 So that was about it for the Teeny Tot. She was on a roll and did most of these activities in one day, but that isn't always the case. Some days she does everything, some days she does nothing!
Some days she takes it upon herself to grab a dry-erase marker and help "update" my daily white board. This is particularly helpful after I've written all of our English rules for the day on it.