Hi everyone! I'm sure this is nothing new, but it is for us, and I just had to share!
This week we made banana boats for the kiddos.
No, we weren't camping or anything like that, just looking for a little fun on a plain ole' weekday!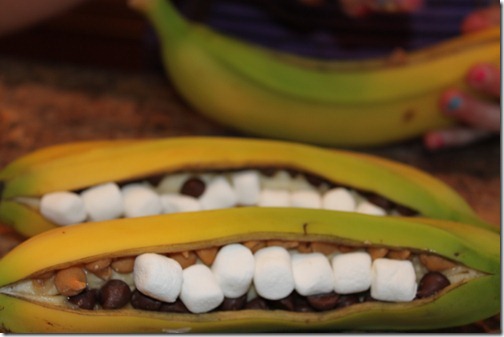 The good news is that these tasty treats are so easy to make, your kiddos can do the honors!
Ingredients:
1 banana/person
1 bag chocolate chips
1 bag caramel chips, or peanut butter chips
1 bag mini-marshmallows
Aluminum Foil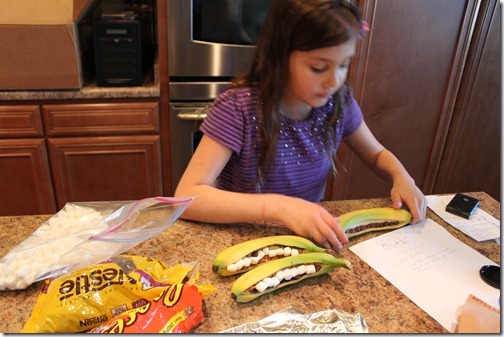 Directions:
Slice open banana along one side, but not all the way to the ends.
Stuff chocolate chips, caramels, and marshmallows all over inside the peel. The more the better!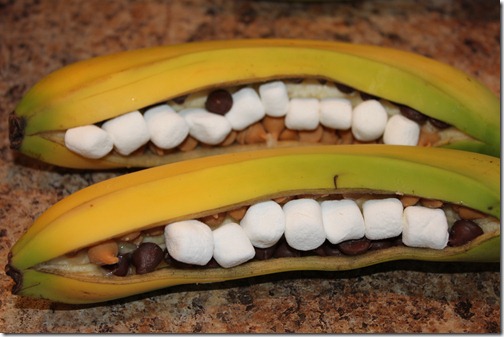 Wrap each stuffed banana in aluminum foil and grill for about 5-10 minutes or until bananas are nice and squishy.
Alternate method: Bake at 350 degrees for about 15 minutes or until bananas are soft and ingredients are melted.
Serve immediately and enjoy!
Hope you enjoy this simple and tasty dessert, even if it is just a regular ole' Wednesday!