Welcome to another day of Kids Summer Boredom Busters! Today we're making homemade sidewalk chalk! It's super easy and cheap. Plus the kids loved making their own chalks, you can mix colors, layer colors, and best of all….no chalk dust!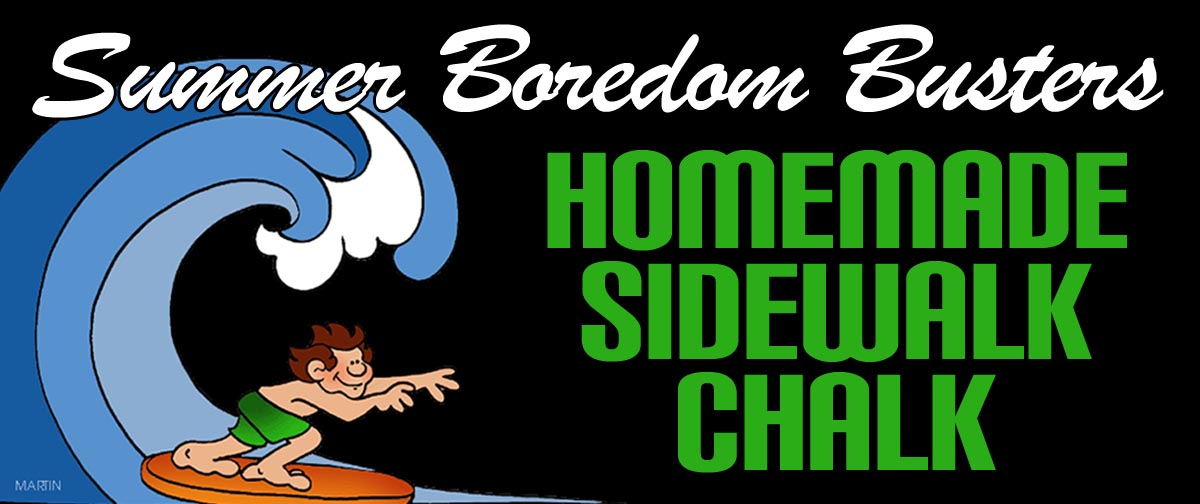 This recipe is fairly easy, I will warn you it can get a little messy, but all in all it went well! And, what better way to get kiddos outside and playing than some homemade sidewalk chalk! It provides hours of entertainment, while at the same time exercising some of those hand muscles they'll need for handwriting when the new school year starts back up!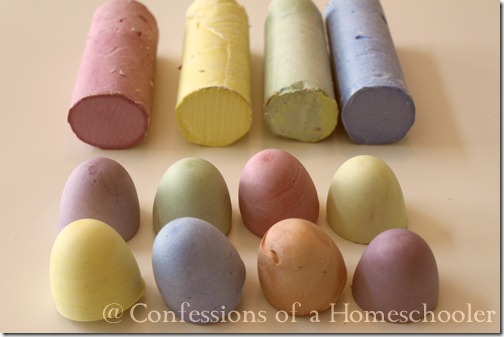 It's all part of my sneaky summer education program…um, yeah…
So let's get down to the nitty gritty shall we?
What You'll Need:
A mold (This can be toilet paper tubes, or silicone ice trays. In our case, silicone cake pop molds)
3/4 cup warm water
1 cup Plaster of Paris
2 tablespoons powdered or liquid tempera paint (color of your choice, we did red, blue, & yellow, then mixed for secondary colors)
Disposable bowls & mixing utensil (like plastic cups, and a popsicle stick or plastic spoons)
Waxed paper, scissors, & duct tape (Only if you use toilet paper tubes for your molds)
Paper towel, newspaper, or any other object to cover and protect your counter tops!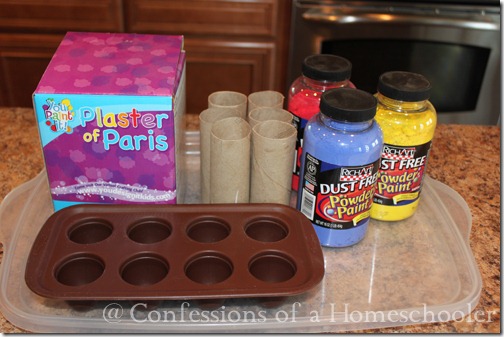 Directions: (If you're using silicone molds, skip steps 1 & 2)
STEP 1: Using duct tape, cover one end of the toilet paper tube like seen below: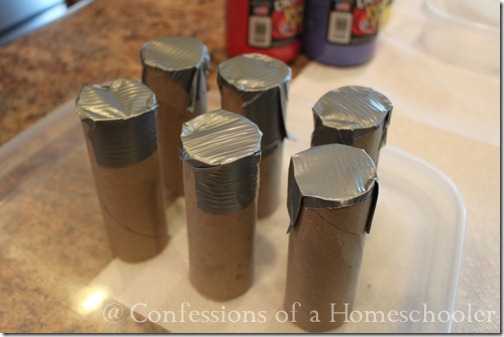 STEP 2: . Cut waxed paper piece to approximate height of the toilet paper tube and rollup carefully and slip inside the tubes. Tip: Make sure to keep the wax paper free of crumples during this part or you will end up with lumpy chalk. I also set our molds in the lid of one of my tupperware containers just so we wouldn't have a mess all over the counter. You can also use papertowel, newspaper, or anything else you'd like to protect your counter!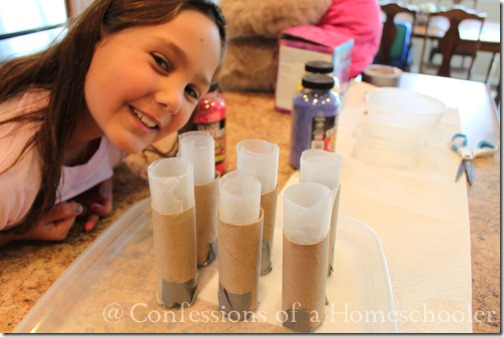 STEP 3: In a disposable bowl, mix 3/4 cup Plaster of Paris to 1 cup water. It's okay if it's kind of runny, we experimented with more and less water and they all hardened the same and work equally as well. In the future I'll error on the side of runny as it was much easier to pour into the molds then the thicker plaster mix.
Add 1-2 tablespoons of powdered tempera paint of your choice and mix well. We only purchased red, yellow, and blue paint then mixed to create the secondary colors.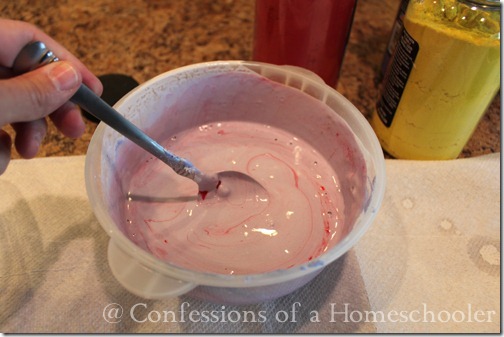 STEP 4: Pour mixed colors into your molds quickly as it will set fast. Let molds harden overnight. The next day you should be able to pop them out of your mold. If you use toilet paper tubes, carefully peel them off of the chalk, then peel off the waxed paper. This works best if the chalk is completely dry when you try to remove the waxed paper.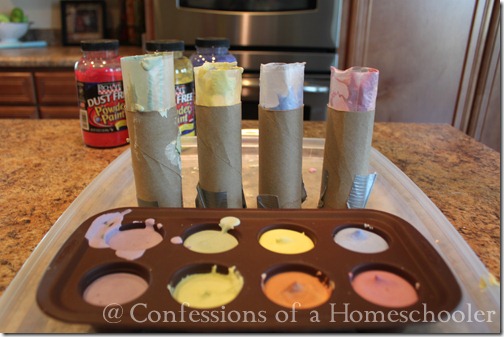 STEP 5: Take your new homemade chalk outside for some fun play time!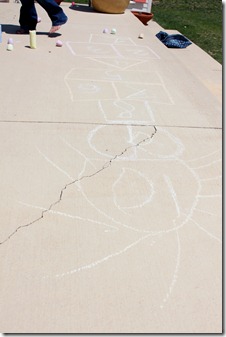 BONUS: One thing Strawberry Shortcake noticed right off the bat…our homemade chalk doesn't leave chalk dust all over your hands or clothes! Nice…I love it when you do something crazy like make your own sidewalk chalk, then get an cool bonus you didn't expect!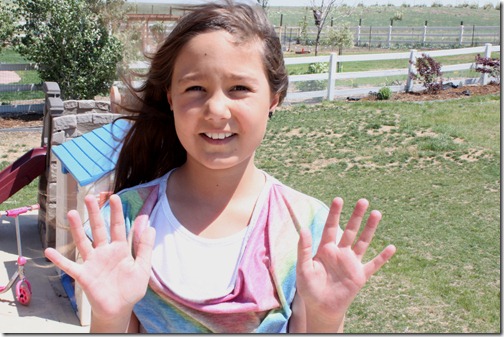 Final thoughts: My kiddos liked the silicone cake mold chalk best and they were certainly easier to pour. The toilet paper tubes ones were a little on the big side…although Strawberry noted that they'll last forever! LOL!
Hope you are enjoying your summer and have fun making your own homemade sidewalk chalk!