Hi everyone, here is my Monthly Meal Plan for September! Can I just say that I can't believe it's September already! Where did my summer go, can someone please tell me that?
Now that school is back in session, my monthly meal plan is a necessity for keeping my sanity. I usually shop at costco for things in bulk, then hit the grocery store for produce and any extras for the week. I really try to shop only for things on the list which helps save money and keeps me from buying things I don't really need.
I love the iPhone Shopping List app. They have both a lite version and one for $1.99. The paid version allows you to add in your own categories. Since I like to organize mine by the isles in my local store, I splurged for the $1.99 to help me customize. That way all of my items for one lane are in one category. Makes it very nice! Also this app stores the items you add in so the next time you go, you can just type in the item and it will pull up in your saved list along with the category and everything! You can also add in prices so you know when things are on sale although I haven't gotten that crazy with it yet.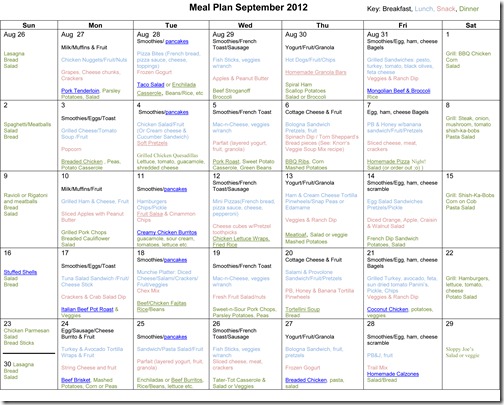 Download the September 2012 Monthly Meal Plan:
I hope this meal plan helps relieve at least a little bit of the stress we all feel on a daily basis!
Enjoy!