I've had numerous questions on what our daily schedule looks like. While each day can bring on a life of it's own, we do have a basic schedule and we stick to it for the most part barring any unforeseen circumstances! I find that our children do better with a general overall guideline of how their day will go.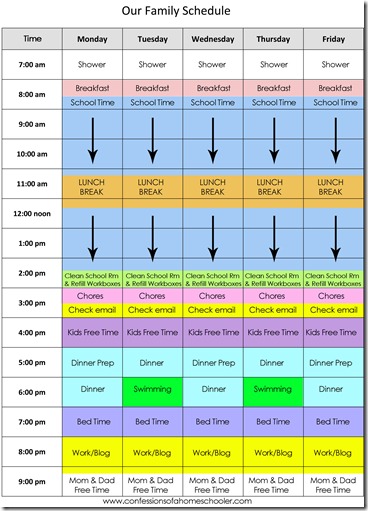 Here is our schedule….basically…provided nothing unexpected happens…like say the Teeny Tot decides to paint the floor with her new blue fingernail polish.
7:30 am – Shower/get dressed
8:00 am – Breakfast, and I start a load of laundry (I usually do 1 load per day, sometimes 2)
8:30 am – SCHOOL STARTS!
8:30 – Bible
9:00 – Math
9:30 – Spelling
9:45 – Handwriting
10:00 – English/Snack
10:30 – Reading
11:00 – Free Reading Time (Kids can pick any book they want, but must read for 15 min.)
11:15ish – LUNCH BREAK (Switch out laundry to dryer)
12:15 – History/Science (Alternate doing each 2x per week)
12:45 – Piano/Typing (Alternate doing each 2x per week)
1:00 – World's Greatest Composers/ART (Alternate doing each 1x per week)
1:30 – Writing
2:00 – Classic Literature Units (We started with Lion, Witch, and the Wardrobe)
2:30 pm – SCHOOL ENDS! (Well you know, technically it ends…realistically my kids are subject to my constant pop quizzes all day long.) I re-fill workboxes while the kiddos clean up their areas and make sure the school room is all nice and pretty like it was when we started!
3:00 pm – Chore time: Everyone does what they can from their chore chart assignments. Fold and put away laundry, dishwasher, etc.
3:30 pm – Free Time (Kids play while I check email, etc.)
5:00 pm – Dinner Prep (Kids set table and some help me prepare dinner…depending on their mood of course…and mine!)
5:45pm: 10 Minute Tidy: This is where I set a timer and everyone runs around like maniacs cleaning up anything can they find so when Daddy comes home the house is a clean and serene oasis so he assumes its like that all day ;o)…sorry honey, the secret is out…please don't come home any earlier than 5:50 unannounced or my reputation will be ruined forever.
6:00pm: Dad enters & asks "So, what did you do all day?" I say "Not much, just lounged around and ate bon-bons."  Dad quizzes kids to make sure I'm kidding.
6:00ish – Dinner/dishes/sweep kitchen floor (Seriously, how does it get destroyed after 1 meal?)
7:00pm – Tues and Thurs all four kiddos do swim lessons (yes, they're year round! If you're curious as to why you can read more here.)
7:30pm – Family devotions & bedtime (Clean up rooms, take baths, brush teeth, go to bed!)
8pm: Free time for mom and dad….sit down for first time today and sigh…blog…make cool printables to share…check emails etc. and praise God we made it through another homeschool day without burning down the house!
NOTE: And that is why, if you've emailed me during the day, you probably won't hear back until the evening! Please be patient with me, I really do try to get back to everyone by the end of the day, but there are a lot of you and one of me ;o)
Some of the tools I use to help keep me organized:
Need help building a schedule that works? Click here to download my schedule printable:
T