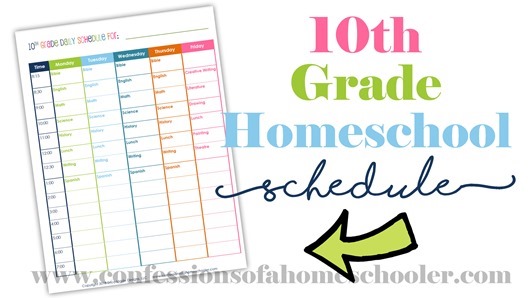 Download our 10th Grade Homeschool Daily Schedule here:
For High School I usually allow about 1 hour per subject each day.
I also have homework listed on her schedule, and some of you are probably wondering about that since we homeschool.  She has daily homework from our Options program along with studying for tests and doing extra projects not done during class time. So she uses her homework time to work on those assignments.
Here's a general outline for our 10th Grade Daily Homeschool Schedule:
8:30 am –  Bible
9:00 am – Math
10:00 am – English/Literature
11:00 am – History
12:00 pm – Lunch
12:30 pm – Biology
1:00pm – Writing
Homework
Afternoon/Evenings: Study for tests &s extra curricular activities
–>> If you'd like to see what specific curriculum she's using this year, make sure to check out our 2018-2019 10th Grade Curriculum post!
Options:
My daughter also participates in our weekly options program and this year she is completing English/Literature, Foreign Language, Computers and Art there. She does have homework for all of those subjects typically and so that is planned into her schedule above as well.
Check out our other homeschool daily schedules here!
These are just the basic schedules that have worked for us over the years. Of course your schedule will vary based on the curriculum you're using, and what fits the needs of your family best.
Check out our Homeschool Room Tour here!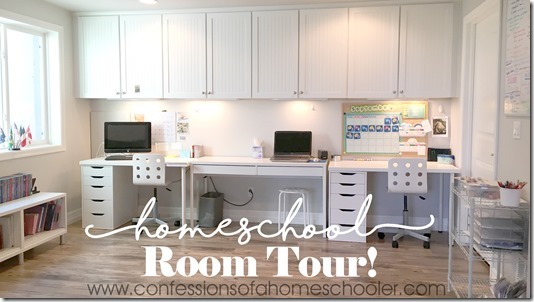 Need Help Getting Started?
Check out my new HOW TO HOMESCHOOL eCourse! In this course you will learn everything you need to know to be able to homeschool your children and have your BEST HOMESCHOOLING year yet!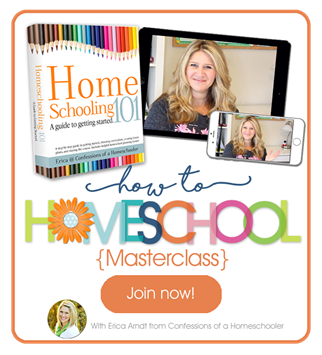 Happy Back-to-School!