Hi everyone! I'm back today with our 2015 4th grade daily schedule. Honestly I can't believe that Tinker Bell is in the 4th grade this year! She's still a first grader in my eyes. So when I was planning her year and adding 4th grade subjects to her list I can honestly say I shed a few tears. They really do grow up so fast!
But my sentimentality won't stop time, and so I persevered and came up with a 4th grade schedule for my sweet girl. Tinker Bell is 9 years old, she'll turn 10 in February. She's starting fourth grade this year and here's her line up: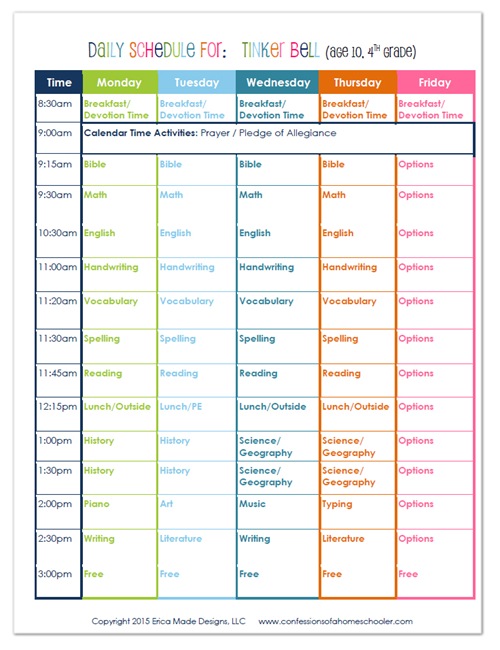 Download a copy:
Here's our Basic Kindergarten Schedule:
8:30am – Breakfast / Family Devotion Time
9:00am – Calendar Time & Pledge of Allegiance
9:15am – Bible
9:30am – Math
10:30am – English
11:00am – Handwriting
11:20am – Vocabulary
11:30am – Spelling
11:45am – Reading
12:15pm – Lunch
1:00pm – History (M/T), Science (W,TH)
2:00pm – Piano (Mon), Art (Tues), Music (Wed), Typing (Thurs)
2:30pm – Writing (M/W), Literature (Tues/Thurs)
5:00pm – Sports start! Tinker Bell plays inline hockey on M/W and Swimming on T/Th.
Like Miss Lady Bug, she also does an options program on Fridays, so she gets to do a lot of fun elective type classes such as art, music, PE, science, & Spanish. She enjoys a day with friends, and I get to enjoy a day off! It does provide a challenge when fitting our normal curriculum into 4 days per week, and so I either eliminate some lessons, or fit our curriculum into our available days which means we double up on some lessons.
If you'd like to see what curriculum she's using this year, make sure to check out our 2015-2016 curriculum post!