Good morning readers! Today I have a much requested All About Spelling video review for you!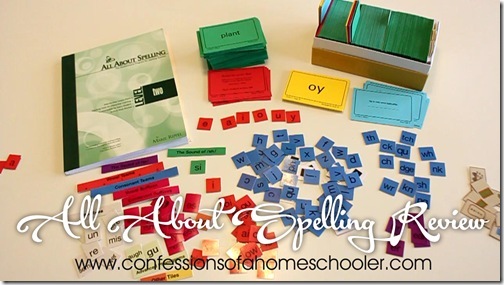 Psst…there's a giveaway at the bottom of this post, so keep reading!
As most of you know, we've used this program for several years now, and we still love it! But I do get a lot of questions about what you need to order, and how we use the program so I thought a video would be a great way to share more information with you and hopefully help you learn a little bit more about this curriculum.
–> Watch my All About Spelling Video Review here!
What do you need to purchase?
Every time I post on this product, I get questions like "Do I really need the teacher's manual?" or "What do I need to purchase?".
In order to complete this program successfully, you will definitely NEED the Teacher's Manual. The student packet is basically  a list of word cards and a few other special items needed for the unit, however without the TM you won't have any idea what to do for each lesson.
You will need 1 set of the basic letter tiles. Note: For each additional level you will receive any additional tiles specific to that unit in the student packet.
You will need 1 student packet per level. The student pack includes word cards, special letter tiles, and any additional materials needed for that unit.
And we've also been using the new FREE Apps that they have available on their site. Click the image below to get yours!
Why do I love All About Learning Press so much?
I've been using All About Learning Press products for a few years now and we really like it. I especially love it for the younger grades when students are just learning how to read and spell. I like the letter tiles which help visually see how words are put together, and I like the blue phonics rules cards the best of all. They're great for quickly reviewing all of the phonics rules for each lesson. Here are a few more things that I love about this program:
It's easy to do with no prep work on my part
The phonics rules are reviewed often so kiddos remember them
It's a hands-on learning style that makes learning fun
Results: I personally witnessed in overnight improvement in all of my children's spelling and reading skills
The kiddos love it!
Want more information?
Visit the All About Learning Press website!
WIN A $50 Gift Card to All About Learning Press!