A few years ago I did a series of posts titled Daily Homeschool Schedule for you all. Since then I've had countless questions about our updated homeschool schedule, and specifically for my kindergartener since I didn't do one at that time. You can see a basic overview of our daily schedule here.
You've also been asking questions about how long we do each subject, how many days per week, and what our day looks like hour by hour for each grade level. So I thought maybe these posts would help out!
So for the next few weeks I'm going to share our schedules in a more detail by each grade level so you can see what we're up to. Today we'll be taking a quick look at my kindergartener's schedule. We do a co-op on Friday's so her calendar has Friday's blank.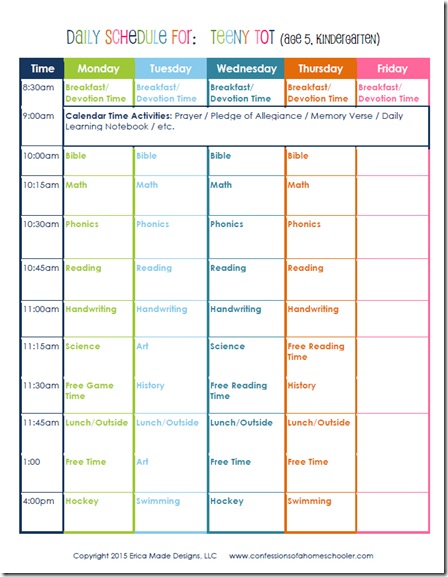 Download a copy:
Here's our Basic Kindergarten Schedule:
8:30am   – Breakfast / Family Devotion Time
9:00am   – Calendar Time & Daily Learning Notebook
10:00am – Bible
10:15am – Math
10:30am – Phonics
10:45am – Reading
11:00am – Handwriting
11:15am – Science
11:30am – History
11:45am – Lunch
1:00pm  – Free reading or game time/ Art on Tuesdays
4:00pm – Sports start! She's currently doing inline hockey on M/W and Swimming on T/Th. And yes, we're tired.
If you'd like to see what curriculum she's using this year, make sure to check out our 2014-2015 curriculum post!
Her schedule is pretty simple from, and it can vary from day to day. While I just shared our basic frame with you, she does the same subjects daily, and we throw in some fun logical thinking games here and there, as well as some art on Tuesdays.
She also participates in science and history with our older kids. She listens in, and does any experiments or activities along with us since we do these subjects as a group.
We don't have many regulations for kindergarten in our state as far as hours required. I do what she can handle, and some days are longer or shorter than others depending on her attention span an mood. But for the most part, she covers the basics of math, reading, Bible, and handwriting daily.
I hope that helps some of you, and I'll be sharing schedules for our other grades soon as well!
Happy Homeschooling