I don't know about you, but 7th grade is a little bit intimidating! It just seems like things start getting more serious around now. High school is on the horizon, and this mama can't believe that her baby girl is officially in Jr. High!
If you've been following my daily schedules you'll notice I'm in denial about my kids getting older! Strawberry Shortcake (who is now almost as tall as I am) is growing into an amazing young lady with talents and interests all her own so it's a really cool time. She's an amazing artist, and has a very creative nature which just amazes me.
Strawberry Shortcake is currently 12 years old, and will turn 13 next January. 13 people! She's starting seventh grade this year and here's her line up: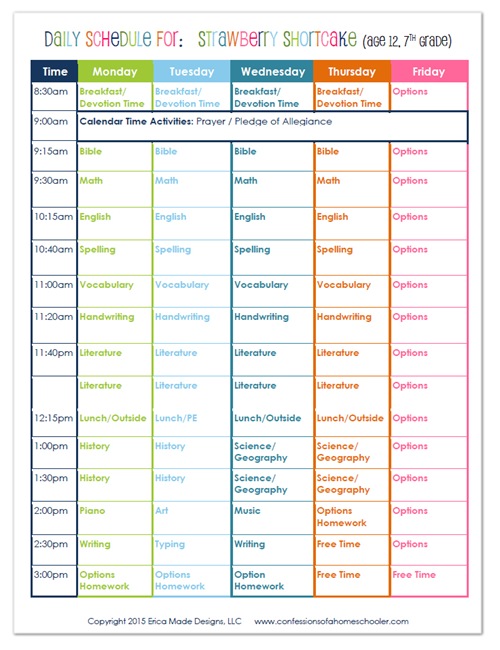 Download a copy:
Here's our Basic 7th Grade Schedule:
8:30am – Breakfast / Family Devotion Time
9:00am – Calendar Time & Pledge of Allegiance
9:15am – Bible
9:30am – Math
10:30am – English
11:00am – Vocabulary
11:20am – Handwriting
11:40am – Literature
12:15pm – Lunch
1:00pm – History (M/T), Science (W,TH)
2:00pm – Piano (Mon), Art (Tues), Music (Wed)
2:30pm – Writing (M/W) , Typing (Tues)
5:00pm – Sports start! Strawberry Shortcake does swimming on T/Th.
You'll notice that my 6th and 7th grade schedules are very similar. I also only have them doing typing once a week, but they will be typing their writing assignments and it's also part of their options homework. So I just allotted some time each week for them to catch up on typing minutes or their writing projects as needed.
Strawberry Shortcake also participates in our weekly options program and this year she gets to do speech & debate, drama, computers, literacy in film, home economics, and game theory! It should be a fun year for her.
If you'd like to see what curriculum she's using this year, make sure to check out our 2015-2016 curriculum post!