Hi everyone! I'm so sorry, but apparently April snuck up on me, and I totally forgot to post my monthly meal plan! Ironically, I'm just finishing up my new cookbook and meal plan book which I thought was funny! Apparently I can't multi-task these days!
I think my brain is in spring fever mode. We only have 2 months of school left, then we're out for summer! YAY!! And yes, I get excited for the break. School can be crazy. And fun. And crazy. So we all get excited to have some down time to just chill by the pool, play with friends, and hang out.
But that's a couple of months off, so let's get back to April and what's for dinner!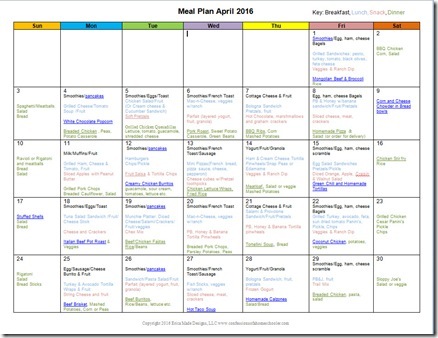 If you're new to my meal plans, anything blue and underlined is clickable. It will take you to a recipe on my site to help you out. The other meals I assume are basic enough not to need recipes for. But if you see anything on there that you'd like more information on let me know!
I take my monthly meal plan each week and make a grocery list then head to the store. Right now I have to go on weekends usually because that's about the only spare time I have. I get just what's on the meal plan for the week and that way I'm sure to have ingredients for all of my meals. I also find that weekly shopping helps with things like produce which can spoil easily. And it keeps our budget down since I'm not buying a bunch of things we don't need!
So that's it, sorry for the delay, but I hope this meal helps you all have a great April!
Download the 2016 April Monthly Meal Plan:
If you haven't already used this before, you can click on any of the underlined menu items to get to the recipe.
I like to shop once a week, so I just make a list off of my menu plan and head to the store. I find that I spend less when I shop off of a list, then flying by the seat of my pants. I also end up with ingredients that will actually go together instead of a bunch of random items that don't amount to anything.
For more fun recipes, visit my Recipes Page!
Here are some of our favorite smoothie recipes, just click on the image below!