Hi everyone! I have a new What's in the Box Wednesday post for you today! What's a "What's in the Box Wednesday" post all about? Last year I did a weekly meme just to show what we were putting in our workboxes for the day. You can see all of my previous posts here: What's in the Box Wednesday?
I've had a few emails asking what happened to this series, and so I thought I'd share a sample of a day of work in the Confessions house:
Today I'm sharing Tinker Bell's workboxes…in case you've just found my blog, she's in Kindergarten this year: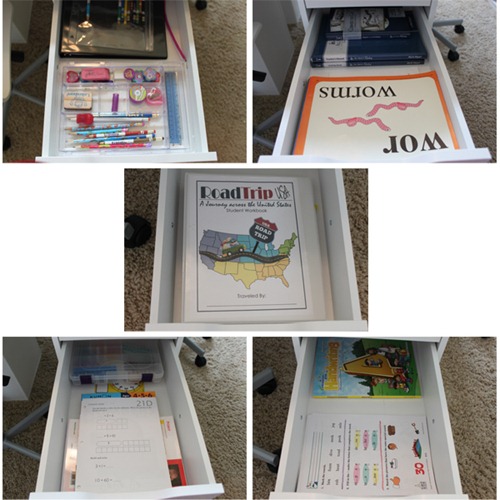 Drawer 1.
In the top drawer she has a little tray of supplies that include pencils, erasers, a pencil sharpener, a pencil grip, a ruler, and a dry-eraser. Behind that in the black binder is our Grapevine Bible study and a pencil bag full of colored pencils specifically for Bible time.
Drawer 2.
In the next drawer she has her All About Reading workbook, and reader along with our Abeka Basic Phonics Flashcards. I do a lesson from AAS, then we review the special sound cards from Abeka really fast. Then she does her daily reading.
Drawer 3.
In her 3rd drawer is her math, this includes a Kumon Numbers writing book just for some additional work. Cuz' I'm nice like that ;o)
Drawer 4.
In her fourth drawer is her A Reason for Handwriting, and her Abeka Letters and Sounds K Workbook. I just have her do these to practice what she's learning in All About Reading & Spelling lessons. They correlate well together, and apparently worksheets make me feel better.
Drawer 5.
In her last drawer, she keeps her Road Trip USA binder. It includes everything she needs for Road Trip for the year. When we get to geography time, she just pulls out her binder and flips to the next state sheet we're working on.
Not included in her workboxes:
Our World's Greatest Artist curriculum. I keep that on my "teacher" shelves and we do our art projects in the kitchen, so there's no need to have anything in our workboxes for those.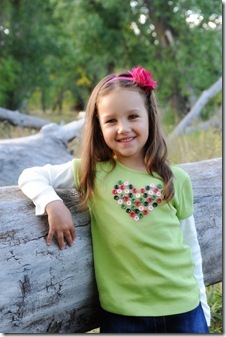 So that's pretty much what Tinker Bell goes through in one day right now. I quickly refill her boxes for the next day as soon as school is over. It takes me about 2 minutes to pull out a new worksheet for the next day. I don't mix around my workboxes anymore just because it seemed like a waste of time. And I haven't added in many extra fun boxes this year just due to time constraints.
Sometimes we'll add in snacks about half way down, but usually Strawberry Shortcake is in charge of that and as soon as the clock strikes 10:30 a.m. she disappears to the kitchen and returns with a fun snack for everyone. I love that she remembers to do this because just a little trail mix half way through can do wonders for motivation!
Once Tinker Bell is done with school for the day, she is free to go play, but she'll often choose to grab a game or activity and stays in the school room with us until we're all done.
She's my cuddly/huggy baby and doesn't like to veer too far from me…which is just fine with this mama  ;o)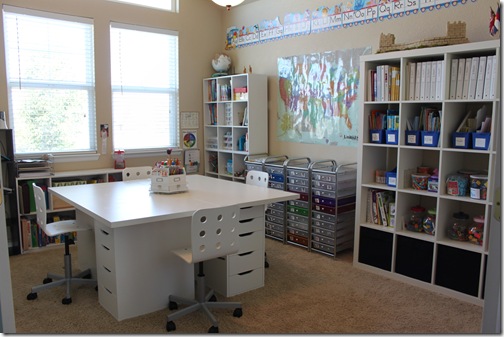 If you're wondering why I only have 5 drawers right now its because my kiddos have talked me into letting them use the Ikea drawers instead of my JoAnn's 10 drawer carts this year. I honestly prefer the JoAnn's drawers just because with the Ikea ones I have to put two subjects in a couple drawers, but sometimes a little change is good, and it seemed to make them happy. I still have the other carts, and maybe we'll put them back in action next year for a little update.
Haven't heard of the workbox system yet?
Make sure to visit my post to see how to make workboxes work for your homeschool.
Have some workboxes to share?
Make sure to link up below and share your ideas!