Hi everyone! I can't believe we have an 11th grader, it seems like she just started preschool yesterday! My oldest has hit her junior year in high school and man am I proud of everything she's accomplished so far!
Today I'm sharing our 11th Grade Daily Homeschool Schedule with you. Keep in mind, this is a flexible schedule.
Some days a subject might take her longer than others. And so she may finish a little earlier, or later depending on her workload for the day. She currently has an average of 4-5 hours of school per day, plus extracurricular activities in the afternoons.
So far this schedule is working well for her.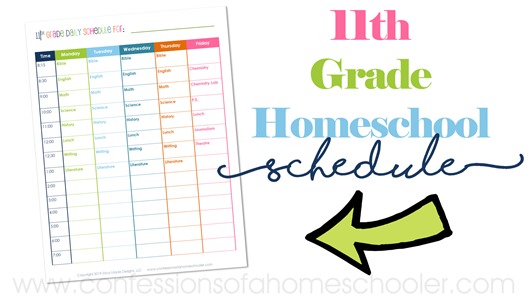 Now I know I have homework listed on her schedule, and some of you are probably wondering about that. She uses this time to catch up on any work she didn't finish during the day, or as study time for upcoming tests and quizzes.
She will also have homework from her options program this year, and so she can work on it during her homework time as well.
Download a copy:
Here's our Basic 11th Grade Schedule:
8:30am – Bible
9:00am –  Math
10:00am – English
11:00am – Science
12:00am – History
1:00pm – Lunch
1:30pm – Writing
2:00pm – Literature
2:45pm – Homework
Options:
We also participate in a weekly options program and this year she gets to do Chemistry & Lab, P.E. Journalism, and Theater. It should be a fun year for her.
If you'd like to see what specific curriculum she's using this year, make sure to check out our 2019-2020 11th grade curriculum post!
Check out our other homeschool daily schedules here!
These are just the basic schedules that have worked for us over the years. Of course your schedule will vary based on the curriculum you're using, and what fits the needs of your family best.