Good morning readers! I thought I'd do another update for our prek/kindergarten activities today! We're still plugging along with our combined preschool and kindergarten activities for my 5 year old and she's doing great.
She's reviewing the Letter F and has a few added kindergarten level activities to help challenge her and get her ready for full kindergarten in August.
Scissor Skills: She loves to cut and it's great exercise for those fine-motor skills too! Here she's carefully cutting along the dotted lines on my Letter F for Fish Scissor Skills worksheet.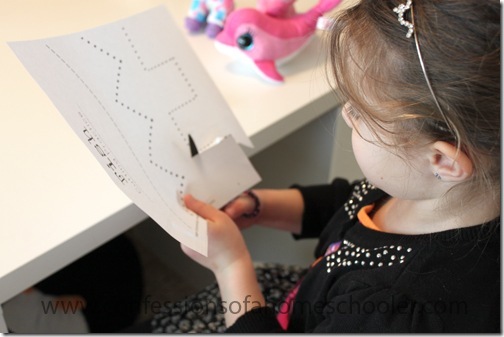 b
She has also moved on to more formal kindergarten handwriting worksheets as well. These include some warm-up shapes, then the actual upper and lowercase letters as well.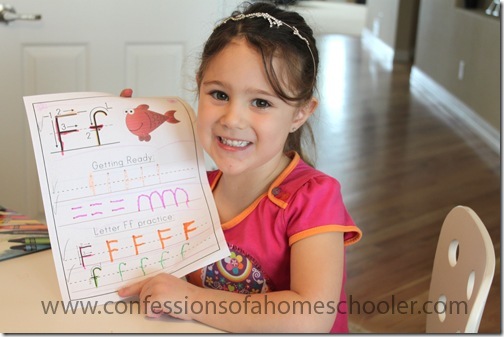 I always like to throw in some logical thinking and spatial relationship type of activities. And the Imaginets from MindWare is a great way to do that. It is a set of colorful magnetic wooden shapes that kids can use to create with. The set also comes with idea cards for them to copy. The carrying box is also magnetic and folds for easy storage.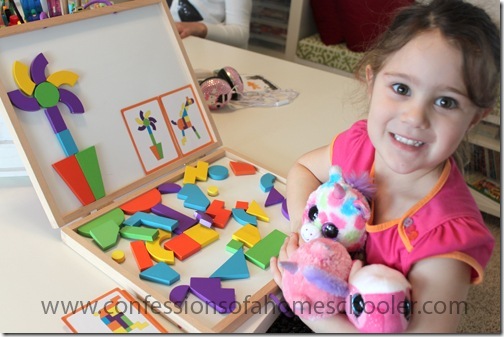 She also worked on her lacing cards which she loves. This works fine-motor skills as well, and it's also good for enforcing patterning skills. This is easy for her now, but she loves to do it and there's no harm in that!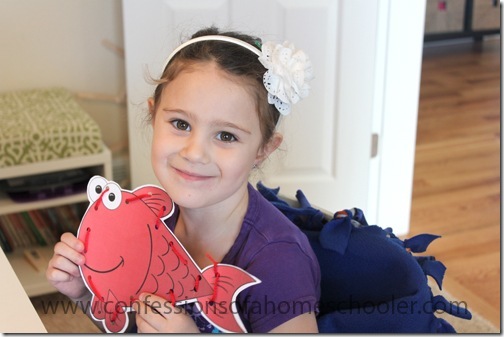 Counting is a skill we're still mastering. We use a 1-100 Numbers chart along with our calendar time practice too. But she still loves to hop around on the floor, so out come our floor cards! First she puts them in numerical order, then I call out numbers for her to hop to. This is an oldie but a goodie for us, and it never goes out of style!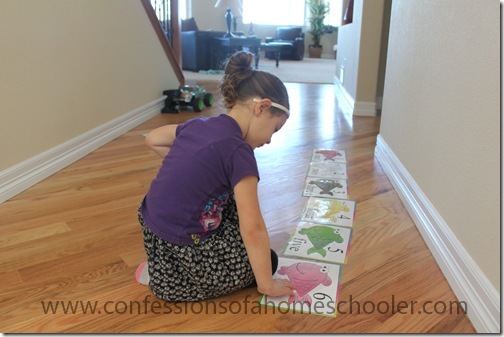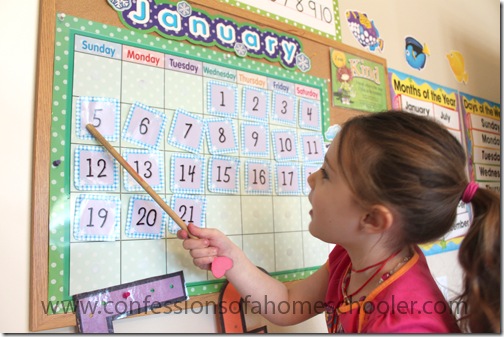 To help reinforce counting and math skills she's doing the fish counting cards below. She counts the items on each card then places the correct number on it.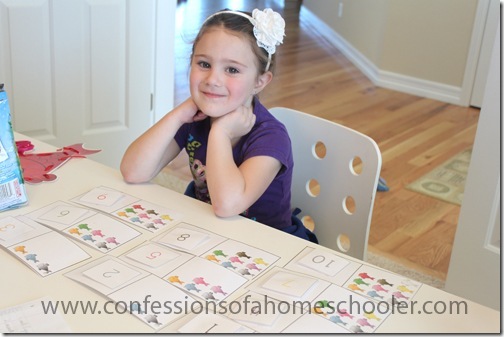 Graphing cards are another great way to practice counting and graphing skills. Here she's counting the fish on each card, then placing one bead for each fish. She's supposed to put the beads in the graphing boxes at the bottom of the page, but she wanted to do it this way today.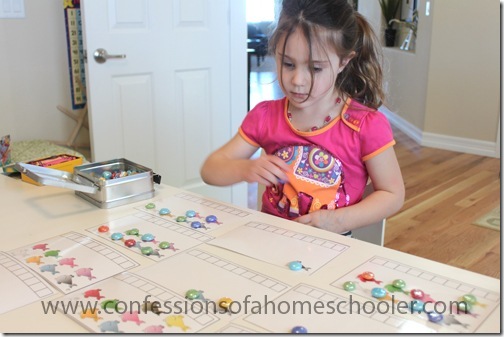 I love puzzles, they're great for building logical thinking skills as well as visual and spatial relation skills. These are my Letter of the Week 6 piece puzzles and they're way too easy for her at this point. But she loves them and asks to do them all the time.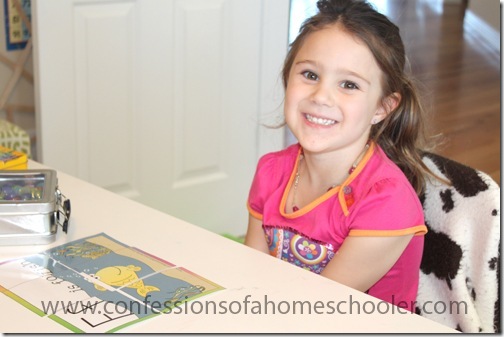 We work on one-to-one correspondence with the magnet pages. I am using the homemade pom-pom magnets and a small cookie sheet so that they stick.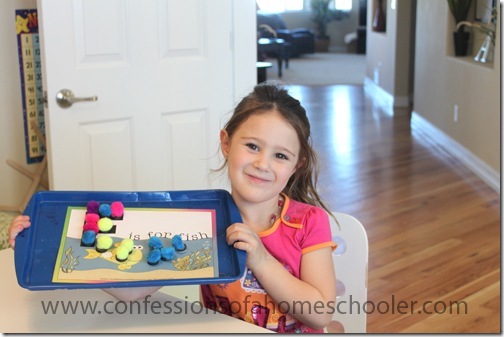 Here she is doing our letter matching activity. We made letters using wooden disks, here's a tutorial on how to make wooden letter disks. She's matching lowercase to lowercase, but we mix it up and match upper to lower and visa versa.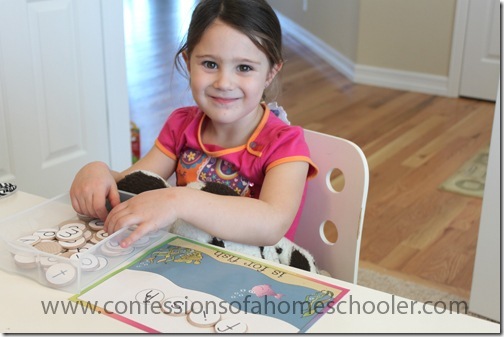 This is a great game to help teach beginning measuring skills, it's the Goldfish Measuring game! She's putting goldfish to show how big each one is. When she's done we'll count to see which is largest, smallest, and in the middle. Then she'll eat the fish!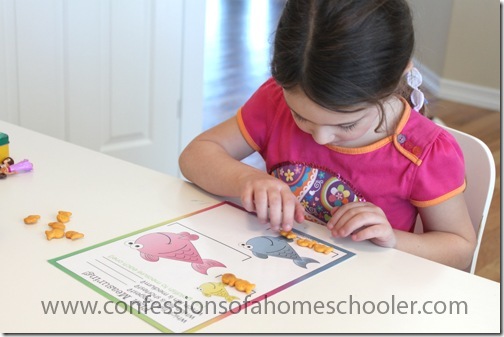 Here is a new game we've added for her this week, it's the "Preschool Probability Worksheet" which is part of my Dice Math Games Worksheets download. She rolls the die, then marks a square each time she rolls each number. Whichever number is rolled the most wins, and then we talk about basic probability and which numbers tend to be rolled more or less than the others.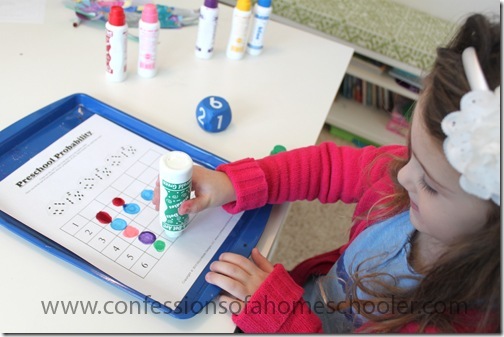 Next she's working on my Number Order Puzzles, this one  is the first one that reviews 1-10, but the puzzles go from 1-99 and include some basic skip counting as well. You can find more math worksheets and games on my Math Printables page.
And finally she did some more of my K4 Letter Hunt Worksheets. We're reviewing these quickly as we go through our alphabet again. For this one she just uses her do-a-dot markers to mark each upper and lowercase letter.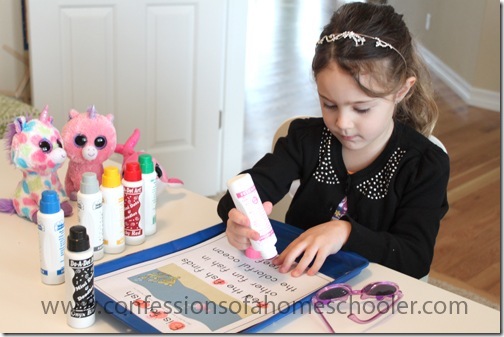 And that's what the Not-So-Teeny Tot has been up to lately! I know, I know, we're going to have to pick a new name for her…sigh…
Is the Letter of the Week Preschool Curriculum too easy for your student? Are you ready for something a little more challenging? Then the K4 Curriculum is for you! The K4 Curriculum is geared towards kids ages 4-5 who are kindergarten ready and want a fun hands-on kindergarten curriculum. All of the items you see in this post, plus a ton of extras including lesson plans are included in the K4 Kindergarten curriculum.