Welcome! I have another fun Kindergarten Printable for you today.  I had a request to take my Number Order Puzzles and kick them up a notch, so I did! Introducing the new and improved Kindergarten Number Order Puzzles!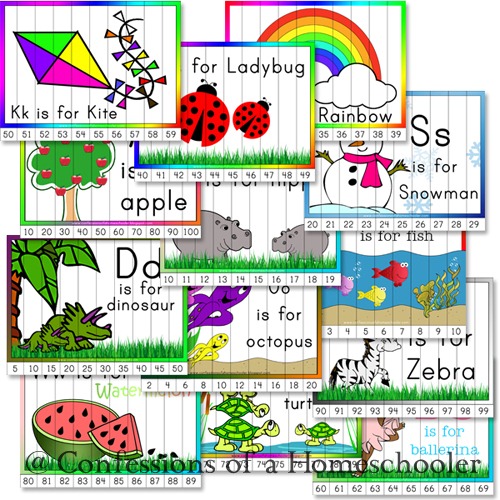 –> Download the Kindergarten Number Order Puzzles  <–
(Downloading: If you have troubles downloading, RIGHT click on the download link and select "SAVE LINK AS". You will then be prompted to save the file to your computer.)
What's included in the download?
These puzzles practice number order, counting, and recognition skills for numbers 1-100. I also added in puzzles to help work on skip counting by 2s, 5s, and 10s. The puzzles include counting 2-50, 5-50, and 10-200.
How do you use these fun puzzles?
I suggest printing them on cardstock, then laminating for durability. Next cut out each number strip vertically along the lines to separate the numbers strips.
Next mix up the number strips and have your student practice putting the numbers in the correct numerical order. If they do it correctly the picture should look right. If they've mixed up a number, the picture will be off, so it will help them to self-correct.
I hope you enjoy the Kindergarten Number Order Puzzles and that your students have fun learning their numbers!
These activities are part of my K4 Curriculum geared towards kindergartners. If you have a preschooler you might want to check out my Letter of the Week Curriculum, click on the images below to see more activities.
**Please note: If you downloaded my K4 Curriculum prior to 5/22/2012 and would like these free additions, please email me for updated download links!