Hello all you awesome homeschool moms! I hope you're having a great year, and for a lot of you I know it's nearing the end of this year already! Wow, where did the time go?
Well, the Teeny Tot has reached age 3.5 and that's about when I start with my Letter of the Week activities, so I've slowly started introducing them to her as some of her "New big girl school" activities. The title helps. Really.
So…onto the post at hand…This week our Teeny Tot worked on Letter C for Caterpillar games.
Large Floor Numbers: Here she is doing one of her favorite games, the large floor letter numbers. We lay them out, right now I am putting them in order to make it easier since she really doesn't know her numbers yet. I call out a number and if she has trouble finding it I help her out a little by giving her the color.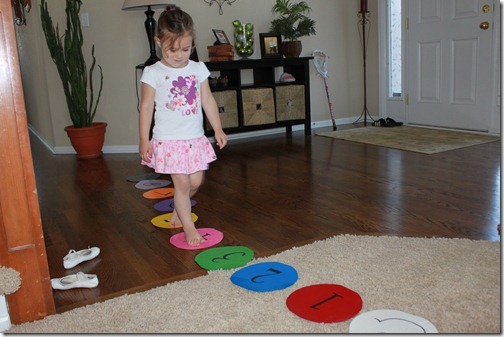 Lacing Game: Strawberry Shortcake helped her with her lacing project. She likes to skip holes, so we're trying to get her to go into each hole in a row. Either way she likes this activity. And shh…don't tell anyone, but Turbo does the lacing cards each time she has one out! Guess some things never get old ;o)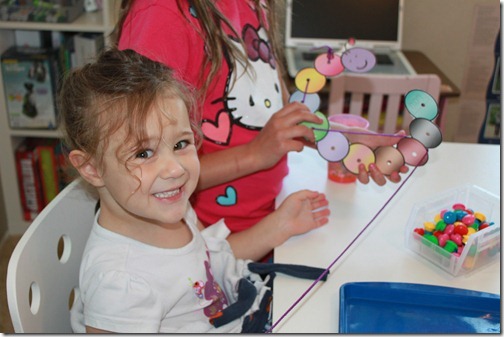 Caterpillar Counting:  Strawberry Shortcake has the patience of a saint, and I think will be a FAR better homeschool mom than I ever will if she chooses that route. Here she puts out a number card for Teeny Tot and then helps her carefully place the correct amount of caterpillars on the game board.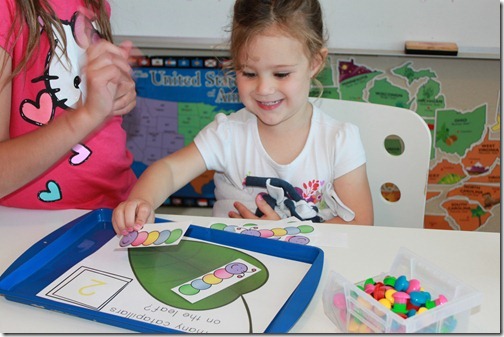 Letter Match Game: This game is fun and a great starter game for Teeny Tots! She simply matches her letter disks with the letters on the game board. We call out each letter as she matches them. Once she gets the hang of this, we'll mix up lowercase and uppercase letter disks. It's great for letter recognition.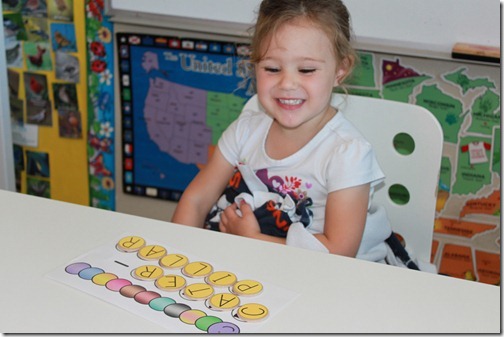 Patterning Activity: Next she did the pattern activity game. This is a little advanced for her right now, but Strawberry Shortcake is so patient! She tells her the pattern, then asks Teeny Tot what comes next. Then tells her to place it in the box. It's actually sweet to watch them work together.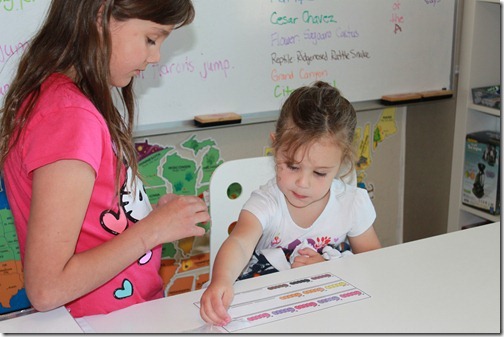 Cut and Paste: Cut and paste activities are great for fine-motor skills and dexterity. I gave her the Caterpillar cutting page and she did pretty good. She didn't quite get all the circles out in one piece, but fairly good for a first time! Later she pasted them onto a sheet in a line like a caterpillar.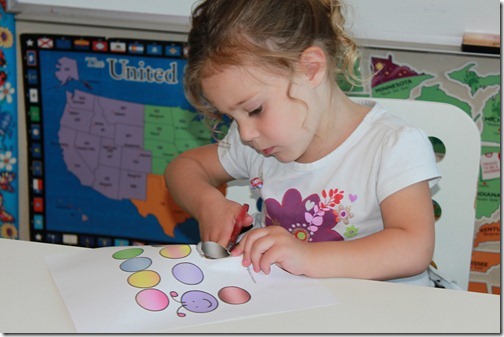 Letter-Poke-Page: This was a request by the Teeny Tot, she loves to do the poke-page. I found this HUGE push pins at a Target and we use them for this activity all the time. They are sharp, but she knows to be careful. Her goal is to poke little holes along the letter lines. It's great for fine-motorskills, patience building, and also letter recognition. She sings "The C says 'k' the C says 'k' every letter makes a sound the C says 'k'" as she works on it.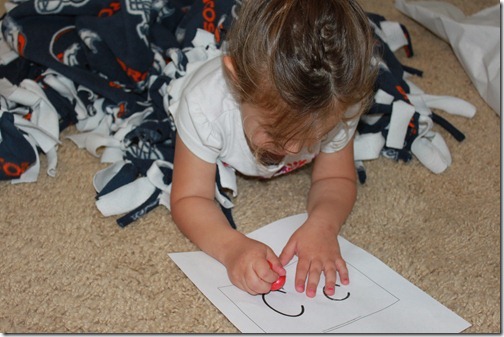 Do-A-Dot Page: Another favorite are always the Dot-A-Dot Markers, so this page is usually a request each week if not more. Here she's careful to put dots only in the circles. Once she finished, the temptation was too great and she ended up covering the whole sheet with colorful dots.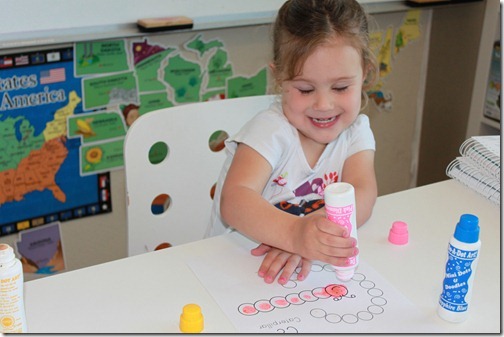 Coloring: This is a great activity to help with those dexterity skills that will come in handy once handwriting starts up. I'm impressed with her ability to stay within the lines, and her focus as well. She actually sat and finished each circle which was a first for her. She usually can't sit still that long!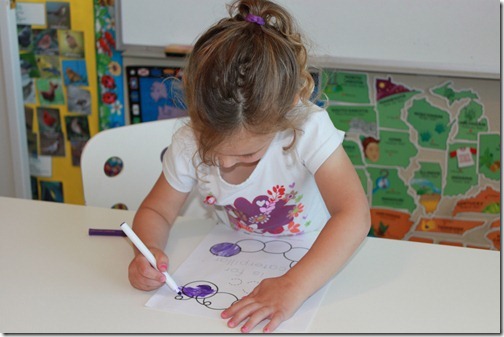 Color Recognition:  The Teeny Tot knows her colors, but I like to have her practice them here and there, plus she likes to. I pulled out my large color cards that are a BONUS to my Letter of the Week curriculum. She used our Great Big Buttons from Oriental Trading and matched them to the color cards.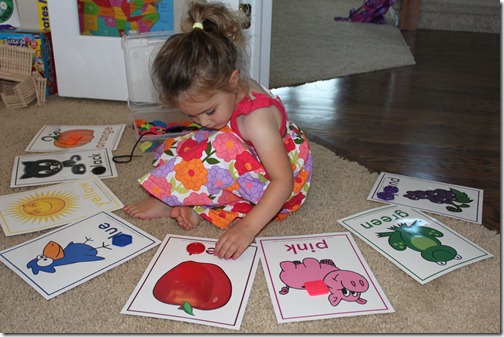 Teeny Tot's own games: Later she did some of her own cutting and coloring. She likes this activity and as you can see below she is all kinds of focused when it comes to coloring!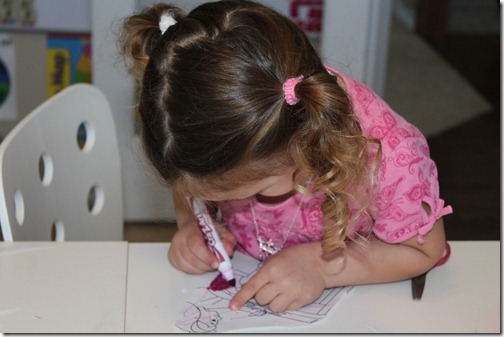 This is just a portion of our Letter C activities, you can grab all of my Letter C for Caterpillar activities free, or you can also grab the whole Letter of the Week curriculum.
Disclaimer: I really don't want to make anyone feel bad about not doing so much with their own teeny tots, I really have included this as a necessity in our homeschool. With older siblings the Teeny Tot WANTS to do her own school, and so it just works for us! I always tell people to let your little ones guide you at this age. if they're interested in learning and having fun with some structured activities, go for it! If they're not ready, wait a little bit and try again later, really there's no hard fast rule about when to start the activities!
And if you're getting ready to have a new baby and you have a toddler and you're feeling overwhelmed, don't stress yourself out! It will all get together in time, better to focus on your family and new baby than have an overwhelmed cranky mama! Just my two cents for what it's worth ;o)