I have an INGREDIBLE giveaway coming up in January courtesy HP and the Pin the Halls program, but I just couldn't wait to share some of the goodies with you now! I was so excited to receive this HP Portable Bluetooth Speaker, and I have more awesome things coming up thanks to the HP Pin the Holidays program!
uhem…ENVY 120 Printer
…$50 credit code from Snapfish.com
…a Holiday Value Pack from HP
…eek, I've said too much already!
So let's start off with the first thing shall we? You all know that I H. E. A. R. T. Christmas, and with it Christmas music! One of my first goodies…the HP Portable Bluetooth Speaker.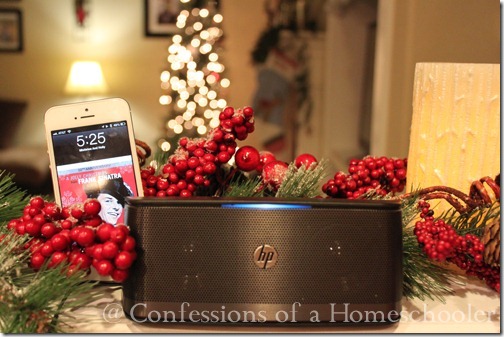 It is a great gift idea for the music lover in your family, and retails for $79.99. With the HP Portable Bluetooth Speaker, you have the ability to wirelessly connect with any Bluetooth-enabled device, I'm using my iPhone 5 here. Whether it is a PC, Android, iPod Touch, or iPhone, the HP Portable Bluetooth Speaker allows you a tangle free thrill at your convenience.
And it really IS that easy! I simply turned it on, set my iPhone bluetooth to on (Settings, Bluetooth, then click the button to "on"). Next I started up Pandora and voila! instant music  in my kitchen! You can of course play anything from your playlist, or downloaded songs and albums.
One of my favorite things about this little guy, is that my phone doesn't have to be anywhere near it to play. I can have it charging across the room or in my back pocket as I'm walking around. And it's fairly small in size (7.17 x 2.76 x 2.76 in) so it doesn't take up much space, but it also has good sound. It's great for my kitchen, and I'll definitely be using it in the school room once we start back up in January!
Some more ideas for this gift:
Host a large party or small get together for the holidays from your Smartphone or iPod Touch filled with music, laughter, and lots of holiday cheer.
Listen to your favorite playlist while preparing dinner or baking fun holiday treats. (That's what we do!)
Stream music or your favorite podcasts from your phone straight through your speakers and freely move from room to room without the hassle of wires or cords.
Like the outdoors? Take your HP Portable Bluetooth Speaker on your next trip and enjoy your favorite tunes while on the beach, on a ski trip, or out camping.
So this is totally just a teaser post because I was so excited to be able to offer HP products for you all! Stay tuned in the next couple of weeks for your chance to win an ENVY 120 Printer!
Uhem, I know you are all out there printing my curriculum like crazy, and this printer is sure to make that task just a little bit better!
For more great ideas visit the HP Holiday Headquarters and the HP Creative Studio! There are some great ideas, printables, and more that HP has for you!
Meanwhile, I've been busy trying to pin some great ideas on my Christmas boards as well, and they have links to some of the products I have coming up! Check out my pinterest boards here:
Happy Holidays!