Okay, you're probably thinking you ventured onto the wrong blog, but you didn't. It's just that recently I've been feeling like sharing some of my favorite make up items.
So I did.
Or I am right now.
Whatever.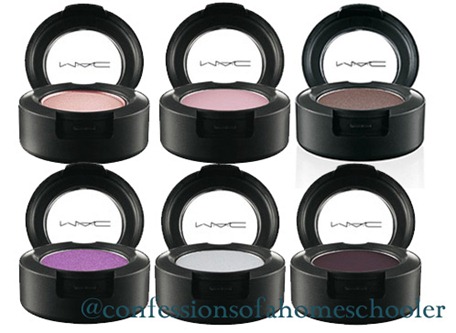 Today I'm talking about my absolute favorite eye shadows out there! Since College I've been a fan of M.A.C. cosmetics. Actually at one point I wanted to be a make-up artist…among many other things…none of which actually happened…but I digress…
Anyway, that career goal lead me to M.A.C. And it's been consistently one of my favorite make-up lines since.
And NO, this is not a sponsored post, I just love these shadows!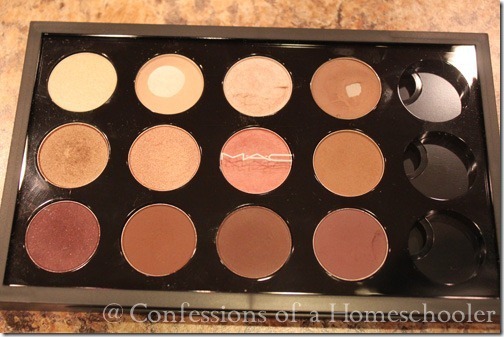 One of the reasons I love M.A.C. eye shadows is for the color selection. They have just about every color you could ever want, no kidding, a literal plethora of colors. I also love that they have great color payoff meaning that I don't have to put on a lot just to be able to see the color on my eyes. They also glide on very smoothly and blend together really well so you get a professional look even if you're not a pro!
Now before you run out and buy a bunch of M.A.C. cosmetics, I just want you all to know that I've collected these over the years. They're kind of expensive as far as eye shadow goes, they average $12 for the pro-palette ones and $15 for the individual pots.
That said, they really they last for quite awhile. most of these I've had for over a year, some maybe even longer

  I think you might be supposed to toss make-up after a certain date, but I love these, and haven't noticed any decline in consistency or had any issues so I usually just keep them until they run out. Which is like…forever.
As you can see below, most of my colors are fairly neutral. I'm don't get too crazy where make-up is concerned but if you're curious….my favorite colors are listed below: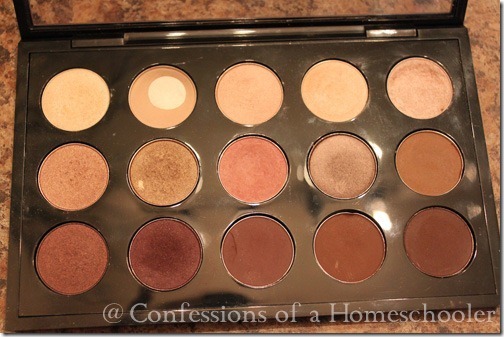 Top left to right: Nylon, Brule (use that daily), Naked Lunch, Dazzlelight, and Phloof!
Middle left to right: All that glitters, Woodwinked, Girlie, Satin Taupe, and Cork
Bottom left to right: Twinks, Sketch, Blackberry, Corduroy, and Handwritten
The best thing about M.A.C. is that you can go in and try on everything before you purchase it. That is a huge bonus since they're a bit more pricey and colors tend to look different on everyone. They'll also help you pick colors that are best for your skin tone and eye-color as well.
How I organize my shadows:
I don' have a great method to my eye shadow palette organization, but for what it's worth…I put my highlight colors along the top, eyelid colors in the middle row, then crease colors on the bottom. They're also organized from top to bottom how I would put them together, so for example the column to the far left of the palette top to bottom could be worn together, except the far right column…those were just extras.
If that makes any sense at all.
Probably not.
Just do whatever works for you.
Starter Tips:
If you do want to start your M.A.C. collection, my absolute top three shadows I would start off with are Brule or Dazzlelight for highlight, then All That Glitters, and Twinks. The three together are a nice mix, if you want to just two I would skip All That Glitters, and blend Brule and Twinks. Here are some of my favs a little closer for you…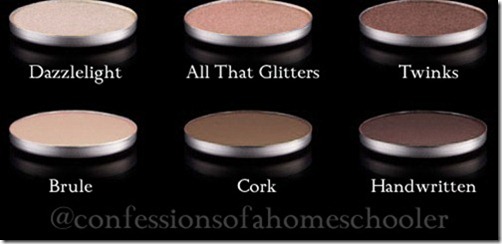 More to come?…I'll share some of my other favorite makeup items in future posts…maybe…if you guys like it and I'm so inclined to do so.
Have a favorite make up to share? Feel free to leave a comment below!
Disclosure: This was not a sponsored post, and I am not affiliated with the company mentioned. Just love these products and felt like sharing, cuz' it's my blog and I can if I want to.