Good morning everyone! Today I have a special post for you!
Why you ask?
iHomeschool Network is giving away a free copy of my eBook: Homeschooling 101 on their 40 Days of Christmas Giveaways today! So don't delay, head over and click on Day 10 to enter to win!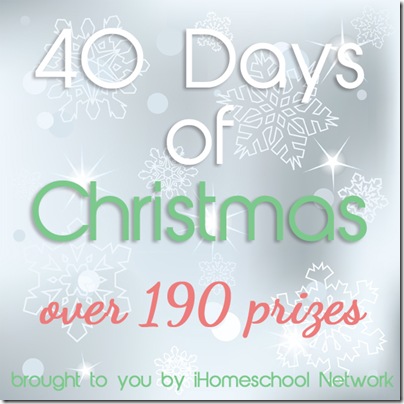 For those of you who don't know yet, iHomeschool Network and it's supporters have joined together to share some Christmas cheer with YOU!
That's right, just like the title says, they're giving away one fabulous prize every day for 40 days!
What!!?
You heard me! During the time frame of November 1st – December 8th you will have the opportunity to win 38 amazing prizes from 38 phenomenal sponsors. But we are not stopping there! On December 9th, the 39th day, you will have the chance to win a $400 cash prize from the bloggers of iHomeschool Network!
And if that isn't awesomely amazing enough, on December 10th, the 40th day of the event, you will be able to win one of each prize (including an additional $400 cash) in our Grand Prize drawing!
How's that for a Christmas gift?
Please note: Giveaways are only available on their featured day, as well as the day after. So be sure to come back every day to see a new prize unlocked on our beautiful calendar of goodies. Click the image to be taken to the giveaway widget.
And make sure you share this holiday goodness with friends and family who can use some extra cheer this holiday season. We are so thankful for each one of you and bid you all good luck!
Merry Christmas to you,
From the Bloggers of iHomeschool Network