We've been using the LEGO Education Simple & Motorized Mechanisms for our Co-op group for awhile now. Since we only meet once a month this kit is lasting us about 2 academic years which is nice.
So far we've had a great time, and today we learned all about go-carts and sleds. The lesson included changing out tires to see which ones had better traction. We also learned which ones pulled themselves up a steep hill faster. And finally, we created a sled so that the carts could pull some weight.
At the start of each lesson, the students are broken up into teams of 2. Each person builds their section of the booklet, then they bring their finished products together to form the final model.
I like that they each get to work alone for a bit, then as a team to create their projects.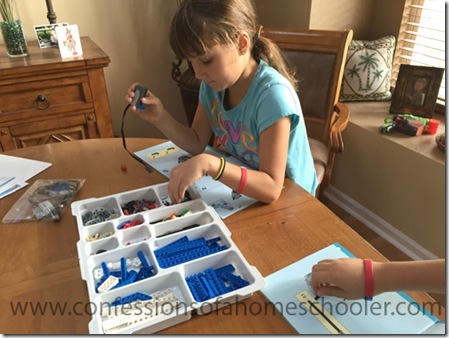 Here is one of their initial carts. I didn't get pictures, but all three carts had different tires on them. We experimented with small vs. large tires, along with smooth or thick tread to see which would give the best results.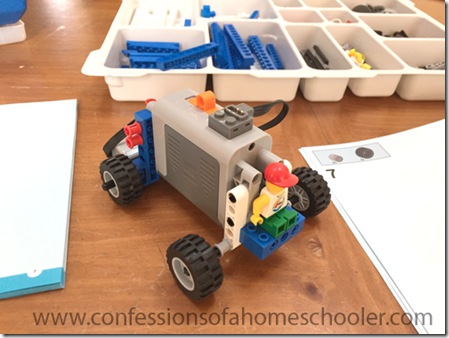 Next we took our carts outside and had races to see which one pulled the best when going uphill.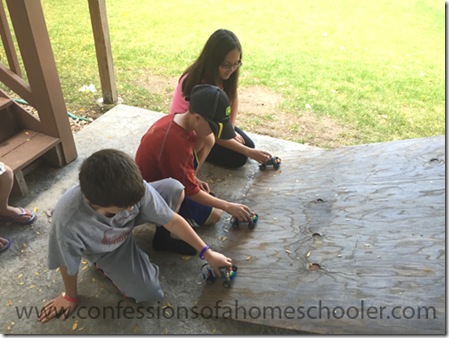 The kids also tried sending them back downhill, but the slope was too much for the motors and most of the carts flew to the end straining the engines.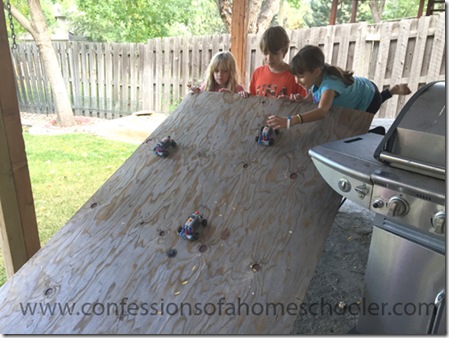 The students experimented with different sleds, and discussed how much weight they could pull, along with ways to make them easier for the carts to haul.
Here's a fun little video of some of our experiments in action! You can hear the students coming up with ideas on how to resolve issues as they arose, and how to make the carts do better.
One thing I love about this curriculum is that it begins with students building a basic concept model. Then instructs them on how to improve on that model, as well as encourage them to come up with new ways to make their model more efficient.
The hardest part for me is to stay quiet and let the students resolve issues independently! If everyone is stumped the moms will give a few hints as to how to fix a problem, but honestly we try to just sit back and let them figure it out on their own.
Their final model had 3 carts altogether. And yes, they were able to pull the heavy load, but the front car veered to one side. So their solution was to add in a long bar to hold the front car onto the back two, thereby holding it steady.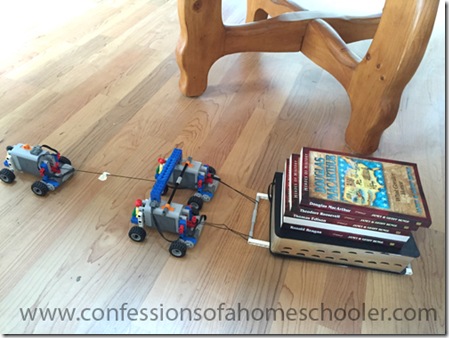 I know that this kit is a bit expensive if purchasing it on your own. I would probably suggest going in on it with a friend or two and creating your own robotics co-op to help keep costs down.
But I will say that we all love this program so far. The kids always enjoy gathering together, and they have a lot of fun with the projects. The moms are all happy with the lessons, concepts, and critical thinking that the program encourages.
And I'm always amazed to see the lessons progress, as well as the light bulbs going on in the kiddos as they figure out how to make their project work!
Happy building, and until next time…ciao!