Welcome readers! It's time for another monthly holidays post! Yep, it's already November, and so I thought it would be fun to take a look at what we have going on this month. So I've listed some, not all, of the fun holidays and wacky days that occur during November 2015. Keep on reading to see what's happening!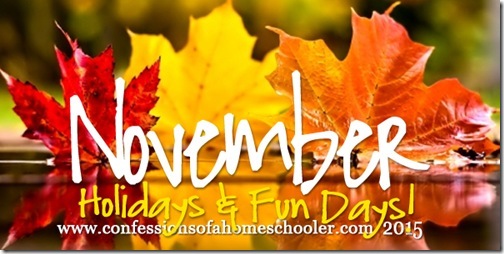 Holidays:
November 11 – Veteran's Day
November 26 – Thanksgiving Day in the US
Fun Days:
November 3 Sandwich Day
November 3 U.S. General Election Day (The first Tuesday of the month.)
November 4 King Tut Day – King Tut was the 12th king of the 18th Egyptian dynasty. He was in power from approximately 1332 to 1323 B.C. November 4, 1922 the British archaeologist Howard Carter, and his workmen, discovered the tomb entrance.
November 5 Gunpowder Day & 5 Guy Fawkes Day – On November 5, 1605 Guy Fawkes, a member of the Gunpowder Plot, was arrested while guarding explosives the plotters had placed beneath the House of Lords in an attempt to kill King James I. Guy Fawkes was arrested just prior to igniting the gunpowder, thereby saving the King. This day is celebrated in England with bonfires and fireworks.
November 5 Men Make Dinner Day  (First Thursday of Month)
November 7 Book Lovers Day – (First Saturday of the month)
November 7 Bittersweet Chocolate with Almonds Day
November 10 Forget-Me-Not Day – This is a day to remember family, friends, and loved ones.
November 10 USMC Day – USMC Day celebrates the birth of the United States Marine Corps during the Revolutionary War.
November 10 Young Readers Day (Second Tuesday of month)
November 11 Veteran's Day – Veteran's Day honors all members of the Armed Forces who have served our country. The holiday was first celebrated in 1921 as Armistice Day. In 1854 President Eisenhower changed it to Veteran's Day in honor of those who have served and died from all wars.
November 13 World Kindness Day
November 14 World Diabetes Awareness Day
November 15 Clean Your Refrigerator Day
November 15 America Recycles Day
November 15 National Philanthropy Day – Philanthropy day recognizes and pays tribute to the great contributions that philanthropy, and active philanthropists, have made in our lives, and in our world. Philanthropy means "love of humanity" in the sense of caring, nourishing, developing, and enhancing our community and world.
November 17 Homemade Bread Day – I have a few bread recipes on my blog, give one a try!
November 17 Take A Hike Day
November 17 World Peace Day – This day is meant to help make our world a better place by teaching our children and others ways to promote peace and avoid war.
November 19 Great American Smokeout  – (The third Thursday in November) This day is designed to help people quit smoking.
November 21 National Adoption Day – (Saturday before Thanksgiving)
November 25 National Parfait Day
November 26 Thanksgiving Day – The first Thanksgiving was celebrated between the pilgrims and Indians in 1621. The feast was a three day affair celebrating the fall harvest, along with a time of prayer and thanking God for a good crop. They celebrated with a huge feast including a wide variety of meats, as well as fruits and vegetables from their harvest.
November 27 Black Friday – Friday after Thanksgiving, and busiest shopping day of the year.
November 29  Advent Season Begins -  Advent is a holy season in the Christian calendar when Christians wait and prepare for the coming of the Lord whose birth is celebrated on Christmas Day. There are several traditions surrounding this season. If you'd like some ideas, stop by my blog to see my advent ideas and printable activities!
And that's it folks! Whew, that was a lot of information! Hope it helps you out with your school planning this month.