Namaste! And welcome to our Expedition Earth week on India! This week we learned a lot about India's culture and animals! Of course we started off by stamping our passports!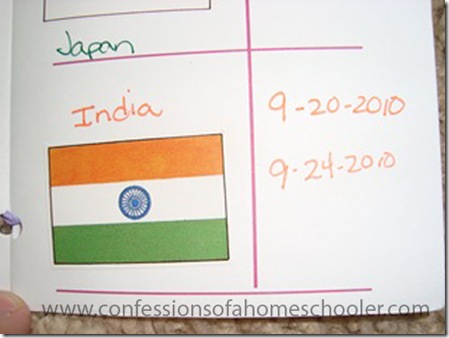 Here are some more of the things we learned about this week:
Completed our Mapping Worksheet
Learned the Anilae Anilae song (Wee Sing CD)
Prayed for India
Learned how to say hello in Hindi
Learned about the flag and colored our worksheet
Learned about Children in India
Made a Lassi, the Taj Mahal and an inlayed jewel stone craft
Completed our India Lapbook component
Tried Indian cuisine
And as usual, at the end of the week, we stamped our passports!
We found India on the map, then located the capital, Mediterranean Sea an Dead Sea:
We colored and learned about the flag of India.
We made fun inlay jewel mosaics. For this I used self hardening Crayola Clay and plastic jewels.
We learned about animals from India:
Then we talked about the facts we learned about them and classified them on our wall.
We learned about the Taj Mahal, and then made a craft. Oh the paper Taj Mahal craft…sigh…what can i say other than this was a task! I ended up having to put most of it together as the cutting was a bit tedious. Also, a tip for you: Make sure to ENLARGE this quite a bit. I quadrupled the size of it and the little tops were still difficult to fold in. I think it would have been easier if it were bigger.
We made Lassi (a sweet drink) I liked this, but the honey was a bit much for me, maybe no honey next time! (And if you notice, I skipped the mint too, I forgot! Oh well, it was still tasty!)
We did our lapbooking activity:
Of course we finished off the week with a traditional Indian meal. This one didn't go over quite as well with the kids! We ordered 'non-spicy' everything and it was still hot! My husband loved it, the rest of us ate something that was a Sweet Naan, I forget the name of it, but it tasted like peanut butter and jelly!
Click here if you'd like to follow along with our Expedition Earth Geography Curriculum Journey!
Click here to learn more about the Expedition Earth Geography curriculum!