Hi everyone! I have another What's in the Workbox Wednesday posts for you today. The Teeny Tot is actually on Letter X this week (see yesterday's post) but I took the pics for this post last week so they have letter W activities in them.
The Teeny Tot is finishing up my Preschool letter of the Week. Then we're probably going to go through it again with some K4 Kindergarten mixed in as she's ready for it. She's still four so I don't want to do full Kindergarten with her just yet. So I'm going to slowly mix in K4 items as she's ready. Here is the list of her activities for the year. As you can see I really only put our Bible, Daily Learning Notebook, and Letter activities. The rest we do as a group so I don't keep them in her drawers.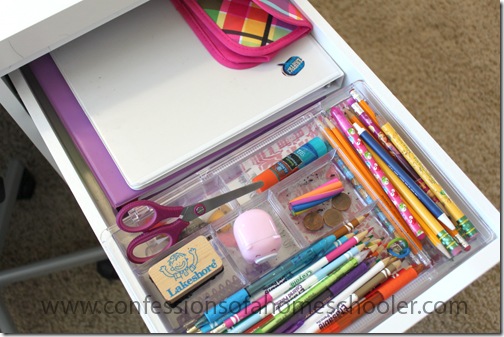 We'll start in her first workbox. These are the Ikea Vika Alex Drawer units. Her first drawer has her supply caddy which is an Expanding Acrylic Drawer Organizer from the Container Store.
It houses all of her supplies, colored pencils, scissors, erasers, glue, pencils, etc.
Behind that is her daily learning notebook and our Grapevine Traceable Study.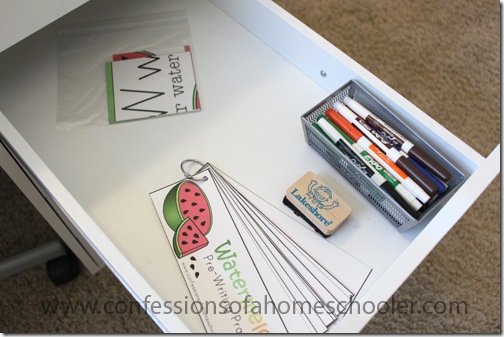 The next drawer down has a Watermelon Puzzle. You simply cut along the guides for a fun 6 piece beginner's puzzle! It also has the W Pre-Writing Skills. I laminate this and use with a Expo Dry Erase Markers for pre-writing practice skills. You can also print this in gray-scale and use for more scissor skills practice! As you can see, I put dry-erase markers as well as an eraser in there for her. I try to put whatever she needs for the activities in her drawer so it's easy for her to go through her activities more independently.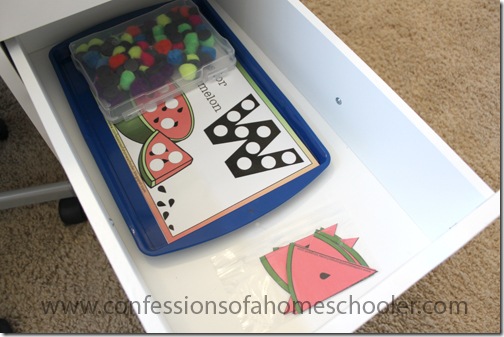 The next drawer has the Watermelon Magnet Page. I use it with a cookie sheet and these DIY pom-pom magnets I made from pom-poms and self-sticky magnets from the craft isle in Wal-mart. I also use these magnets from Amazon: Power Magnets, 0.75 inch Diameter, Assorted Colors . The other thing in this drawer is the Watermelon Counting Puzzle. Each slice has some seeds on it. To play just put the watermelon wedges together in order by number of seeds to make a whole circle. You can also discuss half and quarters here if you dare! (You could also use the wedges to put the correct amount of beans on or mini-clothes pins if you don't want them to put it in order.)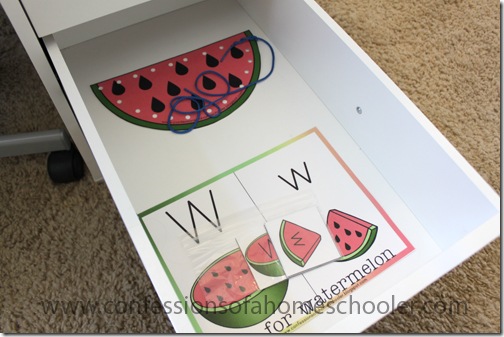 The next drawer includes the Watermelon Lacing Card: I make sure to laminate this one for durability, then punch with a hole punch every inch or so for lacing practice. Then I taughter her to make patterns with her lacing. For example she can go up from the bottom each time, or in-out-in-out sewing. Whatever pattern you can think of. It also includes the Capital/Lowercase Ww sorting game. She simply sorts the upper and lowercase cards on the game board.
We also review which is which once she's done with them. One thing I like to do with games like this and the color sorting game is have her say which one it is as she puts the pieces back in the little baggie. It not only gets the game picked up, but we review each one as she puts it back in.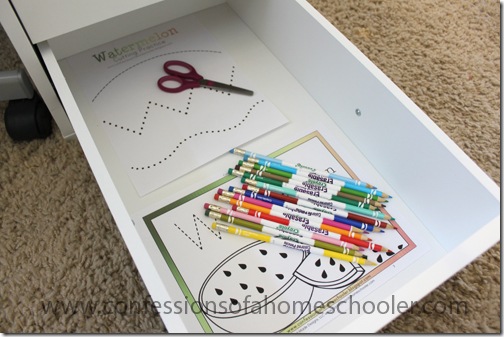 The next box includes the Watermelon Coloring Page. We color this, paint it, or use markers. It also has the Watermelon Cutting Practice page. As you can see I included scissors as well as coloring pencils for her so the activities are ready to go!
And that's it for her activities for the day. She usually gets through these fairly quickly, maybe about an hour or so. Then she either plays a game, watches a LeapFrog Letter Factory DVD, or something else while the rest of the kiddos finish working. She usually stays in our schoolroom while we work, but now that she's a bit older she's free to play a little as well. She does join us for group stuff especially art, music, PE, and Bible.
More helpful links:
These are just some of my preschool Letter W activities, click here to download all of the Letter of the Week Letter W activities which you can download free, or check out my Letter of the Week preschool curriculum to get the entire alphabet all at once!
The Letter of the Week is a full 26 week preschool course designed to give your student a head-start on preparing for kindergarten!It's packed full of hands-on educational activities that focus on the letter recognition, sounds, number recognition, counting, basic math skills, pre-writing practice, and all the necessary fine-motor skills that will be required for your preschooler to be ready for kindergarten! Included are weekly lesson plans that cover all the subjects a preschooler needs and more!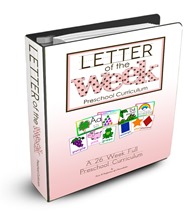 Is my Letter of the Week Preschool Curriculum a little too easy for your student? Are you ready for something a little more challenging? Then the K4 Curriculum is for you! The K4 Curriculum is geared towards kids ages 4-5 who are kindergarten ready and want a fun hands-on kindergarten curriculum.