One of the things I love about homeschooling is that we get the opportunity to go out and experience things first hand. That's why I try to schedule in a few field trips each year. It's always a nice change to our normal school days. I try to plan them according to what we're studying so that they fit naturally within our year.
One of our favorite places to go is the Denver Aquarium. It's so fun and there are always new things to see there. It's also a great thing to do when the weather isn't so nice outside.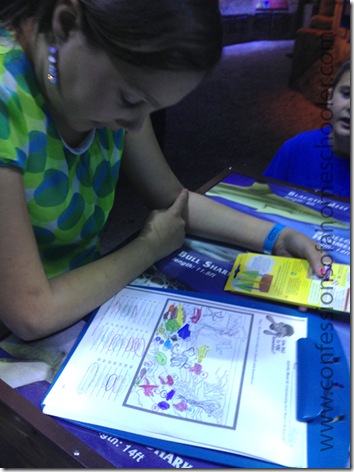 This time we used a fun "I Spy" type worksheet from Abeka's Understanding God's World student activity book. Since it fit with our theme I thought it would be fun to actually go and find all of those animals in person at our local aquarium instead of just coloring them on the worksheet. And any time that I can make a field trip a little more educational I'm up for it.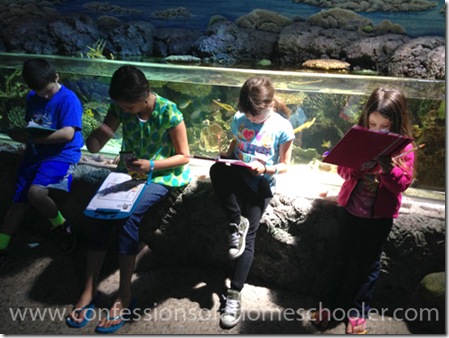 Don't get me wrong, we take plenty of trips where I don't require them to write anything down. Mainly because I like them to actually enjoy the experience and not be tied to some type of worksheet. But this one looked fun and fit right into our lessons! And the kids enjoyed trying to find all of the animals on their sheets.
Each of them brought a clipboard and a box of colored pencils along with them so they could color and label the animals as they went through the exhibits.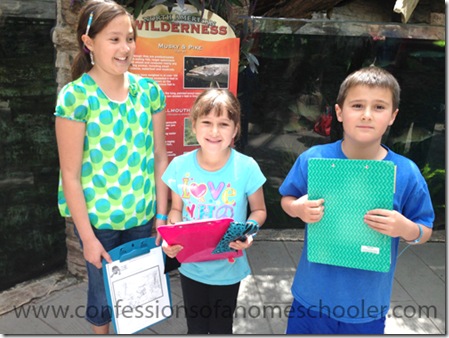 We usually come here about once a year or so just to see what's new, and enjoy a day away from the norm. If you haven't checked it out before it takes about 1 1/2  to 2 hours to go through, so it's not an all day thing. But they do offer day classes for older kids where they can go behind the scenes and help feed animals, and learn more in depth information about the aquarium. Strawberry Shortcake has done both the aquarium and wild life classes and really loved them.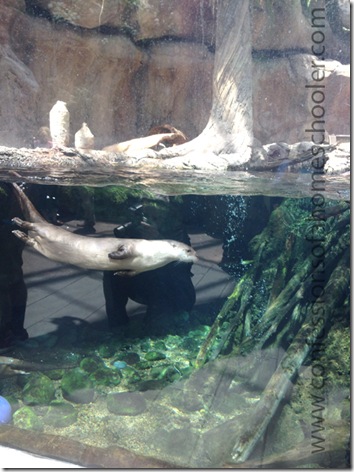 Turbo and Tinker Bell each took turns feeding the flying fish. They jump right out of the tank to get the bugs mid-air! It's super cool, as long as you're watching and not having to touch the bugs. Ewe!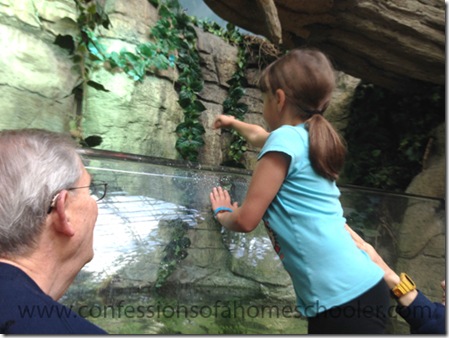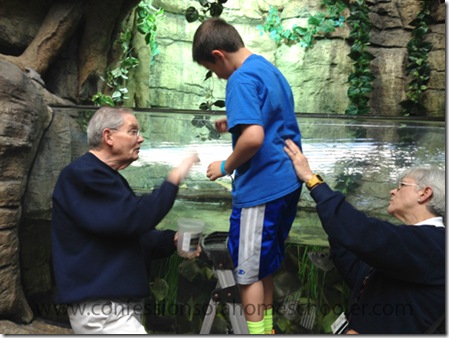 We were happy to see the octopus out and playing around. he climbed all the way up the front glass so we got a great view of his underside which is quite interesting if you've never seen one!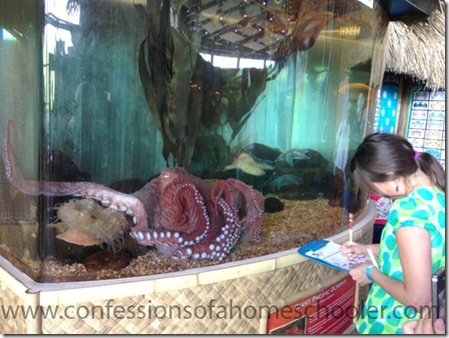 We took some time to sit by the big aquarium wall and find all of the smaller fish and coral listed on their worksheets. There are such a variety there that it was fairly easy to fill out our entire chart!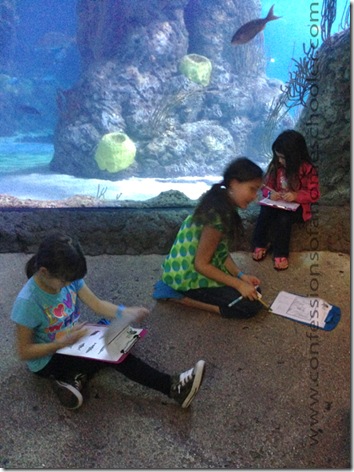 I wish the pictures had turned out better, the colors in real life are so vibrant and amazing!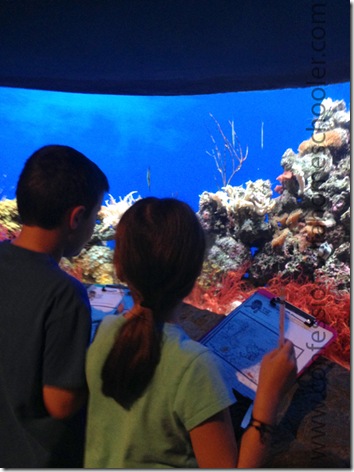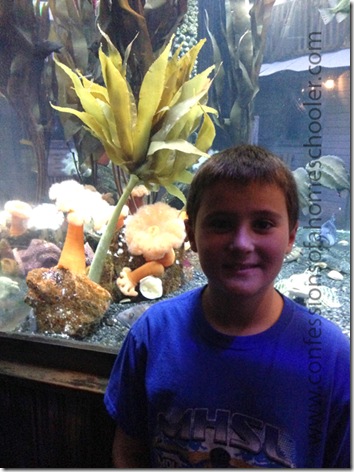 An of course the shark tank is always super cool. They have glass floors so you can walk on top of the sharks, as well as a huge glass wall where you can see them swimming by up close. My son was bummed to find out there were no great white sharks in the tank LOL!
They also have a glass tunnel that you can walk through and watch the animals swim right over the top of you. It's super cool!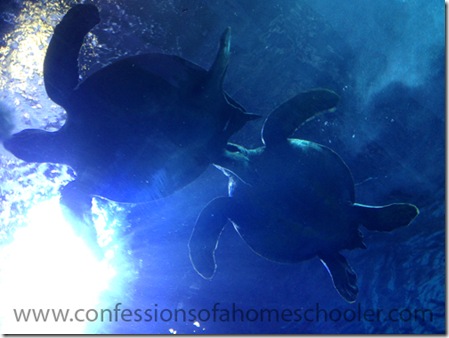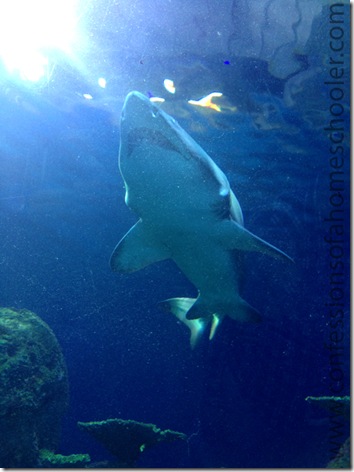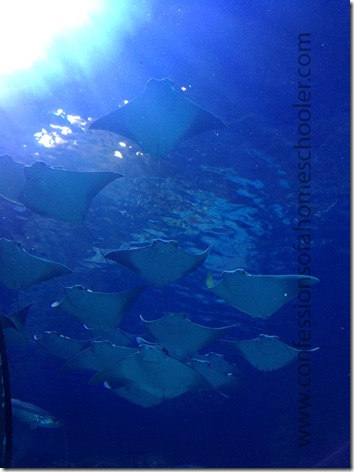 And finally, one of our favorite parts comes at the end when you get the chance to touch the sting rays. I'm always grossed out by how slimy they are but it's still a fun experience!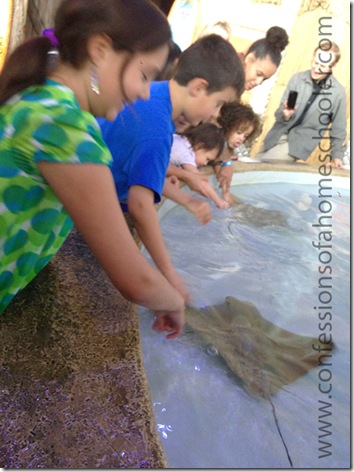 And that was it for this aquarium field trip! The Denver Aquarium also has a wild life section with birds and tigers, but unfortunately I failed to get a shot at that part! Oh well, next time!

Happy Homeschooling! I hope this inspires you to schedule some field trips into your year to help make learning fun!