As a busy mom of four, I find meal planning a little on the stressful side. I actually enjoy cooking, however when we're busy with school and other activities, I don't always have time to run to the store, or think of something healthy and tasty for my family.
I don't know about you all, but it's really easy for me to want to run out and grab something quick when we're in between activities, or coming home late from something. But as we all know, that can get expensive, and it's really not very healthy depending on what you grab on the go.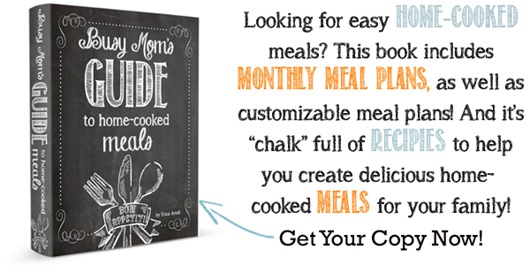 But with just a little planning, it's easy to skip the take-out and create a variety of home-cooked meals for your family, even when you're busy like we are!
As most of you know I always post my monthly meal plans here on my blog, but I've had also ton of requests for weekly shopping lists as well as a list of all of my recipes in one location, so I put all of that together in my new book! I've also added in a new customizable menu plan as well!
Monthly Meal Plans:
The Busy Mom's Guide to Home-cooked Meals includes monthly meal plans for January through December. As you'll see each month is full of pre-planned meals for you. They're color coded and separated out so you'll only be eating the same dish once each month. The monthly recipes also vary by season, so you'll have a nice variety of meals to look forward to throughout the year. I've also included a bunch of healthy snack ideas as well as holiday treats!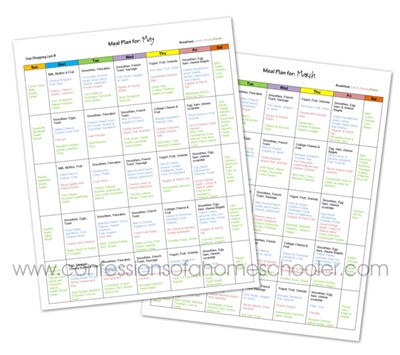 Weekly Grocery Shopping Lists:
There are also weekly grocery shopping lists for each week and month to make planning ahead even easier!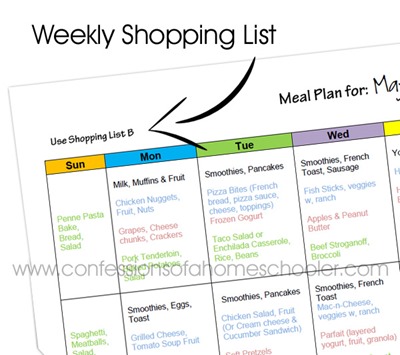 The shopping lists are separated by sections so they should fit most grocery store layouts. Simply find the shopping list for the month and week you're on, check off anything you already have at home, then take the remaining list with you to the store! There are also blank shopping lists as well that you can use to customize your own meal plans.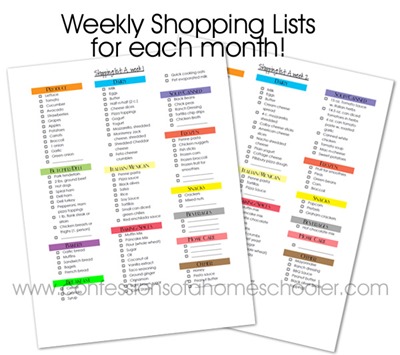 Create Your Own Meal Plan:
A new feature that is included in the book is a blank calendar template along with meal labels so you can create your own customized meal plan. I have pre-printed meals for recipes included in this book as well as blank labels that you can use to add in your own meals!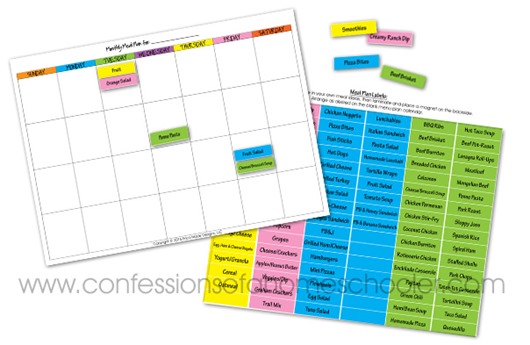 My hope is that this book will inspire you to make healthier home-cooked meals on a regular basis as opposed to heading out for take-out. I've also included a list of healthy snack ideas to help out as well. We often pre-pack them in serving size baggies so that when we're running out the door they're easy to grab and go.
Hopefully it not only inspires you to create meals at home, but also helps alleviate some of the stress that daily meal planning can cause! That way you can spend more time enjoying your family, and less time planning!
Click below to get your copy today!
Details: This book is available as an 8.5×11 PDF download that you can print and have spiral bound. As well as a Paperback full color hard copy on Amazon. This book has 99 pages. It is best printed in color.
 (Paperback copy may take a few days to be available on Amazon!)
Happy Cooking!