recently
Slow Cooker Chicken Tacos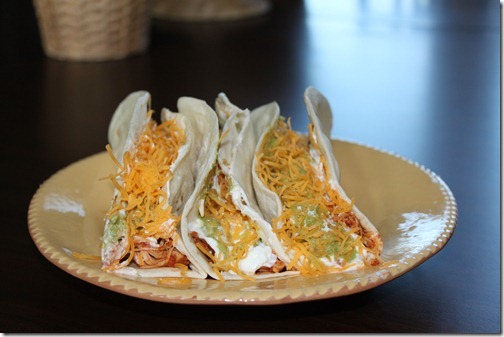 I have a super EASY and yummy recipe for you all today! This is my go-to recipe for days when I know we're going to be busy running from one sport to the next! I originally found this one on the Tasty Kitchen blog, and since then I've seen several variations. I've tried a couple of them, and honestly I think the more simple the better. So, ready for the absolute easiest thing you've ever made? Here we go!
Ingredients:
6 boneless, skinless chicken breasts, or 6 boneless, skinless chicken thighs
16 oz. jar of your favorite salsa
Crockpot/Slow Cooker
Tortillas & toppings of your choice (I used light sour cream, cheese, guacamole, and tomato)
Directions:
Place thawed chicken into your slow cooker, and cover with 1 whole jar of salsa. Cook on high for 4-6 hours, or low for 7-8. About 6 hours in, use a fork to shred chicken and stir it around to coat in the salsa. Keep on warm until you are ready to serve!
For tacos, I just put all of the toppings out in little bowls and let everyone make their own! You can also use this mixture for burritos, just wrap in tortillas, cover with green chili and bake 30 minutes @ 350 degrees. Top with cheese, sour cream, and guacamole!
I hope you enjoy this recipe!