Looking for some fun summer kids activities to stop the "I'm bored" whining fest? For the month of July I thought it would be fun to put out some Kids Summer Boredom Buster ideas. I compiled a list of super easy, fun summer activities to help make your days fun and whine free! So let's get started!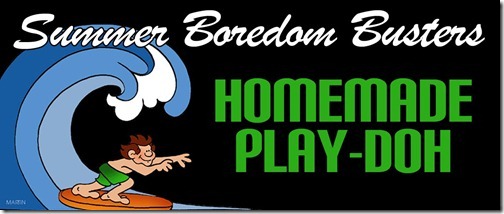 I know this stuff has been around forever, but I've actually never made it! And with the amount my kids go through I thought it was worth it to try making our own. Really it's mostly flour and water, so the cost is very minimal as well. Especially if you have four kiddos who love play-doh!
So here we go…
Ingredients: (This recipe will make exactly the amount you see in the image above. Each one is about 1" dia. x 4" long.)
1 cup cold water
2 tsp. vegetable oil
3 cups flour
1 cup salt
2 Tbsp. cream of tartar (This ingredient helps keep the dough for about 3 months, so do not omit)
Tempera paint or food coloring of your choice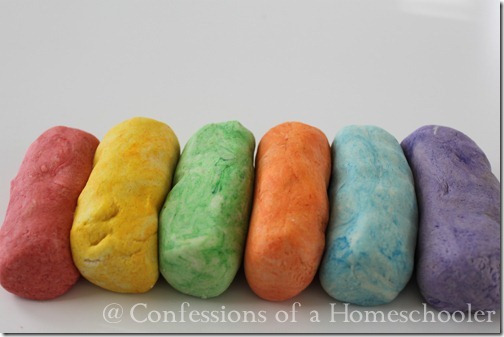 Directions:
In large bowl mix flour, salt, and cream of tartar until well mixed.
In a separate bowl mix water and oil.
Separate flour mixture into 6 equal amounts in smaller bowls (1 bowl per color you plan to make)
Separate water mixture into 6 separate bowls and add different food coloring to each bowl, enough drops to make it VERY bright.
Add 1 of the colored water cups to each bowl of flour one at a time. Mix until it reaches the consistency of bread dough. Repeat for remaining colors.
Store in an airtight container, i.e. plastic Ziploc bag.
Last step is to hand it over to the kiddos for some creative playtime!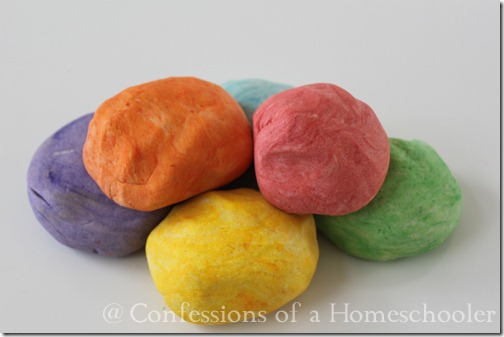 Simple as that, you have homemade play-doh for a fraction of the price! Enjoy!