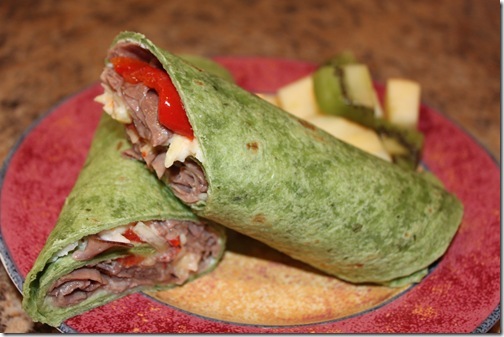 We love tortilla wraps here…have them all the time…and I have some great tortilla wrap recipes to share with you today! The one above is called "Roast Beef Tortilla Wrap". It's really quick to assemble, great for lunchtime, and you can easily swap out ingredients based on your likes!
Ingredients:
Regular Tortillas (one per sandwich) I realize I have the Spinach Tortillas shown, it's all I had…it didn't go as well with the roast beef, so I suggest the plain tortillas…I'm just sayin'…
1 Pkg Roast Beef
Schmear of onion and chive cream cheese (can also use garlic cream cheese)
Schmear of cole slaw
A couple of marinated red bell peppers
Directions:
Schmear cream cheese and cole slaw on each tortilla.
Layer with Roast Beef and marinated red bell peppers.
Roll up tortilla cut in half.
Serve with fruit!
Variations: (You can literally make any combo you want with tortillas, here are a few of our fav's.)
Spinach Tortilla, Turkey, Avocado, Cream Cheese, Tomato, Alfalfa Sprouts
Spinach Tortilla, Cream Cheese, Cucumber, Tomato, Avocado, Alfalfa Sprouts
Whole Wheat Tortilla, Peanut Butter, Banana, Honey, Chocolate Chips (We do this more as a fun snack, not a lunch)
Spinach Tortilla, Mayo, Ham, Cheese, Tomato
Sundried Tomato Tortilla, Turkey, Mushrooms, Sundried Tomato, Havarti Cheese Slices or Feta Cheese crumbles.
Plain Tortilla, Cream Cheese, Canned Diced Green Chili's (Med.), Ham
Spinach Tortilla, Deli Chicken Salad, Lettuce, Avocado slices, Tomato
Sundried Tomato Tortilla, Chicken Breast Cubed, Honey Dijon Dressing, Tomato, Lettuce
Have more Tortilla Wrap ideas to share? Leave a comment, I'd love to have some more ideas!