Welcome to our World's Greatest Artist study on Picasso!
Pablo Picasso was born in Spain on October 25, 1881. He is one of the world's best known painters and helped to create a new style of art known as cubism. His father was also a painter as well as an art professor. When Pablo was only 13 years old his father convinced the School of Fine Arts to let Pablo take an entrance exam. He did very well and was soon admitted into the school. During his career he became an important influence on the world of art. His artwork can be found in museums all over the world. The Picasso Museum in Barcelona Spain claims to have the largest collection of his art.
This year for art, we are going to study 8 different world famous artists. We have chosen to do art twice a week, and we'll cover one artist each month. We're currently using my World's Greatest Artists Vol. 1 curriculum!
We took a few lessons to read through the Pablo Picasso World's Greatest Artist series by Mike Venezia.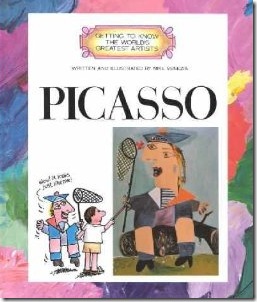 We talked about all the different styles that Picasso was known for, and took lots of time to familiarize ourselves with and critically assess his works of art.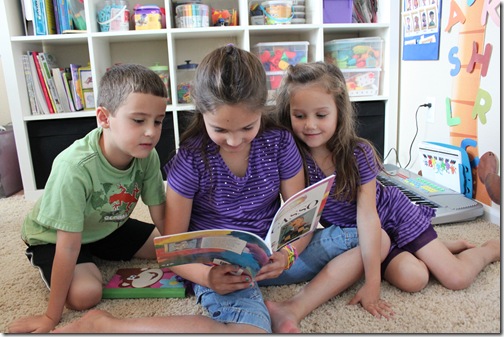 As we learn how to critically assess a piece of artwork, here are some of the things we discussed for each painting:
Describe what we see in this work of art.
How do they think the artist was feeling when they created it? Why?
How it makes your student feel looking at it?
Does the use of color help convey mood?
Is there something unusual or unique about the piece of art?
What is going on in the work, is there a story that can be told about it? (Each of them had a few minutes to share their version of what they thought was going on in the story with us.)
What kind of style and medium did the artist use in this work?
Overall do you like the painting, if so yes, why? If no why not?
Later in the lesson we took a shot at imitating one of Picasso's paintings. The kids chose "Boy with Sailor Suit and Butterfly Net" (1938).
I set up the table with the painting displayed so they could see it for reference.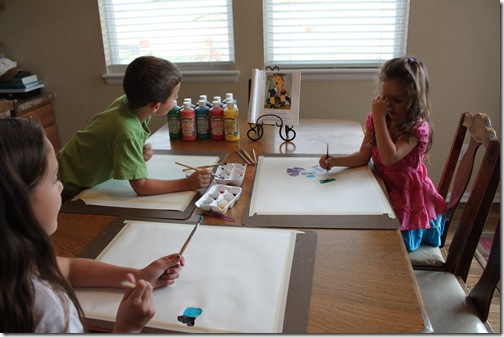 We talked about how even though we were imitating Picasso, our paintings would be different because we are all made unique by God.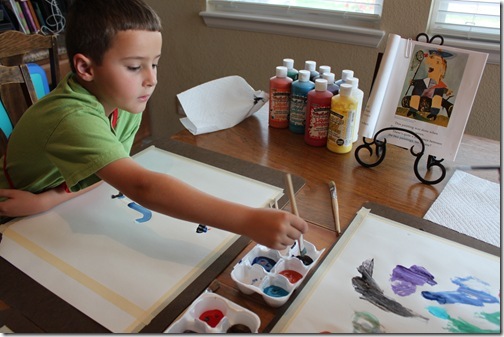 Here is what Tinkerbell came up with, she actually didn't like the painting they chose, so this is her rendition of "Girl Before a Mirror".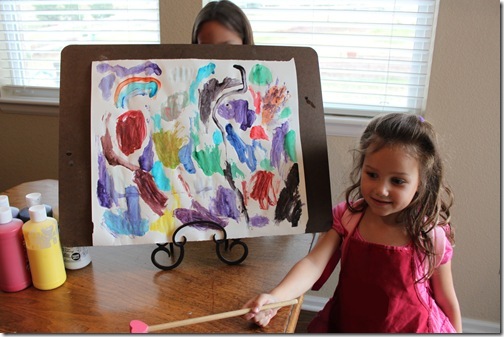 Strawberry shortcake did a great job at copying Picasso's style here, she ran out of room at the top, so she didn't have enough room for his hat.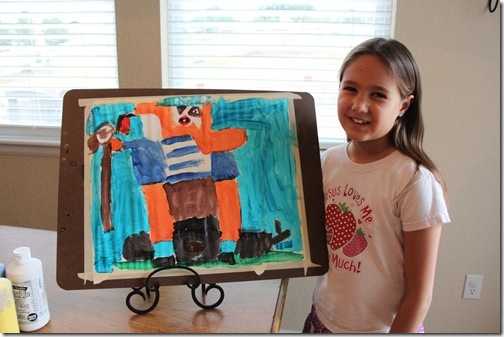 Next we filled in our Pablo Picasso mini-book and added it to our World's Greatest Artists Lap Book. I thought it would be easier to make one Lap Book for the whole family this time, although the kids were asking to make their own, so I may have to change that.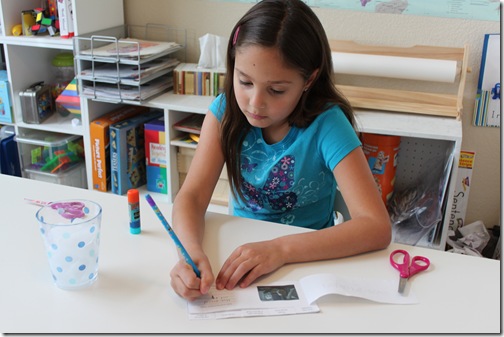 Strawberry Shortcake filled in most of the information and Turbo and Tinkerbell cut out the paintings and helped with the answers before adding the completed book to our Lap Book.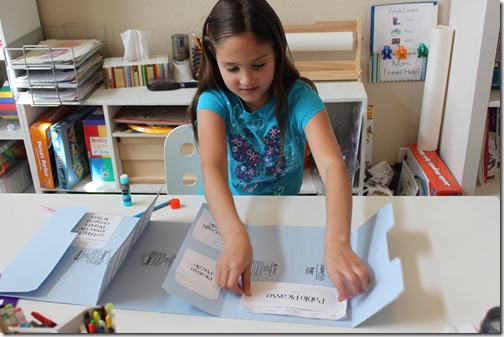 We also filled in our Picasso Artist Flash Card. Once filled out, I'll laminate it and then we'll store it in our Lap Book as well.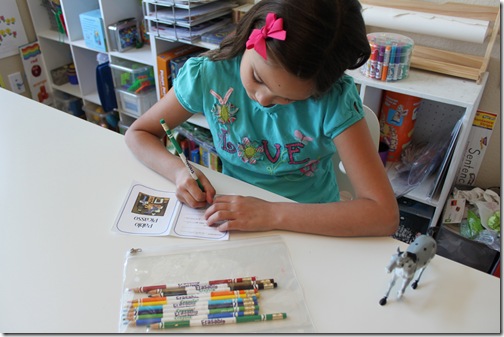 Next we worked on our Picasso Puzzle. I used my Xyron 900 along with Magnetic Laminate to make it into a magnetic puzzle. Everyone had a turn with the puzzle. The pieces will be stored in our Lap Book in the Picasso Puzzle pocket.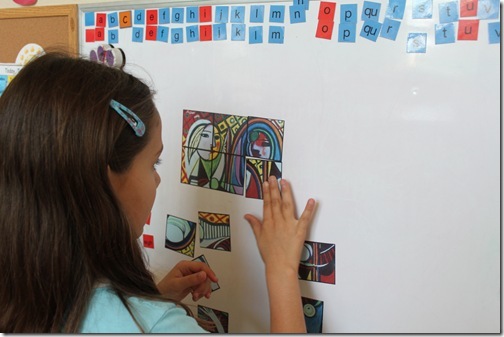 To end up our study on Picasso, the kids were all able to choose their favorite style of Picasso's and then create their own unique image using that style or technique.
Turbo decided on the "Blue Period" and actually did his own version of "The Old Guitarist"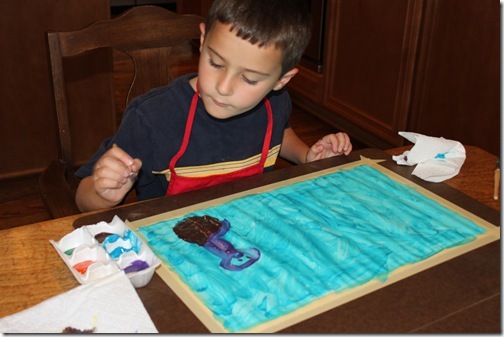 I'm not sure exactly which style the Teeny Tot was going for here, but she definitely had a great time. She went through several sheets of paper. She seems conflicted though, her painting is quite dark and dreary, while her face has a lovely smile on it…darn artists, you can never tell with them.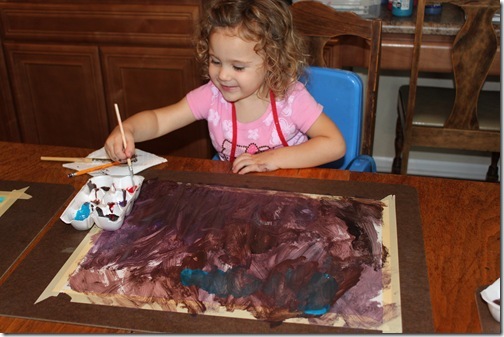 Strawberry Shortcake went for the more colorful years, she said it was "The Rose Period".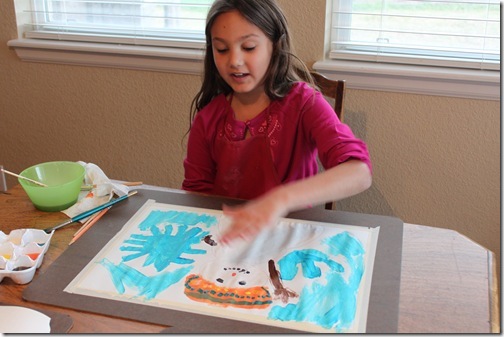 Tinkerbell did a self portrait: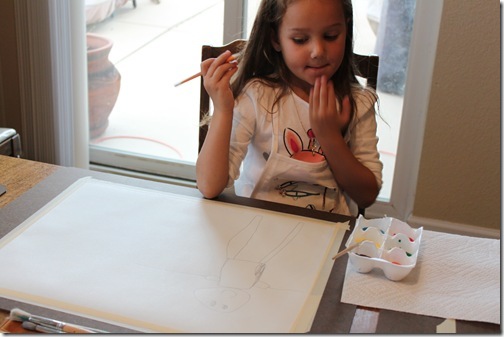 with a slight hint of cubism…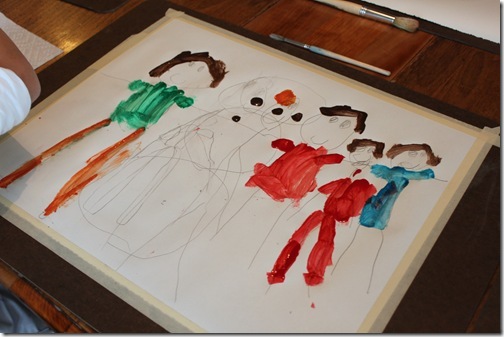 And that wrapped up our month on Picasso! I think the study went great, and we look forward to moving on to the works of Vincent Van Gogh next month!
Click here to get The World's Greatest Artists Vol. 1