Dobrey Dyen! And welcome to another episode of Expedition Earth World Geography, this week we're learning all about Russia!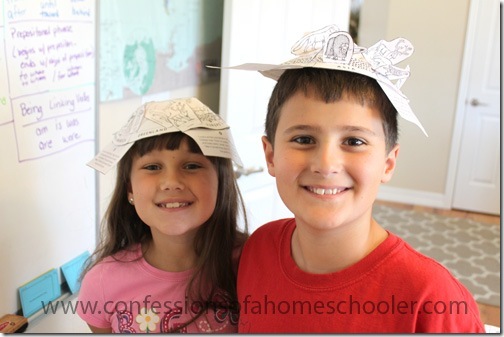 As you can see, my kids take their studies very seriously!
Here are some of the things we learned about this week:
Where Russia is on the world map & located Moscow
A song in Russian
How to Say ― Hello in Russian: привет (Privyet), Good Day добрый день (Dobrey Dyen)
How to Say ― Thank You in Russian: Спасибо (Spasibo )
How to pray for the Russian people
Listened to Tchaikovsky – Nutcracker
About children in Russia
Studied the Tundra
Completed a Russia lapbook activity
Completed and classified animals of Russia
Learned new Geography terms: Tundra, Plain, Peninsula, Swamp
Learned about the North European Plains, Kamchatka Peninsula & Vasyugan Swamp
Learned major landmarks and other fun facts about Russia
Made Matryoshka Dolls
(Psst…all of the above fun stuff is included in the Expedition Earth World Geography Curriculum!)
So here we are locating Russia on our world wall map! I have it taped up a little bit high this year due to lack of wall space, so Miss Lady Bug is on a chair and reaching as high as she can to show you where it is! Don't worry, she made it down safely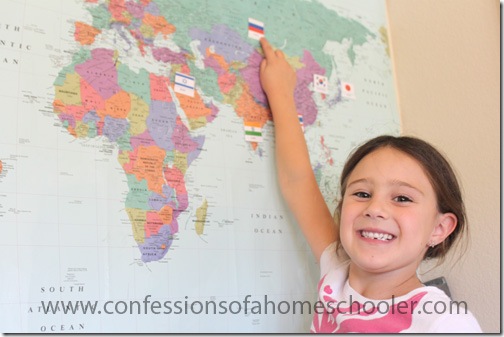 One of the landmarks we learned about was the Vasyugan Swamp. It is the largest swamp in the northern hemisphere an is located in southwestern Siberia, Russia. It occupies approximately 53,000 km²! It's a major reservoir of fresh water for the region, and home to a number of endangered species.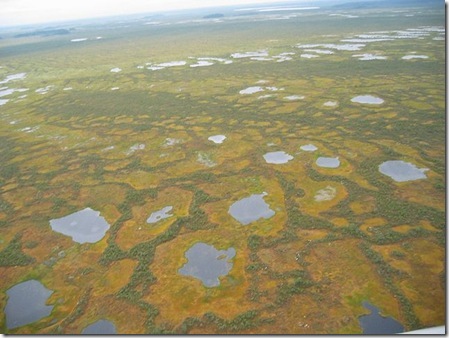 Photo By Vadim Andrianov / Вадим Андрианов, CC BY-SA 3.0, https://commons.wikimedia.org/w/index.php?curid=2555699
It got a little bit washed out on my camera, but here is Strawberry Shortcakes name in Russian…of course not Strawberry Shortcake, but her actual name. You understand right?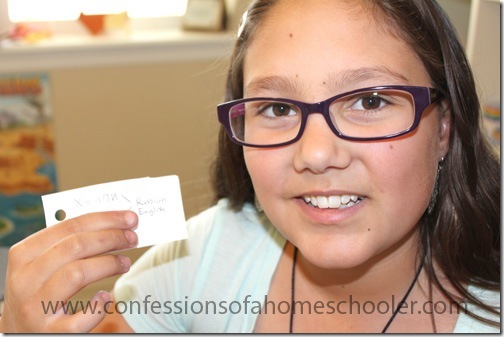 We also added our mini-book to our Europe section of our world lap book. It's starting to fill up folks!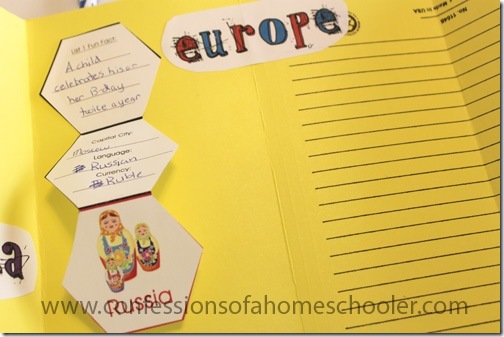 We learned all about the Russian flag as well! The flag of Russia is a tri-color flag with three equal horizontal stripes. White symbolizes nobility and sincerity; blue symbolizes truthfulness, commitment and purity; and red stands for bravery, valor and love.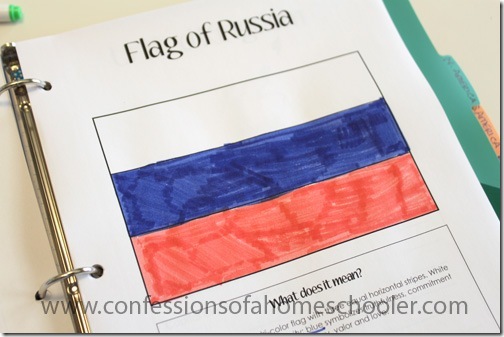 Of course we also learned all of the fun details about Russia and located some major landmarks, water, and the capital city of Moscow.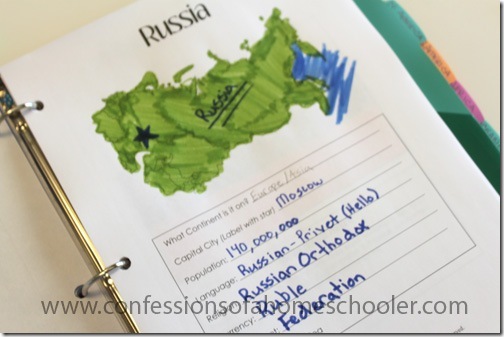 Of course we learned about the Animals of Russia and added them to our Animal Wall, then everyone showed off their favorite animal for the day. Turbo's was the Lemming and I have to admit he's a cute little fellow!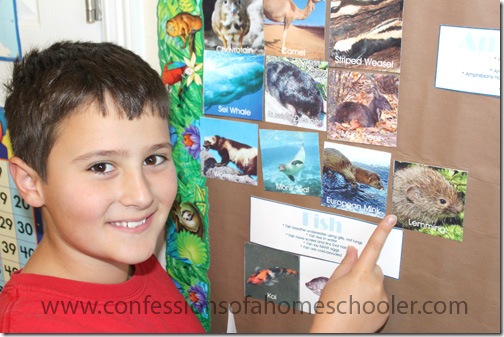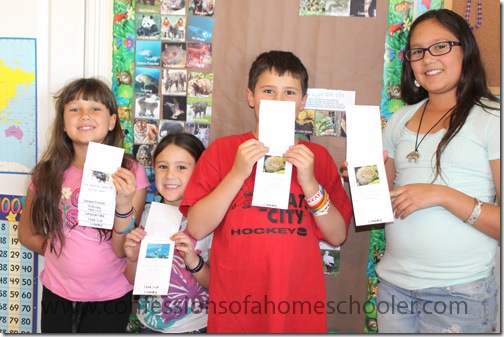 We added our Russian word card to our wall and practiced greeting one another all day long! привет (pronounced Privet-hello), and  добрый день (Dobrey Dyen-good day)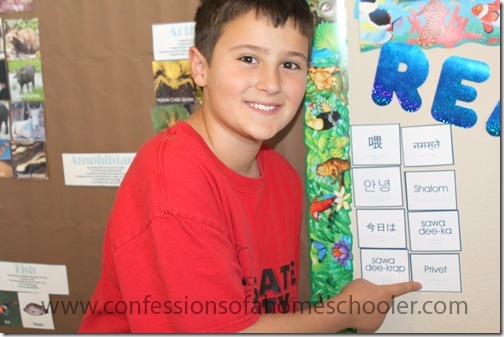 We also read more information about Russia in our Usborne Encyclopedia of World Geography. I really am enjoying this book, it has great illustrations along with extra internet links for more information as well.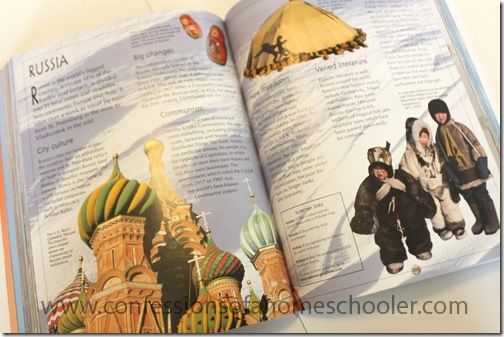 We also read about children in Russia from our "Children Just Like Me" book. This is an optional resource that we've been enjoying!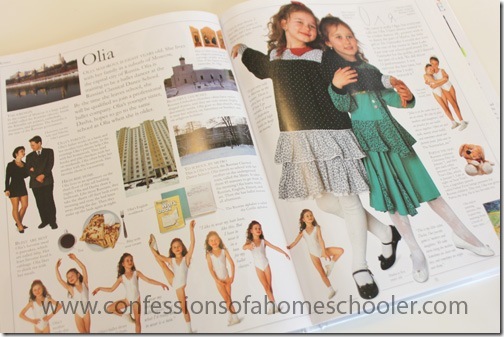 The girls decided to make these cute little paper Matryoshka dolls. I printed them on cardstock, then they colored and cut them out.
I think they turned out so cute. We also have real ones that were a gift from their aunt that they play with all the time.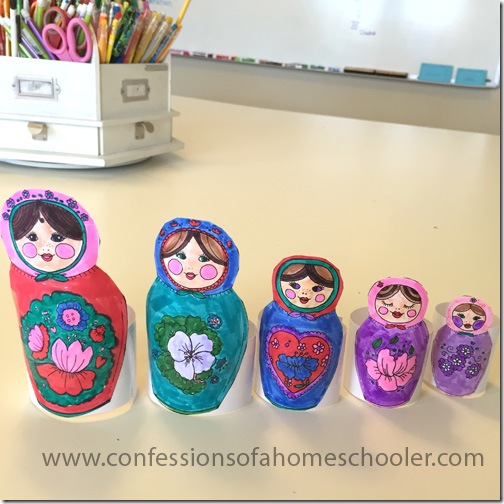 And finally, we made these Tundra animal habitats from the Scholastic Animal Habitats book. It's another optional resource, and we're having fun making them! Plus I think it helps the kids remember the regions, climates, and animals a little bit better as well.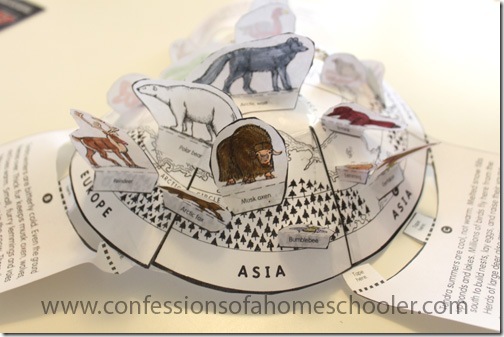 At the end of our week, we all made fun post cards to send back to friends and family. I think the girls like this activity the most, Turbo has all but decided not to do it. And honestly I'm letting him slide on the post cards, coloring and drawing are just not his favorite activities. 
But I do like looking through all of them as we progress through the year. Each one is an artistic masterpiece! here Strawberry Shortcake drew a picture of her and a friend playing with their Matryoshka dolls.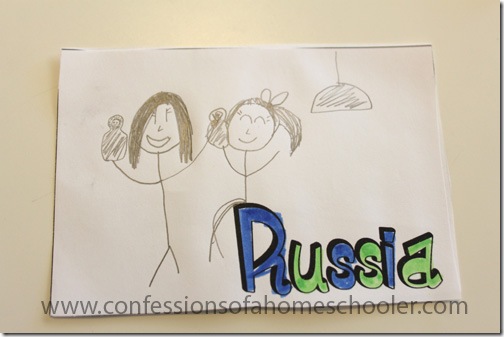 And TBT 2010….
Instead of going to a Russian restaurant (which we couldn't find) we ventured out on a field trip to a Russian market nearby!
We toured the isles, pulled wrapped candy from the Teeny Tot's mouth…
And finally picked out some yummy Russian chocolate bars to take home as a souvenir!
Click here if you'd like to follow along with our Expedition Earth Geography Curriculum Journey! We're currently in Europe, but you can join in anytime!
Expedition Earth is a hands on world geography curriculum that covers 31 countries across the world. It is designed primarily for K-5th grade students. Students will learn the continents, oceans, people, cultures, animals, climates, try new foods, crafts and more, all through hands-on activities!