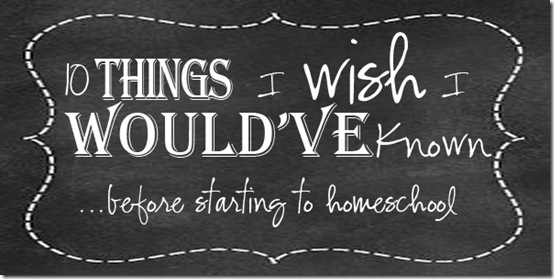 I've been so amazed by the participation in the COAH Community. You all have amazing questions, and I love reading through all of the responses as well. They're so great in fact, that I've decided to start highlighting some of them as blog posts so they don't get overlooked!
One of the lovely ladies in our COAH Community forum posted our topic for today, and it was just too good not to share! Not only did I think it would make a great blog post, but I also wanted to share my top 10 things with you all as well.
So here are my top 10 things that I wish I would've known before we started homeschooling. Of course some of these things pearls of wisdom were given to me when we started, I was just too eager and set in my vision to hear them out. So here I am today, passing them on to you. I hope you'll find them helpful and that they will encourage you in your journey.
Let's do this in a Late Night style count down, shall we?
Number 10. Several stores give teacher's discounts to homeschoolers! Just ask to see if your favorite store offers one! Some that I know of are Barnes & Noble, JoAnns, and Michael's craft stores. Also companies like Adobe give discounts on software such as Photoshop and PS Elements! YAY!
Number 9. Get connected. Check online, local schools, or at your local churches to see if they offer a homeschooling co-ops and support groups. Start up a monthly LEGO club, or science club. There are so many fun things you can do to meet other homeschooling families. Connecting with others can go a long way in staying encouraged in your homeschooling journey! Check out how others get connected in the COAH Community.
Number 8. The best curriculum is the one you'll use! With so many different curriculum choices out there (including free options), it can be overwhelming to choose the best one.  Honestly, I've used a mix of freebies with more expensive curriculum and I've found that our kids have learned no matter what brand I've used.  I think back to a particular curriculum that several of my friends started using. Every time I looked at it, I felt overwhelmed. The idea of planning it all was just too much. And even though it looked great and I'm sure their kids loved it, I knew that I wouldn't be able to keep up with it, so we went a different route. I've never regretted that decision, we've done great with what I picked, and it fits our needs well. So my advice to you…don't get dragged into every new thing that comes along, thinking that it will be better than what you have.  Choose curriculum based on the needs of your family.
Number 7. There is not one perfect curriculum out there. When I first started homeschooling, I was searching for an all-inclusive very best homeschool curriculum out there. I like consistency, and for me that meant I wanted to use all one brand of curriculum. After our first year using an out-of-the box curriculum, I discovered that I liked some subjects they offered but not all of them. It was at that point that I started trying different vendors for different subjects. Now we use several different curriculum in our homeschool, and we're very happy with them! I guess that means I'm officially eclectic! Find what works best for your family for each subject, and don't waste your valuable time searching for that illusive perfect curriculum.
Number 6. Less is more. Honestly, as a blogger, we receive a lot of products for review. And while we're very thankful to have that opportunity, my homeschool room started becoming a little overwhelming. While there are tons of great products available to homeschoolers now, kids don't need to have "things" in order to learn.  It's always great to have a lot of books around, and we like to frequent our library. And I definitely recommend a few manipulatives, and basic school supplies. But you don't need to have a lot of stuff to encourage learning. Libraries, nature walks, and field trips are a great way to incorporate learning into your homeschool without accumulating clutter. Sometimes less is more in the area of homeschooling!
Number 5. Take lots of field trips and do hands-on activities. As homeschoolers, we have a little more freedom to include hands-on activities into our days. We can include educational trips, activities, recipes, crafts, and nature walks into our schedules. From what I've observed, our children learn from and remember these times so much better than those boring old worksheets!
Number 4. Create a schedule. One advantage we have as homeschoolers, is that we're free to plan our own schedules. We can pack them as tightly as we like, or give ourselves some breathing room. We can follow a pre-planned curriculum schedule, or alter it to fit our own needs. When we first started, I didn't really outline a routine, we just flew by the seat of our pants. Thankfully it was preschool, so there was no real harm done. The following year, I took the time to outline a schedule for our school days. This really helped to keep us on track, and get things done, including house work. My days were much less chaotic, and more enjoyable for all. However you schedule your day, I do suggest you at least create a basic routine that works for your family. If you veer off course, no worries. At least you have a baseline to keep you on track.
Number 3. Create your own homeschool. When we were considering homeschooling, I had a vision of school desks, happily working students, and an apple on my desk. I quickly discovered that homeschooling doesn't mean bringing the traditional classroom into your home. Unless that's what you want. It can mean many things to many people. What your homeschool looks like, won't necessarily match your friends. You might have a school room, you might do school in the kitchen. your kids might prefer to work in their rooms where it's quiet. They might like to wrap up in a blanket on the couch where they're comfy. Really the best homeschool environment is the one that works for your family,  your home, and you!
Number 2. Be flexible. Seriously. Be flexible. Remember that schedule we just talked about? Make sure you run it, and that it doesn't run you. You might have a curriculum that just doesn't fit your family, you might have a bad day, you might get sick, etc.  Whatever it is, make sure to remember that being flexible is key to remaining sane. Did you give that curriculum a good shot, but it's just not working? Sell it on eBay and find another one that fits your needs better. Having a horrible day? Get basics done, and then head out for an impromptu field trip, or park visit to break up the monotony. Everyone sick? Cancel school for the day, and tend to your family. You can always pick it back up tomorrow.
Number 1. Don't worry about what other people think! One of our biggest challenges when starting was our fear of what our family and friends would say. After 9 years of homeschooling, I've learned that the only opinion that really matters is God's. Are you obeying His calling to homeschool? If so, then you're doing the best you can for your family. Our kids are kind, well-rounded, and social, and we've been so blessed since we have followed His will for our family. Need encouragement? Check out my candid conversation with God regarding homeschool.
Want to hear what other people are saying? Check out my I wish I would've known forum topic to see what others have to say. Feel free to head over and share some of your things you wish you would've known before you started homeschooling too!
Have a post you think would be great to share that I may have missed? Send me an email, or tag me in the forum so I can take a look.