I don't know about you, but lunch time is my hardest meal to plan.
I don't always like to eat cold sandwiches, and frankly I'm over "kid" food like chicken nuggets and mac-n-cheese. Not to mention that traditional kid food isn't usually all that healthy anyway!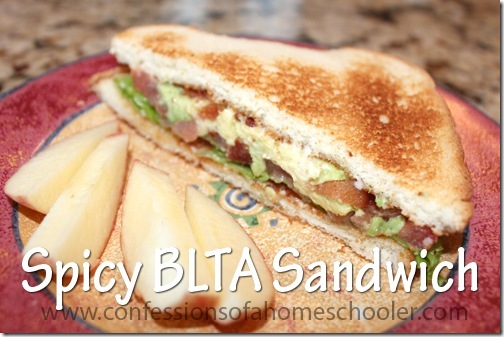 So lately I've been experimenting with some new twists that I thought I would share with you all.
Now I know the BLTA sandwich isn't necessarily a new thing, but I'm totally loving this spicy twist on a classic recipe!
And the whole thing takes about 5 minutes to prepare, which is right up my alley since that's about how much time I have to whip something up on school days!
Ingredients: (for 1 sandwich)
2 slices bread, lightly toasted (Any kind you like. I like to use Oroweat Buttermilk, but Sourdough is great too)
1/2 avocado, sliced into thin strips
2 slices cooked bacon (I cooked mine in the microwave, wrap in paper towel to absorb grease)
2 slices ripe tomato
1-2 slices lettuce (I like butter lettuce, but green leaf or romaine is nice too.)
salt and pepper to taste
Chipotle Mayonnaise Recipe:
1/2 cup mayonnaise
1/4 cup sour cream
2 tablespoons lime juice
Mix in blender and puree until smooth and chipotle's are totally blended in. Store in refrigerator until ready to use.
Prepare the sandwich:
To make the sandwich, smear chipotle mayonnaise on both slices of toasted bread. Top with lettuce, tomato, bacon, then avocado. Top with the remaining slice of bread and you're done!
Alternative: If your kiddos won't like the spicy mayo (mine loved it!), you can just use regular mayonnaise, just add in a splash of fresh lemon juice to make it a little more interesting!