Good morning everyone! For our LEGO Education experiment this week, we applied our knowledge of pulleys, gears, and forces to create some cool cranes. The objective for this project was to create a crane capable of lifting a specified weight, as well as performing a valuable task.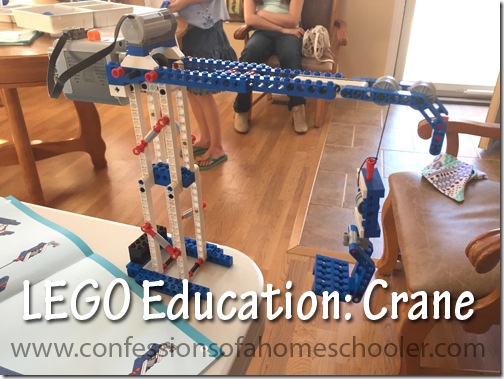 The boys created a crane that could retrieve dropped keys for their moms who apparently have troubles bending over to pick things up LOL! I almost cried.
Then the girls created a crane to rescue a boat full of passengers about to be eaten by circling sharks. Both valuable services!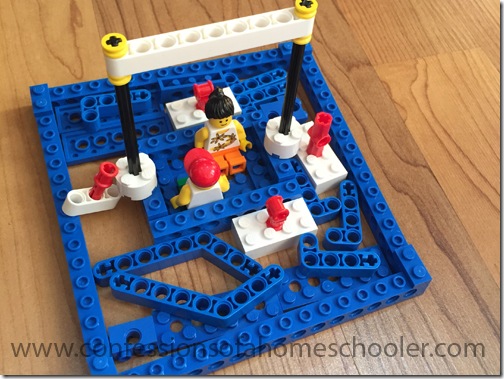 Click here to see our LEGO Education Crane in action! It's a short video, but I think it shows how the LEGO Education curriculum encourages creativity along with logical and critical thinking skills!
(And as a side note, I apologize for the sideways video. I don't know what I was thinking, but I took the videos using my iphone in the portrait mode. So it appears as though our cranes defy the logics of gravity. My bad…I'll do better next time!
NOTE: We used the Simple and Motorized Mechanisms curriculum from LEGO Education. If you would like more information, visit the LEGO Education website! And yes, you will need to purchase the base LEGO kit. The kit is meant to be used with 2 students per kit. It includes the LEGOs as well as the building instruction booklets for each project. You will also want to purchase the activity pack which is basically the teacher's manual with all of the lessons in it.
Check out some of my other LEGO Education posts below!
Disclosure: LEGO Education provided our group with the Simple and Motorized Mechanisms base set for review purposes. Any views or opinions expressed in these posts are mine and not LEGO Education. LEGO Education does not endorse the opinions of any individual or institution, other than those expressed by a LEGO Education staff member acting in an official capacity.