Hi everyone! We had another great LEGO Education group again this month! This time we worked on building and using pulleys!
First the boys learned about various types of pulley systems, then built them with the LEGO Education Simple & Motorized Mechanisms base set.
Once they built their pulleys, they were able to test them out to see what they would hold, and how well each one worked.
Each of the boys had a turn lifting various weighted items and materials using their pulley.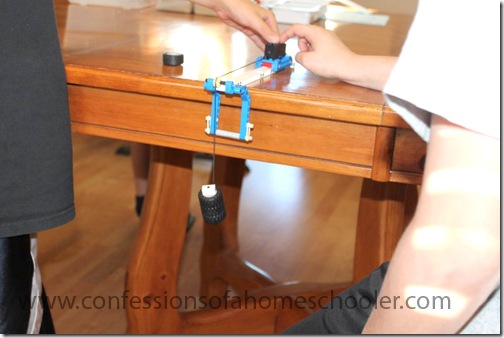 I have to say that our group is absolutely LOVING this program! It is a bit pricey, so I recommend using it a co-op group so you can split costs.
But academically speaking it's totally worth it! The lessons are amazing, and the fact that they can build everything with their own hands really drives the concept in and makes learning so much fun!
For more information on the Simple and Motorized Mechanisms curriculum visit the LEGO Education website!
Disclosure: LEGO Education provided our group with the Simple and Motorized Mechanisms base set for review purposes. Any views or opinions expressed in these posts are mine and not LEGO Education. LEGO Education does not endorse the opinions of any individual or institution, other than those expressed by a LEGO Education staff member acting in an official capacity.