Welcome to another day of Kids Summer Boredom Buster ideas! Today we're making homemade crayons!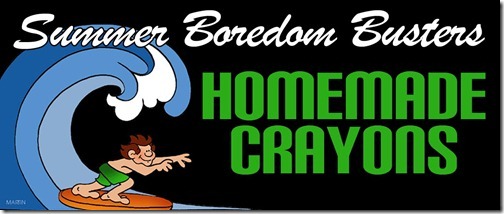 This activity is super easy, and chances are you have some broken old crayons already laying around! All you need is a muffin tin, or silicone baking pan and voila! Homemade rainbow crayons!
Supplies:
used, broken crayons no one likes to use anymore!
metal muffin pan, or silicone muffin pan (They come in lots of fun shapes!)
Instructions:
Preheat oven to 250 degrees Fahrenheit
Fill muffin tin with chunks of peeled broken crayons (For our rainbow theme we mixed lots of colors together, but you can do one color per spot if you choose. They were really fun to draw with)
Put muffin pan in oven for about 8-10 minutes or until crayons are melted.
Once crayons are cooled, pop them out of your muffin pan for some fun rainbow coloring! Super easy and the kids love 'em. And look how nicely they stack for storage! (PS…they came out of my muffin tin very easily…I only note this because I was slightly concerned about getting my pan cleaned…)
Enjoy coloring with your new homemade crayons!