Good morning everyone!
So  you might have noticed that I took a short break from posting the Expedition Earth World Geography posts to make room for my December Christmas Extravaganza, but now we're back in the swing of things. So I thought some homeschooling posts might be a good idea ;o)
So, moving on…
Buon giorno and welcome to our Expedition Earth week on Italy! As a country near and dear to my heart this week, we had a great time, and I even learned some new things about Italy too!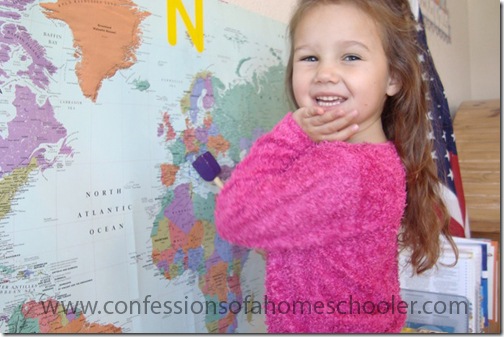 We start every unit by locating the country on our world wall map. Everyone likes to do this, and so we take turns.
Here are some of the things we covered:
Located Italy on the map and completed our mapping worksheet
Learned about the Italian flag
How to say "Hello" & "Thank you" in Italian – Ciao, Grazie
Prayed for the Italian people
Learned a song in Italian
Completed a lapbook activity
Learned Roman Numerals
Learned about and classified 6 animals of Italy
Learn a little about Italian Opera
Vocabulary: Geography from A-Z: Volcano
Learned about Mt Vesuvius and made a volcano
Learn about the 5th Wonder of the World: The Roman Colosseum and made a model out of Foam Bricks.
Learn about the Leaning Tower of Piza and made a model
Learned about Michelangelo and painted upside down under a table
Made homemade spaghetti & meatballs with gelato for dessert!
We worked on our mapping worksheet, learning the capital, population, religion, language, and major landforms of Italy.
We learned about the Roman Colosseum and Leaning Tower of Pisa then tried to make our own using FloraCraft Bricks.
We learned about the Italian flag, and even found a few to wave.
We learned about Mt Vesuvius and made our own volcano explosion in the kitchen with the help of Nana.
Then Nana sat and showed us pictures from when my grandparents went to Italy years ago. It was cool to see the things we were studying in the album!
Since it snowed that week, my son took the initiative and made his own version of Mt Vesuvius out of snow:
Of course we learned about animals found in Italy and added them to our ever growing animal wall. I'm going to have to add more room as I slightly underestimated the amount of animals we had!
We also learned about Roman Numerals.
Of course we finished off our week by stamping our passports with the Italian flag:
Thanks for joining our week on Italy, next we're on to Greece!
Click here if you'd like to follow along with our Expedition Earth Geography Curriculum Journey!
Expedition Earth is a hands on world geography curriculum that covers 31 countries across the world. It is designed primarily for K-5th grade students. Students will learn the continents, oceans, people, cultures, animals, climates, try new foods, crafts and more, all through hands-on activities!