Good morning! Are my 1-20 Preschool Number Writing worksheets too easy for your student? If so, you might be ready to move on to more number practice. And since I've had a ton of requests for more number handwriting worksheets, today I have a new set of 0 – 100 handwriting practice worksheets for you!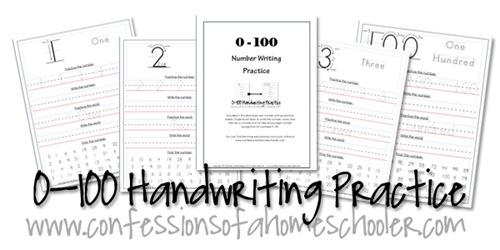 You're welcome to use these downloads as they fit your needs. So just use the worksheets that your student is ready for, and save the higher numbers for later. You can also add these into your Daily Learning Notebooks for extra practice there too!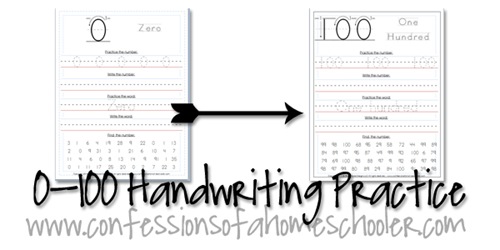 –> Download the 0-100 Number Writing Worksheets here! <–
(If you're having trouble downloading, RIGHT click the download link and select "Save File As". You will be prompted to save it to your computer.)
The download includes worksheets for numbers 0 through 100 including word writing practice. Here is an up-close of one of the worksheets. Each one includes number writing practice, then writing the number on your own, practicing the number word, writing the word on your own, and finally a number hunt for that number.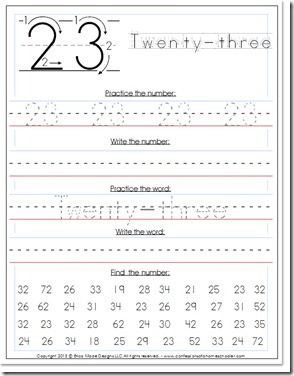 How do I use the worksheets?
To reuse the worksheets more than once, you might want to laminate them or slide them into a page protector. Then have your student practice using a dry-erase marker. This makes them easily re-usable for those of you with multiple students. You can also just print and let them use a pencil or marker to practice their writing skills.
Have your student trace the number first, then practice writing it on their own. Then once they have that down they can practice writing the number word by tracing the letters. When they're ready they can try writing the word on their own on the blank line provided.
For the number hunt, consider having them circle the numbers, color a dot over the number with a marker or crayon, highlight the number, use a do-a-dot marker to dab them, or cover them with cheerios for some variety! Another idea would be to have students cross off all of the numbers that are NOT the number they're working on. You can also have them read all of the numbers out loud as they're working to help further their number recognition practice.
Looking for more handwriting practice? Check out my links below!
Tip for MAC users: If the worksheet is not displaying properly, please make sure that you have selected Adobe Reader as your PDF reader. Otherwise your MAC will open the file in Safari preview mode and it will not display or print properly.