Hi everyone! I've always loved school supplies, and this year is no different! As homeschoolers we still get to enjoy going shopping for school supplies, but thankfully it's not as expensive as the list you get from the school systems!
I think all in all, we spent around $150.00 total for all four of our children, and after talking to a friend this weekend, that is what she spent on one child. So that made me feel fairly good about our purchases. And I even allowed them to get a few fun products to call their own.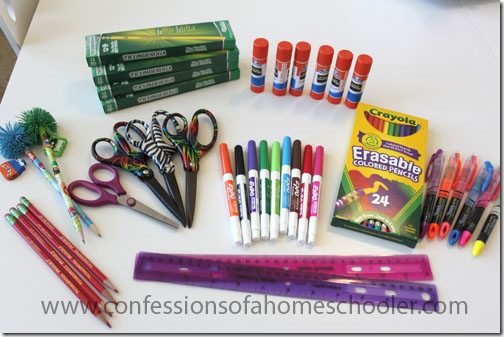 The above picture shows just about everything we purchased this year with the exception of a couple new binders (shown below). Normally we re-use those from previous years but this year I allowed them to each pick a new fun binder. We're using these for writing and I always use one for my "Record Keeping" for each year.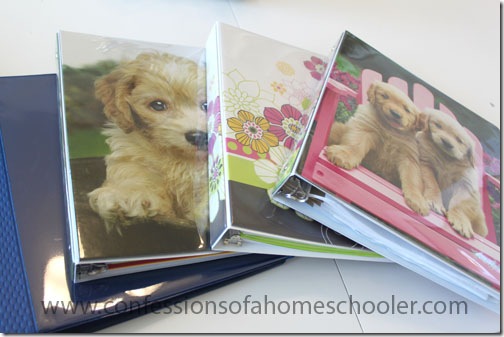 Of course we always purchase a few packs of wide ruled paper. I have some grid paper left over from last year, so didn't have to re-purchase this year. We use the grid paper for working out math problems, it really helps because you can put one number in each square and it helps them keep things in the right columns. The lined paper is used for writing assignments mostly.
Glue: No home school is complete without some glue sticks! I normally purchase Elmer's mainly because I tried generic before and it didn't stick. The glue dried out quickly and things were coming unstuck after a few hours. Just not worth it for me to purchase something that doesn't work. But if you have a cheaper brand that works for you, I'd love to hear it in the comments!
I also usually purchase a large bottle of liquid craft glue, but again we had quite a bit left over so no need to re-purchase this year.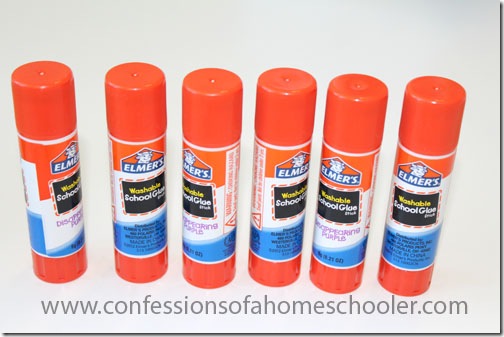 Pencils: We use pencils. A lot of pencils. And last year I discovered the Ticonderoga pencils. Actually I didn't re-purchase these this year, because they last so well we didn't need to! These pencils sharpen perfectly, actually erase, last longer, and the eraser actually stays attached to the pencil, even after use by someone like Turbo.
I always buy fun colorful pencils at the start of the year, and these pencils are so awesome that even my kids prefer them over the pretty ones when serious work is involved. I keep a sharpened caddy on my desk so that if someone needs one they can grab it. They'll simply lay the dull pencils on my desk so we can sharpen them and put them back in the caddy.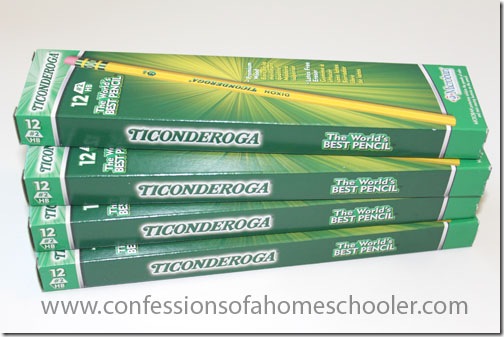 I use both the regular pencils, the Ticonderoga Red Correcting Pencils, and also grabbed some of the Tri-Write Pencils and the Beginner Wide Pencils to help with pencil-grip issues. Not sure they work for that, but they're more comfortable to according to Tinker Bell.
I also purchase the red correcting pencils as well. Both myself and the kiddos use them to correct their work.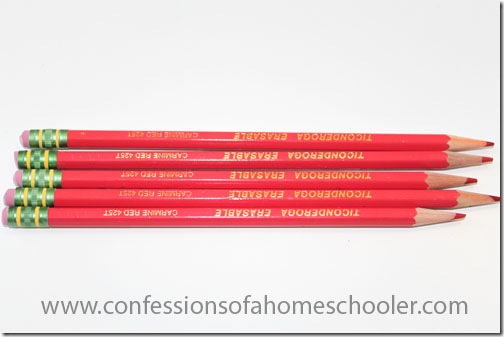 Dry-Erase Markers: We use Expo dry-erase markers. Mainly because they write well, and wipe off well. Some of the less expensive ones just don't do the job. And I was really excited to see the 'washable' markers because I'll tell ya what, when these thigns get on clothing, walls, carpet, and the like…I think they should be called "Permanent Dry-Erase Markers"! They DO NOT come out!
But that said, the washable ones actually leave a really weird film all over my whiteboard and the kids' page protectors that just doesn't seem to come off either. So now that we're a little older here, I just take my chances with the real dry-erase markers.
And just for the record…they DO come off of my beloved white Ikea desks! Whoo Hoo!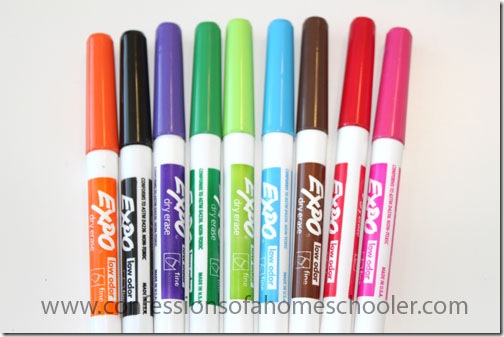 Highlighters: You can use any brand of these you want, I was just suckered in by the color selection of the Sharpie Accent Liquid Highlighters. One of them did leak, just so you know. But we use these every single day to mark off completed items as we go through our lessons. Strawberry Shortcake usually takes them all and marks her own sheet, while I typically mark Tinker Bell and Turbo's sheets. Strawberry prides herself on using every single color in the pack. These are left over from last year, so I'm missing a few of the colors that come in the pack. I believe there are 10 colors.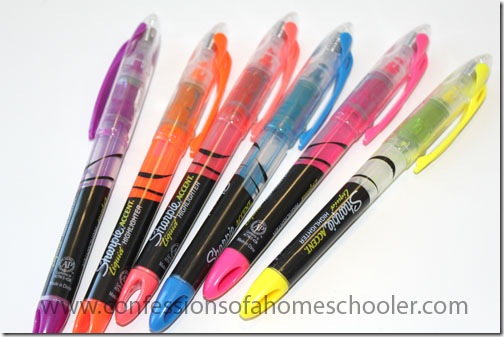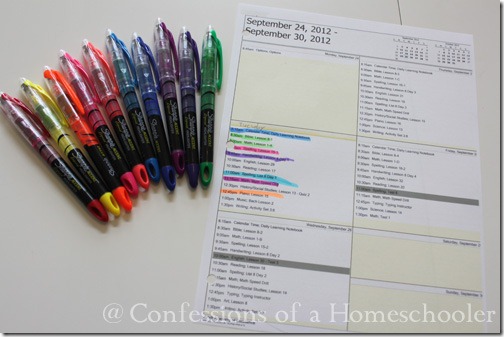 Rulers: We've had these for almost three years now, so they're not new. Obviously we use rulers for math, plus the kiddos like to use them to draw and also as pointers when we're doing geography lessons. Rulers are a definite must in our homeschool.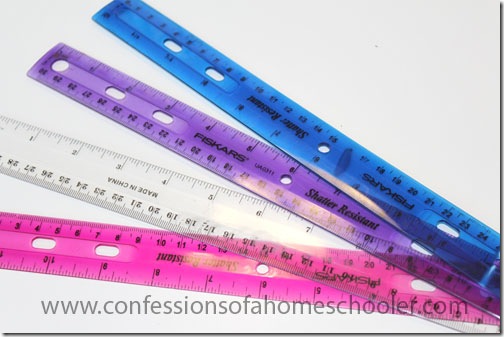 Colored Pencils: We use quite a few colored pencils in our homeschool. For the past couple years we've purchased the Crayola Erasable Colored Pencils which are nice. They don't erase completely, but enough so if a mistake is made, one can sufficiently correct them. Normally we use them for our Grapevine Bible Study lessons, but they also come in handy for random coloring projects, and sometimes the kids just prefer to do lessons in color.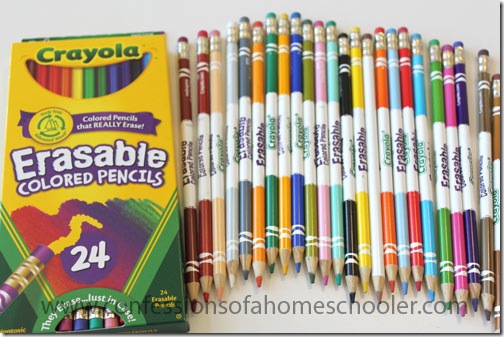 Scissors: This year I sprang for some fun Fiskars Non-Stick scissors which were a little more expensive. We shall see how this little experiment goes since last year they all seemed to 'lose' their scissors in about a week. I have no clue where the scissors go, I expect we'll find a stash of them somewhere when we move! But we use these ALL THE TIME. Mainly when we're working on a lapbook project, one of my unit studies, and then of course craft projects.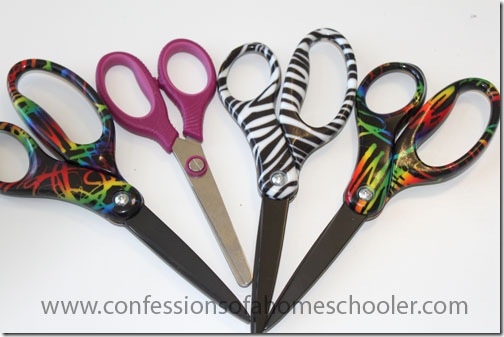 Do-A-Dot Markers: I've had a set of do-a-dot markers since we started homeschooling I think! Now, we're going into our 8th year of school this year, so apparently we like them. I'm thinking I may have purchased one new set of these since starting, but not for at least the last 3 years probably. The Teeny Tot uses them all the time, so all that to say they last quite awhile!
As I mentioned I let the kids purchase a couple fun items this year. That included a few fun pencils, erasers, and mechanical pencils. Nothing too crazy, but enough that they are excited to start school now!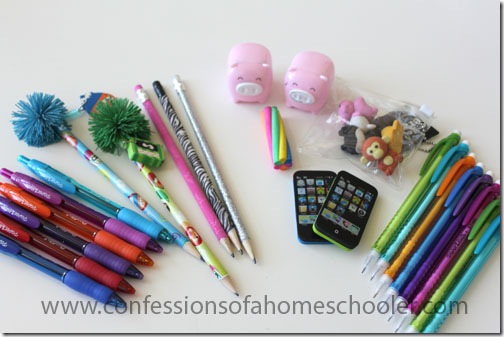 Desktop Carousel: I know you've all seen my supply caddy that literally holds our Ikea school desks in place. I honestly do LOVE this thing! It's called the Making Memories Desktop Carousel. I found ours at Michael's craft store and bought it using a 40% off coupon. They range $40 or so. Here's one at Overstock.com. I've also seen a new one called Recollections Desktop Carousel if that helps any of you out there! I keep the majority of our supplies in this caddy so everyone can share.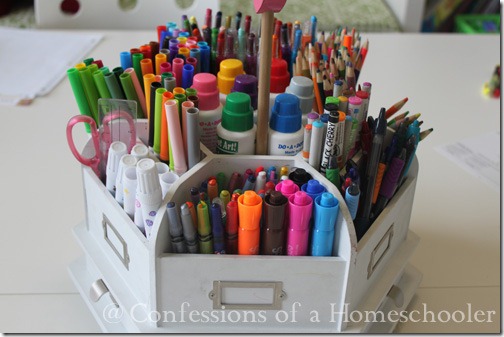 Next week I'll be posting my 2013-2014 Teacher Supply List for those of you interested in some of the things I use to keep our school running smoothly!
More organization posts that you might enjoy: