July.
Seriously?
When did that happen?
Last thing I knew we were finally done with school for the year and I was looking forward to enjoying some down time.
And now it's already July! Which means we only have a few more weeks before school starts back up. That also means that I need to get planning. Don't worry I'll post my new curriculum choices and schedules soon!
And as you all know, I don't like to have to constantly be thinking about meal times. So my monthly meal plan helps me enjoy my days and not worry about what's for dinner! Hope my monthly meal plans help you as much as they do me!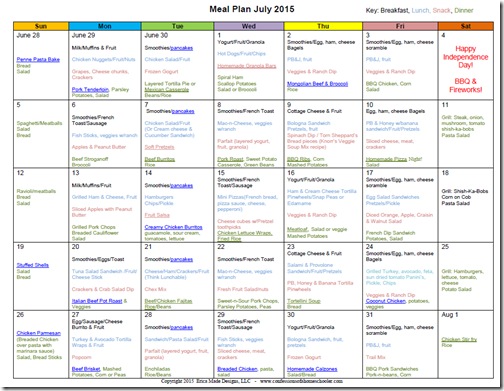 Download the July 2015 May Monthly Meal Plan:
If you haven't already used this before, you can click on any of the underlined menu items to get to the recipe. I hope this helps all you homeschooling warriors who are in the final stretch of the year!
For more fun recipes, visit my Recipes Page!
Here are some of our favorite smoothie recipes, just click on the image below!