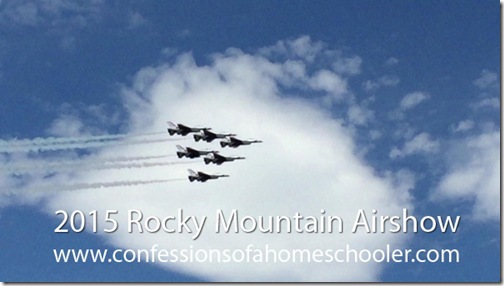 Hi everyone! This year we had the privilege of watching the 2015 Rocky Mountain Airshow from our back patio! No kidding! What a cool thing right? Plus there were a zillion people on the beach area and I heard parking was a nightmare, so we were extra thankful to be located where we were.
So of course we invited some friends and family over. Had a huge BBQ and watched some amazing pilots do an astonishing airshow for everyone! Plus living near the show site we also got to watch them practice which was just as fun. I think they were messing around a little bit more during practice, and we saw some cool stuff.
Some of which I didn't get with my camera because I didn't actually realize they were going to be practicing until I heard a huge boom and my house started shaking. Of course we ran outside to see what the ruckus was and had the U.S. Air Force Thunderbirds flying right over our home. 
The Teeny Tot and I sat outside enjoying the practice. But you had to keep an eye out. More than once we would be watching a certain direction thinking they would be coming from that way, and instead they would sneak up from behind us and scare the heck out of us LOL! Man those guys are fast. Faster than sound actually. Which would be why I almost peed my pants when they caught me off guard from behind.
The rest of the weekend was filled with the light hum of the acrobatic pilots who are apparently brave enough to fly straight up in the air, then cut their engines and free fall for what seemed like too long to me! They also did what I would call sideways cartwheels and some other crazy dare-devil aerobatics.
The show featured several aerobatics pilots, aircraft displays, the Rocky Mountain Renegades, Rocky Mountain Aero Squadron, and the U.S. Air Force Thunderbirds, which were my personal favorite.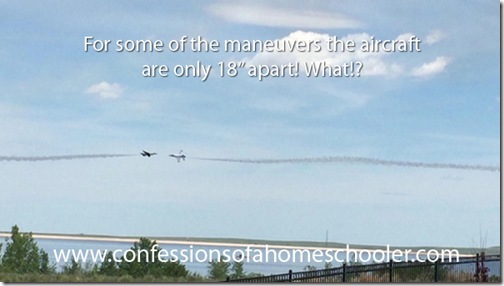 And I didn't know it at the time, but apparently USA Olympic gold medalist swimmer Missy Franklin was on board with the Thunderbirds that day too! How fun!
I did manage to get some video using my iPhone, and so I wanted to share a quick 2015 Rocky Mountain Air Show video with you all since it was so fun! Hope you enjoy!
They also have a really cool Rocky Mountain Air Show facebook page too if you want to info on upcoming shows, or if you just want to see some cool pics!
Have a great holiday weekend!