Apparently the Teeny Tot has chosen to school year round.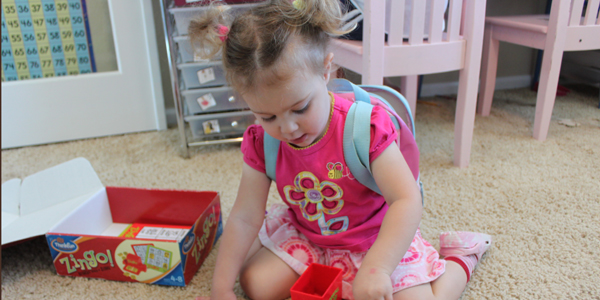 I found her in the school room…backpack on…carefully placing tiles in our Zingo game. Considering some of the other places I've found her, this was a welcome sight.
She literally spent about 30 minutes carefully adding tiles to the holder.
Later I found her sorting our Unifix cubes. Apparently she was having so much fun her sister came to join in!
Next she sat in on an episode of Speekee TV. (Review to come)
Luckily she had some free time after nap to play with the Wedgits.
I'm not sure what this was all about. Maybe it was some sort of size comparison math experiment?
And at one point she had a game of leap frog going on…her command of the classroom is superb.
I'll probably just let her run our school next year, she seems to have everything organized.
And the other kids seem to listen to her.
I'll have to ask what her secret is.