Hi everyone, wow! I'm so excited! The 2011 HSBA Homeschool Blog Awards are now open for voting and I'm so honored to have been nominated in the below categories!
I am in awe to see how God has used this blog to encourage and bless other families, and I'm totally humbled by your continued support and encouragement! Thank you, thank you, thank you!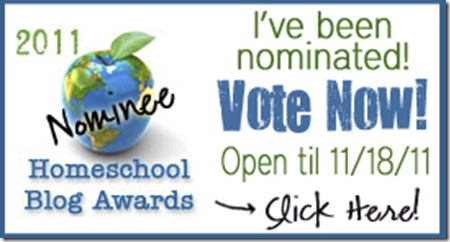 You can vote once per person in your household anytime between now and November 18th, 2011 at 11:59 p.m. Pacific Time (PST). Make sure to take a few minutes and go vote for your favorites and let your bloggers know you love them!