Hi and welcome to our Road Trip USA week on Kentucky!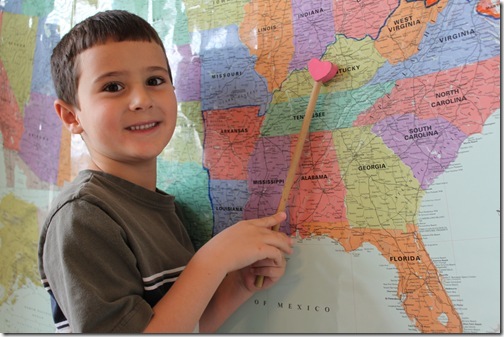 Kentucky is the 26th state and known for it's finest thoroughbred race horses. It is also known as "The Bluegrass State" due to the vast expanses of Bluegrass across part of the state. They also have underground deposits of limestone which make the bluegrass in Kentucky famous! Also located in Kentucky is the Louisville Slugger Museum where you can go see the world's largest baseball bat and glove!
Located Kentucky on our wall map
Read our National Geographic Atlas and located Frankfort,  KY using the map coordinates.
Worked on our 50 States and Capitals song
Learned about the state and it's flag
State Fish: The Kentucky Spotted Bass
State Bird: The Cardinal
State Flower: The Golden Rod
State Horse: The Thoroughbred
The Kentucky Derby, did a mock horse race
Louisville Slugger Museum
Famous People: Daniel Boone
U.S. President: Abraham Lincoln the 16th President of the U.S.
Food: Kentucky Fried Chicken
Classified the animals of Kentucky
Read: If You Traveled on the Underground Railroad by Ellen Levine
Here are some of the pictures I managed to capture during our visit to Kentucky: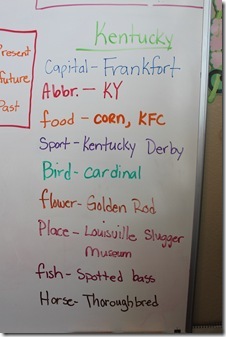 Each week we read through our National Geographic Atlas, then take turns finding the capital city as well as other fun things in the state using our excellent mapping skills that we've gained through our trip.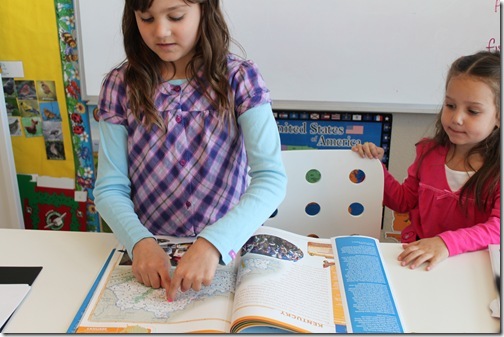 We also add our state to the Trend USA Wall Poster. I purchased two, then cut one up and put velcro dots on each state so it is easy to add them as we go through our trip.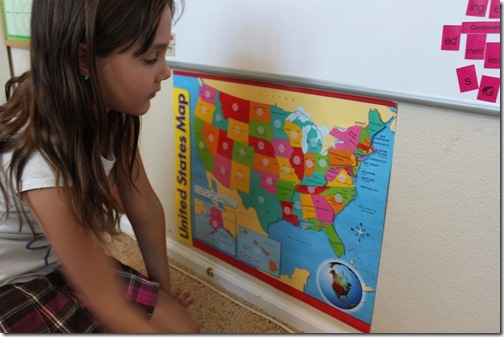 As I read through our state facts the kids color in their state worksheet. This helps them to remember what they're learning as well as keep busy while we're reading through the information. It's a great way to get a visual imprint of each states fun facts as well as good for a quick review.
One of our favorite parts is adding our state animals to our classification wall. We have to take turns on these since they're hot items!
We also add our newly found state to our bulletin display.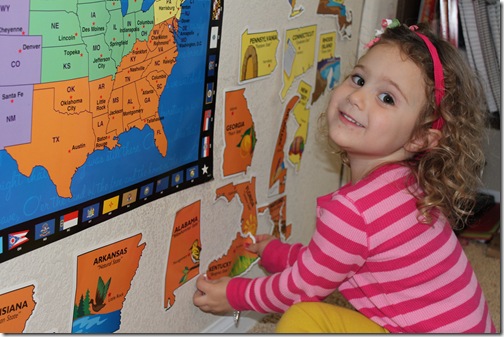 At the end of our trip we always add our state flag to our travel journal before moving on to the next state!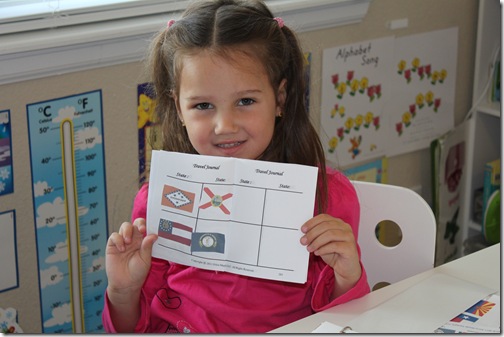 Since it was a review week, we played games and added Louisiana and Kentucky mini-books to our southeast notebook page.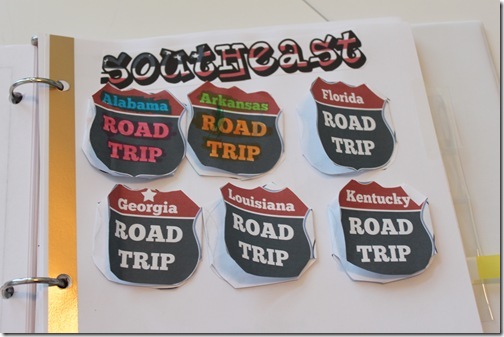 And that wraps up our Kentucky study! If you'd like to come along with us on our Road Trip USA journey, click the image below to learn more!