Good morning everyone! I hope you are all having a blessed week. We have just finished our 11th week in our Ephesians Study!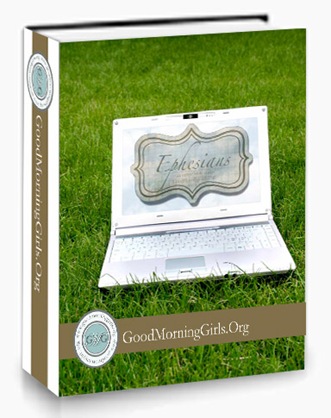 Ephesians 6:1-9

Children, obey your parents in the Lord, for this is right. 2 "Honor your father and mother"—which is the first commandment with a promise— 3 "so that it may go well with you and that you may enjoy long life on the earth."[a]

4 Fathers,[b] do not exasperate your children; instead, bring them up in the training and instruction of the Lord.

5 Slaves, obey your earthly masters with respect and fear, and with sincerity of heart, just as you would obey Christ. 6 Obey them not only to win their favor when their eye is on you, but as slaves of Christ, doing the will of God from your heart. 7 Serve wholeheartedly, as if you were serving the Lord, not people, 8 because you know that the Lord will reward each one for whatever good they do, whether they are slave or free.

9 And masters, treat your slaves in the same way. Do not threaten them, since you know that he who is both their Master and yours is in heaven, and there is no favoritism with him.
I'm pretty sure my children have Ephesians 6:1 memorized, and have had it memorized for a few years now. It's the easiest one for me to pull out of my arsenal of supporting scriptures and it leaves little room for interpretation. In Ephesians 6:2-3 Paul is quoting from the ten commandments. He uses the Greek term for "honor" which literally means "to estimate their value as precious."
Teaching our children to honor others is an important value for our family, and I think that it has to start in the home. I've noticed that kids who are more respectful at home are usually more respectful outside of the home as well. We don't usually require blind obedience from our children, I do my best to explain things, but I think that God really does a better job in these verses.
"…so it may go WELL with you and that you may enjoy long life on the earth."
I remind them constantly that what we do for them is always in an effort so that it may go well with them! But really its more then that. Teaching our children to honor their earthly father will some day translate into them honoring their heavenly Father. Something that is much more critical in the vast scheme of things.
And for my husband and I, we do our best to bring them up in the training and instruction of the Lord, its one of the main reasons we homeschool. Influencing their hearts on a daily basis is critical to the development of their character.  We want them to learn to serve others, submit to authority, and honor others above themselves. And with that responsibility comes discipline when necessary.
And as parents, I think it's critical that we look at verse 4 here as well. "Father's, do not exasperate your children, instead bring them up in the training and instruction of the Lord." It's a warning to us. Of course we want to bring them up in the instruction of the Lord, but what's the alternative? Provoking them to wrath? What does that mean? That I like to provoke my kids? I don't think it means that we're literally trying to provoke them, but more simply that wrath is a result of bringing them up with a lack of godly discipline and instruction.
So as a Christian homeschooling family, we look to God's Word as a source of guidance for our family. We try to create character traits in our children that will help them be successful in this life, and that simply….so it may go WELL with them!

If you have fallen behind, don't worry, it's not too late! You've just read the 11th week of verses above, so start fresh this week and commit to spend time in the Word each day! You will be blessed for any time you give to the Lord, so don't sell yourself short, or condemn yourself for not keeping up! Each day is a new opportunity to start fresh and dig into the Word to see what God has for you!
Download the GMG Ephesians Study Guide
Join our Facebook Discussion Group
Sign up for the Good Morning Girls email list so you can stay in touch!