Hi everyone, I am actually on time this month with my monthly meal plan! I hope it's helping you out some, and alleviating a little bit of your stress!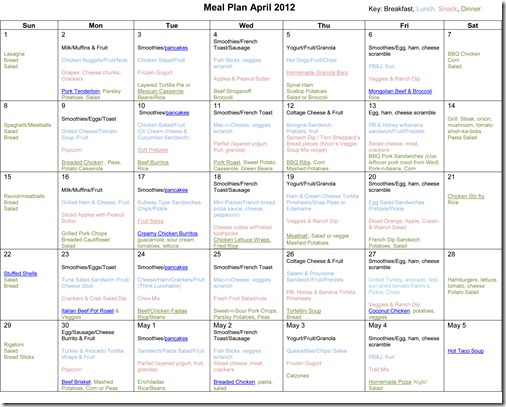 In the download there will be some recipes that are underlined. You should be able to click on those to get a recipe. I've also had a lot of questions about my smoothies! So I wanted to share a quick mix we use!
Fruit Smoothies:
Ingredients:
1 banana (frozen is better, but I will work at room temp.)
2 cups frozen strawberries (Again, room temp is okay)
1 cup milk
1/2 cup vanilla yogurt (We prefer frozen yogurt)
1/2 cup orange juice
Optional: 2-3 tablespoons honey to taste (The plain fruit can be a bit sour, but the orange juice helps with this, so try it before adding honey)
Directions:
Add all ingredients into a blender and mix until smooth! Pour into glasses and serve!
This usually serves my 4 kiddos and me, but they all get half glasses. If I need a little more, I'll just add in some more milk or juice. It makes the smoothie a bit runny, but no one seems to mind and it's cheaper that way!
Note: Really you can use any type of fruit you prefer! Some of our favorites alternatives to above:
Mango, peach, & banana.
Raspberry, Blueberry, and Strawberry
Alternative: We also love the Jamba and Yoplait smoothie mixes you can get in the frozen food section. I just add milk or juice to them for a really fast smoothie! Each one has only about 110 calories.
Download the April 2012 Monthly Meal Plan

Hope you enjoy your meals this month! If any one has any yummy meals to share, leave a comment below, I'd love to get some new ideas!