Good morning everyone! I hope you are all having a blessed week. We have just finished our 9th week in our Ephesians Study!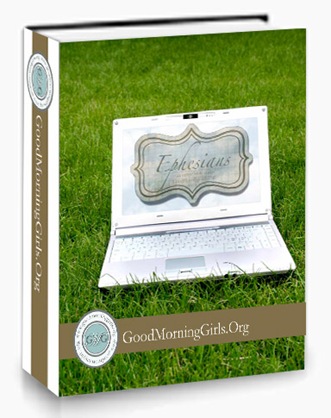 Ephesians 5:1-20

Follow God's example, therefore, as dearly loved children 2 and walk in the way of love, just as Christ loved us and gave himself up for us as a fragrant offering and sacrifice to God.

3 But among you there must not be even a hint of sexual immorality, or of any kind of impurity, or of greed, because these are improper for God's holy people. 4 Nor should there be obscenity, foolish talk or coarse joking, which are out of place, but rather thanksgiving. 5 For of this you can be sure: No immoral, impure or greedy person—such a person is an idolater—has any inheritance in the kingdom of Christ and of God.6 Let no one deceive you with empty words, for because of such things God's wrath comes on those who are disobedient. 7 Therefore do not be partners with them.

8 For you were once darkness, but now you are light in the Lord. Live as children of light 9 (for the fruit of the light consists in all goodness, righteousness and truth) 10 and find out what pleases the Lord. 11 Have nothing to do with the fruitless deeds of darkness, but rather expose them. 12 It is shameful even to mention what the disobedient do in secret. 13 But everything exposed by the light becomes visible—and everything that is illuminated becomes a light. 14 This is why it is said:

   "Wake up, sleeper,
   rise from the dead,
   and Christ will shine on you."

15 Be very careful, then, how you live—not as unwise but as wise, 16 making the most of every opportunity, because the days are evil. 17 Therefore do not be foolish, but understand what the Lord's will is. 18 Do not get drunk on wine, which leads to debauchery. Instead, be filled with the Spirit, 19 speaking to one another with psalms, hymns, and songs from the Spirit. Sing and make music from your heart to the Lord, 20 always giving thanks to God the Father for everything, in the name of our Lord Jesus Christ.
"…making the most of every opportunity" (Ephesians 5:16)
As a homeschooling family one of our main goals is to be the primary influence on our children. I have the opportunity to be there for them 24/7, to encourage and lift them up, and to train and disciple them. But even the daily routine can cause me to put that calling aside, and to forget my primary purpose for homeschooling our children.
I want Christ to shine up on our family, and for my children to grow up in His Word, giving thanks to God for everything. In order to do that, I need to make the most of my opportunities.
So what are some tangible ways to accomplish this?
Read God's Word. Being in the Word daily is a must! There are countless excuses I can make, and its easy to forget if I don't do it early in the day. We also do daily devotions with our kiddos to keep them in the Word as well. If we are all hiding God's Word in our hearts, it is much easier when the time to discipline comes. We can all refer back to His directions for how we should be treating one another and living our lives.
Be careful how I live. I'm sure you've noticed, but our kids tend to mirror us. Our best and worst can come to full light through their words and actions. I love to see how my daughters copy me by taking care of others, helping around the house, cooking, taking care of their babies. I don't love to see them showing impatience, or being rude to one another. I, just like most of you probably, have lost my temper and said unkind things, or yelled, or even just been rude or sarcastic in my tone. We are under constant supervision by our children and as hard as it is, I need to strive to be a good example for them in our home. And trust me when I tell you that kids are quick to see when you're not practicing what you preach!
Make my home a haven. Something I can easily do is make my home a safe and friendly place for our family. A place where they like to be, where they feel welcome and loved. A place where harsh criticism and rude behavior is not welcome. This is especially important for my husband who comes home after a day of work. For him to walk into chaos isn't so relaxing, nor would it be a place he'd be eager to come home to. We do our best to work together and keep our home picked up and clutter free. I try to have dinner ready or at least close by the time my husband comes home so we can have a relaxing dinner together. This is also usually the time we do our family devotion. I want my children to remember having fun in our house, laughing, and enjoying one another's company.
Get a good nights sleep. As a night owl, this is hard for me, but I can definitely tell a difference in my patience level when I'm well rested! Same goes for the kiddos. The kids go to bed around 7:30 or so which leaves some time for my husband and I to hang out or get a little work done.
Eat well. This is one of my more challenging areas. We are a fairly busy family, especially during sports seasons, and so there's always the temptation to pick up fast food when running around all day. Unfortunately this isn't the best option for our health. So it's a constant goal, and a constant battle for me. I do my best to provide nutritious meals at home whenever I can. Most of you have seen my monthly meal plans, but if not take a minute to check them over. They're not all weight-loss friendly but they are healthier than the alternative, and if I can feed my flock at home I find we're much better off!
Keep my priorities straight. Awhile back, I shared a post called "Plate Spinning 101" that talked all about our priorities. One thing that helps me tremendously is to go back and re-visit this post every so often to remind myself what my priorities actually are! I know it sounds silly, but I can easily forget. If I can keep my priorities in order then our home runs much smoother and I'm less apt to have an issue with my sanity, which as a homeschooling mama is constantly at risk. ;o) Another thing I review often is the Abiding Mom chart. It helps me put my life into a more realistic perspective and keeps my focus on God which is exactly where it should be!

If you have fallen behind, don't worry, it's not too late! You've just read the 9th week of verses above, so start fresh this week and commit to spend time in the Word each day! You will be blessed for any time you give to the Lord, so don't sell yourself short, or condemn yourself for not keeping up! Each day is a new opportunity to start fresh and dig into the Word to see what God has for you!
Download the GMG Ephesians Study Guide
Join our Facebook Discussion Group
Sign up for the Good Morning Girls email list so you can stay in touch!