Hi everyone! I wanted to do something fun and unusual today, so I made a homeschool room tour video to share with you all!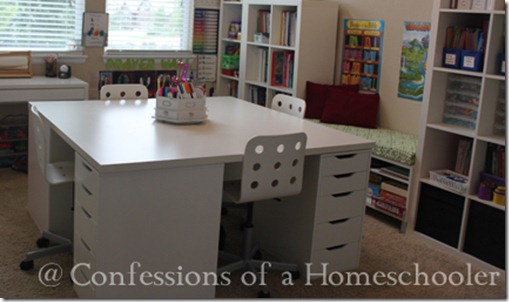 I'm so sorry, it turned out kind of long, so I had to break it up into two parts. But for those of you interested in seeing our room "live" so to speak, grab a cup of coffee (you'll need it to stay awake) and join me on a tour of our homeschool room!
Also, keep in mind this is my first real video…um. yeah…just keep that in mind ;o) and it ended up being really long! Sorry I'll try to talk less in future videos LOL!

Our Homeschool Room Tour Pt. 1
Our Homeschool Room Tour Pt. 2 (Yes…there's actually more!)
So that's our current homeschool room for 2012-2013, I hope you enjoyed the video!
Here are links to all of the items mentioned above!
My school room is about 11′ x 14′, the total size of the desk is about 5′x5′. Here are the items mentioned from Ikea:
Here are some more posts on homeschool things we love: